We can't talk about the New Year without talking about new beginnings. It is during this time when Filipinos would list down their "New Year's Resolutions" with the intent of fulfilling them when midnight strikes on January 1.
During this time, we also wish for a brighter future for our family. We ask for good health, good fortune, and a safe shelter for our loved ones. Thus, you may have home improvement on your to-do list this New Year. Such is valid because your home is essential in your life. It is where you relax after a long, tiring day.
When thinking of home improvements, consider both the interiors and other parts of your home, like your roof. The roof is a crucial part of your home that protects it from weather elements and other external threats. If you have been forgetting your roof, now is the right time to give it some TLC. Read on the roofing products recommendations from Union Galvasteel, a roofing manufacturer in the Philippines.
Understanding Your Roof
A roof is more than just a piece of material on top of your home. It is composed of different parts and accessories, each playing a vital role in its function of protecting your home. Below are the components that make up your roof:
1. Roofing accessories
For a better home and a brighter new year, you may want to upgrade these roof parts and accessories. If you do not know where to start, we at Union Galvasteel Corporation can help you with the wide range of products that we offer.
Roofs are held together by what we call accessories. There are different types of roofing accessories, some of which are explained below:
Bended accessories – bended materials such as gutters that connect the joints of roofing.
Hardware accessories – connectors used to fasten or connect the panels and the bended materials.
Other accessories – materials used in a roof structure, such as insulation, wire mesh, duct tape, and concrete nail.
UGC offers Roofing Accessories, such as box gutters, valley gutters, and Spanish gutters. The main function of these gutters is to prevent water from entering or seeping into your home by channeling the rainwater away from the exterior of the walls and their foundations. The gutters also cover the corner and joint portions of your roof. Their designs can be customized, so they can fit any style you prefer.
Another roofing component that you may need to replace this year is the Light Steel Frames, which UGC also offers. Our light steel frames are lightweight yet exceptionally durable materials used for ceiling framing and drywall partition. We have studs, tracks, single furring, double furring, and carrying channels.
2. Metal Roof panels

When we say roof, we usually refer to the panels most visible from afar. These panels are the major components that protect your home from weather or other elements.
UGC has pre-painted roofs that offer durability while giving your home great aesthetics. Prepainted roofs are already painted when you buy them, so you have one less work to do. They come in different colors that suit your style or your property's theme.
A product we recommend is Duracorr. This roofing profile has a classic design and is one of our bestsellers because of its reliability and simplicity. Duracorr is ideal for residential and mid-scale commercial and industrial projects.
Another product we recommend is Durarib. Its distinct design of an anti-capillary groove prevents rainwater leakage and provides stability against strong wind. In a country frequently experiencing rain,
Durarib is ideal for Filipino homes.
Another version of this profile is our Duratwin. It has a unique 2-rib design which offers durability and better leak protection, making it ideal for mass housing projects, industrial buildings, and warehouses.
There are also metal roofing products designed to withstand the Philippines' rainy season such as the Hi-Rib, and Mega Hi-Rib. The Hi-Rib and Mega Hi-Rib have deep corrugation designs which can carry large volumes of rainwater.
Lastly, you can also choose Duratile and Laverne for a more classic yet elegant look. These metal roofing products mimic the tile and concrete roof designs to enhance the aesthetic look of your home.
3. Insulated Roof Panels
UGC also offers insulated panels called Duratherm. These Insulated Roofing Panels consist of a rigid foam insulation layer sandwiched between two structural metal skin surfaces. The insulation layer is made of Polyurethane and Polyisocyanurate, materials that form a strong bond to the outer skins, creating a robust panel. Aside from being durable, our insulated panels are also energy-efficient. The insulation provides a better temperature in your home, so you can limit the use of power-consuming appliances like air conditioner units. This leads to savings on electricity costs.
Read more at: Standard PU Panels: What Are They and Their Uses
New Product for 2023: Union Galvasteel Multirib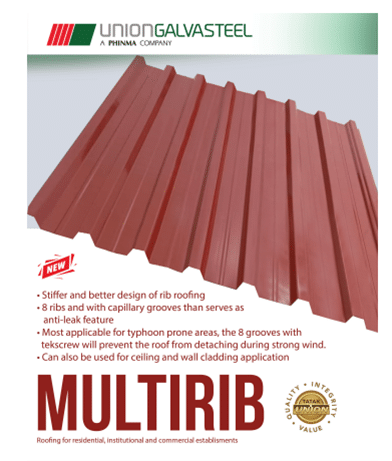 This 2023, Union Galvasteel Corporation will release its newest addition to its durable prepainted galvanized steel products, the Multirib.
Multirib has 8 ribs and capillary grooves that serve as an anti-leak feature which prevents water leakage through the overlap.
This is most applicable for typhoon prone areas. The 8 grooves prevent the roof from detaching during strong wind.
It can be used for ceiling and wall cladding applications for private residentials and mass housing projects, commercial buildings, multi-purpose buildings, and industrial plants. Follow us on our social media page to learn more.
Now that you know the different components of roofs, it's time for an upgrade, and we will be here with you as you make your dream home come to life this year. UGC is a roofing manufacturer in the Philippines with the largest and most diversified distribution network in the industry. If you need a roofing company for products and other services, get in touch with UGC via the website or call these numbers for assistance: (02) 8520-8822-23; 8520-8831; (049) 545-0084 to 86 or 09175033965 (Globe) and 09190032303 (Smart). You may also follow us on Facebook: https://www.facebook.com/UnionGalvasteelPH.