When shopping for roofing accessories in the Philippines, the most important factor to consider is the climate. The country has two major seasons: rainy and dry. It experiences massive precipitation and intense typhoons between June and November. From March to May, the nation's temperature can reach as high as 36.5 degrees Celsius. It is therefore important that the fitments you buy can withstand both dry spells and torrential rains.
What Happens When You Avail of the Wrong Appurtenances?
Inappropriate roofing attachments can trap heat in your home, leaving it extremely hot during the summer. To keep yourself cool, you may end up buying air conditioners (ACs). AC units, however, are expensive to purchase, install, and maintain. These also increase your total energy consumption, resulting in greater electricity bills.
In the rainy period, improper roofing appendages can easily rust and develop holes. Water can ooze through these breaks, leading to leaks in your home or workplace. Having seepages repaired can mean additional expenses. Replacing corroded adjuncts can likewise cost you more money.
A trustworthy supplier can help you prevent the aforementioned outcomes by providing roofing accessories that are suitable for weather conditions in the Philippines. Such add-ons produce adequate ventilation in dog days, eliminating the need for cooling machines. Additionally, these reliably protect your residence or establishment from strong downpours. You thus save time and money on overhauls, replacements, and additional equipment.
Roof Gutters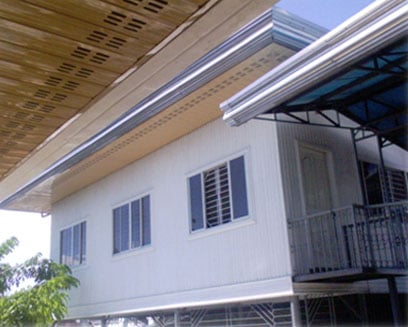 Roof gutters (also known as rain gutters) are protracted trenches that are firmly connected to a roof's eaves. These catch rainwater from the roof and transfer it to downpipes. The downpipes then direct the water to a drainage system.
Gutters are crucial to prolonging your edifice's lifespan. Without these, water can frequently drench your property's siding and leave it stained, rotting, or ruined. Gutters direct water to the downpipe immediately after collecting it. Water is kept away from the siding, preventing both cosmetic and architectural damages to the latter.
Do you want to preserve the foundation of your house or building? Gutters can help. These draw water away from your structure instead of letting it flow into and amass in your erection's foundation. The strength of your complex's base is hence maintained.
Union Galvasteel Corporation's (UGC) gutters come in two material options: Pre-painted hot-dip zinc-coated steel coils and pre-painted hot-dip 55% aluminum-zinc coated steel coils. The first choice offers strong rust resistance for a long period of time. The second variant provides excellent heat protection. Both alternatives will dependably hold out against the palatinate's seasons.
Ridge Roll
A ridge roll is a metal strip installed on top of a roof ridge or two intersecting roof areas. It is placed on top of the roof ridge and then it is nailed or screwed into place across the ridge's full length.
A ridge roll averts the infiltration of rainwater into the ridge and the ceiling. Constant exposure to rainwater will make the ceiling warp and sag. If left unrepaired, the ceiling may eventually collapse, forcing you to spend large sums of money on repairs. If you are running a firm, having a disintegrated ceiling fixed can require you to close down your shop for days or weeks, which means lost productivity and income.
Regardless of your roof's design, UGC has the right ridge roll for it. Our ridge rolls' thickness is between 0.40 mm and 0.60 mm. Whether your roof is flat, open gable, gambrel, or dutch gable, these can make it waterproof.
And just like the gutters, Union Galvasteel Corporatation's Ridge Rolls come in two material options: Pre-painted hot-dip zinc coated and pre-painted 55% Aluminum-zinc coated steel coils.
Spandrels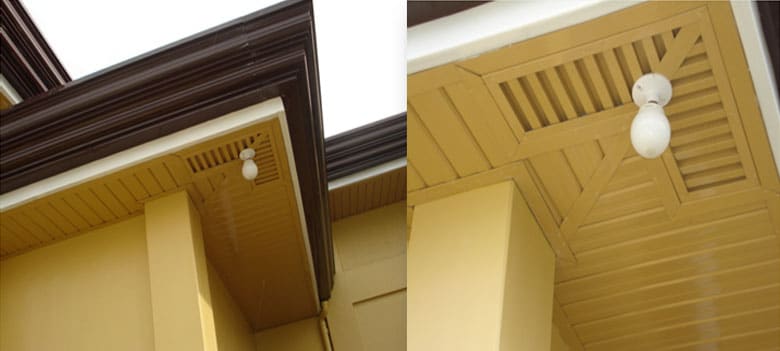 Likewise referred to as soffits, spandrels are enclosures installed below your roof's overhang. These are made of various materials, including wood, metal, and vinyl, and have vent holes that help improve the air flow in a structure. The perforations allow air to freely move in and out of your property. Your abode or office becomes comfortable and productive without relying on AC systems, reducing your energy expenditures. The conserved amount can go to better investments, such as your family's savings or new equipment for your company.
Spandrels also safeguard your roof's overhang against humidity and animals like birds. With your overhang securely covered, moisture cannot permeate through it and cause it to deteriorate. As a result, you get to spend less on repair services. Furthermore, you, your family, and your employees will not suffer from allergies and other respiratory illnesses brought about by inhaling molds, mildew, and fungi that are byproducts of decaying overhangs.
In addition, an exposed overhang encourages birds to build their nests in it. This can lead to droppings and parasites contaminating your home or business and triggering many health problems. Spandrels bar birds from living in your overhang, forcing them to take shelter elsewhere. With your complex free of birds, it is turned into a healthier place to live and work.
UGC's spandrels come in 2 materials options: pre-painted hot-dip zinc-coated steel coils, and pre-painted hot-dip 55% aluminum-zinc coated steel coils. Additionally, these are available in a broad assortment of colors. With wide substance and pigment ranges, our spandrels can be used on structures of different makes and models. Whatever your property may be, we have a soffit that suitable for its appearance and function.
Remember Where You Are
Your house or enterprise is located in the Philippines. You therefore cannot just buy any roofing accessory your supplier is selling—you have to be sure that whatever you purchase will enable your structure to endure the country's climate. Roof gutters, spandrels, and ridge rolls effectively maintain the comfort, safety, and productivity of your building, whether its in the middle of the summer or a typhoon. The other appendages of your supplier may be cheap or visually appealing, but are these definitely worth the high electricity bills, property damages, reduced earnings, and even possible sickness?
Union Galvasteel Corporation provides roofing materials, systems, and accessories that are ideal for the weather in the Philippines. For more information about our products, call our Calamba office at tel. nos. (02) 8520-8823; 8520-8831 Trunkline or (049) 545-0084 to 86 Trunkline or click here.