By now, you may already know the importance of roofs in keeping your home safe from various threats—extreme weather, wild animals, or burglars. A roofing system, however, is not just the materials you see on top of your home or any structure. There are various components to a roofing system that help keep its integrity and perform its function of keeping structures protected. One of these components is purlin. What are purlins? Learn more about purlins from one of the trusted construction material manufacturers in the Philippines, Union Galvasteel.
What are purlins and their purpose?
Purlins are bars or beams placed horizontally to provide structural support to structures such as roofs. Mostly, purlins are used in metal buildings, but they are also present in structures made of wood.
Purlins support the deck of the roof so they can withstand weight and weather elements.  
Overall, purlins are used in several types of structures that require roof frames, whether for commercial, agricultural, or residential. C-Purlins are present.
What are purlins made of?
There are two common types of purlins based on the materials they are made of—wood and metal.
A wood purlin is ideal for structures that require the area beneath the roof to be breathable. For instance, wood purlins are often used in storage houses for produce like crops or a place to keep animals. However, wood purlins are prone to damage due to pests, and they cannot provide enough support to roof decks that are made of heavy materials.
A metal purlin is a better alternative to wood purlins, as they are lightweight, easy to install, and very durable. Aside from the support it provides to roof decks, it also makes roofs resistant to strong winds. Metal purlins are widely used in residential, commercial, or industrial structures.
Types of Metal Purlins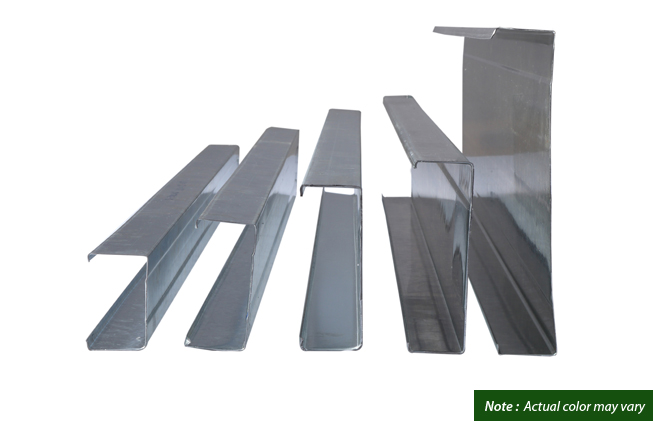 There are various types of metal purlins based on finish and shape.
Based on Finish
For the finishes, metal purlins can either have a coat of red oxide paint or a galvanized finish. The primary function of these finishes is to protect the metal from rusting and getting exposed to various elements. Metal purlins with red oxide finish are spray-painted with a thin layer of iron oxide paint, hence the name. The paint acts as a barrier between the steel substrate and moisture/water. Hence it prevents corrosion even under exposure to rain or other natural elements. But unlike purlins with galvanized finish, once the paint is scratched or abraded, it cannot anymore protect the steel.
Meanwhile, purlins with galvanized finish resist corrosion thanks to their zinc coating that allows them to withstand extreme environments. Union Galvasteel purlins are made of galvanized steel which are effective against factors such as atmospheric corrosion, making it the more cost-conscious choice than the uncoated c-purlins in the market.
Based on Shape
Based on their shapes, purlins can also be classified into two: C purlins and Z purlins.
As the name suggests, Z purlins are shaped like the letter Z when viewed from the width side. The shape has a purpose—it creates an overlap that makes structures more durable. Due to being strong, Z purlins are used often in large structures. The shape also makes Z purlins flexible and usable for various purposes.
C purlins, on the other hand, form the letter C when viewed from a certain angle. Aside from providing support to roofs, C purlins can also be used for walls and floors. Because their shape is less complicated than Z purlins, C purlins are easier to install.
Why use metal purlins?
Be it for residential or commercial structures, metals purlins are better than wood purlins. Below are some reasons.
Metal purlins are lightweight but have a high strength-to-weight ratio, meaning they still are exceptionally durable despite being light.
Moreover, metal purlins, especially galvanized ones, are corrosion resistant due to their protective layer of coat that prevents the formation of rust.
Metal purlins are also non-combustible, unlike their wood counterpart. In case of fire, wood purlins can burn and affect the stability of structures, causing more damage. This event is less likely to happen with metal purlins.
Another disadvantage of wood purlins is that they attract termites that affect their integrity. In the Philippines, termites are common. You don't have to worry about these pests with metal purlins as they are termite-free.
All the advantages mentioned so far contribute to another reason for using metal purlins—cost-effectiveness. Because they are lightweight, they are easy to install and require less labor. Because they resist corrosion and termites, they require less maintenance. That also means that you don't have to replace them soon.
C-Purlins Manufacturer in the Philippines
If you need C purlins in the Philippines, we recommend those from Union Galvasteel Corporation. UGC's galvanized C purlins are great wood frame substitutes as they are more cost-effective than wooden purlins. They are also lightweight, strong, and non-combustible, which makes them ideal for residential and warehouse buildings. Union Galvasteel offers pre-painted C-purlins which do not require painting after installation. Thus, choosing pre-painted c-purlins can provide you with lower maintenance costs.
As an industry leader, UGC is one of the most reliable manufacturers of purlins and other building system components in the country. UGC can also help you with questions about C purlins sizes in the Philippines. So if you are into the construction business or, just like doing home improvements on the side, then you are in the right place.
UGC also manufactures and distributes pre-painted and other galvanized roofing and galvanized steel building products in the Philippines. We have the largest and most diversified distribution network in the industry, with warehouses and sales offices in strategic locations throughout the country, so we are very easy to find. Get in touch with us via our website or call these numbers for assistance: (02) 8520-8822-23; 8520-8831; (049) 545-0084 to 86 or 09175033965 (Globe) and 09190032303 (Smart).