Most Filipinos love to eat dishes with eggs and chicken. That's why poultry production remains a profitable agribusiness venture in the country. Last 2021, about 1.34 million metric tons of chicken were produced in the Philippines. The growth in chicken demand has been faster than other meats due to its affordability, lower fat content, and the absence of cultural and religious encumbrances. The poultry demand alone is enough proof of the importance of poultry housing.
According to the Philippine Statistics Authority, chicken meat remains the top demand of fast-food businesses. PSA expects an aggregate demand for chicken will increase to around 1.8 metric tons in 2023 from 1.6 metric tons in 2020.
So, for poultry owners or aspiring poultry product entrepreneurs, the production up to the handling of products is crucial. Whether your poultry farm is involved in a broiler, egg production, or chick rearing, poultry farmers can optimize production and profits by creating a controlled environment for the chickens by maintaining ample temperature, ventilation, and insulation to ensure animal welfare and the economic performance of the farm.
Importance of Insulation in Poultry Sheds
Insulation is any material that reduces heat transfer from one area to another. The ideal temperature for chickens depends on the type of production in which the chickens are raised. Chickens can tolerate the cold climate but prefer a warmer one, with an ideal temperature of about 21 to 23 degrees Celsius.
Under freezing weather conditions, insulation in poultry sheds helps cut down the heat loss from the house, whether the birds or other supplemental heaters produce it. During the summer, insulation helps lower the rate of heat gain from the outside into the place and the birds.
Good insulation will keep poultry housing at an even temperature throughout the summer and rainy seasons. Insulating a poultry house will help maintain a comfortable and stress-free environment for the birds. Insulating the walls, ceilings, roofs, attics, and crawl of poultry farms can help control humidity and temperature for the flock so they can lay quality eggs.
What Types of Insulation Can Be Used in Poultry Sheds
Batt insulation – insulating thermal sheets made of materials or a mix of materials supplied in rigid board form or a roll of material that can be cut and shaped to a specific size to suit the space. The most common thermal insulation sheets are polystyrene foam, mineral wool, and polyurethane foam. These blanket insulation sheets are installed on the roof to provide a controlled environment for chicks and chickens.

Insulation panels – are specialty construction materials with a thick layer of foam insulation sandwiched between two sheets of plywood or oriented-strand board. The panel layers are glued using heavy-duty construction adhesive and follow high levels of compression pressure to ensure a firm bond.

Spray foam – agricultural spray foams serve as insulation and air barrier material that seals walls, floors, and ceiling cavities against air movement. Spray foams can help keep pests away from your birds as they help close holes that small vermin could pass through.
How Does Insulation Work
Heat can be transferred in three ways: radiation, conduction, and convection. Optimum insulation for your poultry house should reduce all three.
Radiation can be contracted through reflective materials, such as fiberglass or cellulose. Conduction can be lessened by using materials with a lot of dry air, like foams, rock wool, or glass wool. Meanwhile, heat transfer via convection can be lowered by closing unnecessary openings.
A well-insulated and well-ventilated shed will encourage your flock to spread, ensuring there will be no draughts, which can cause the birds to gather in warmer spots.
If you are unsure what insulation material to use, you can tap an expert to know the best insulation for your poultry house.
What are the Cost-Saving Benefits of Insulation for Poultry Sheds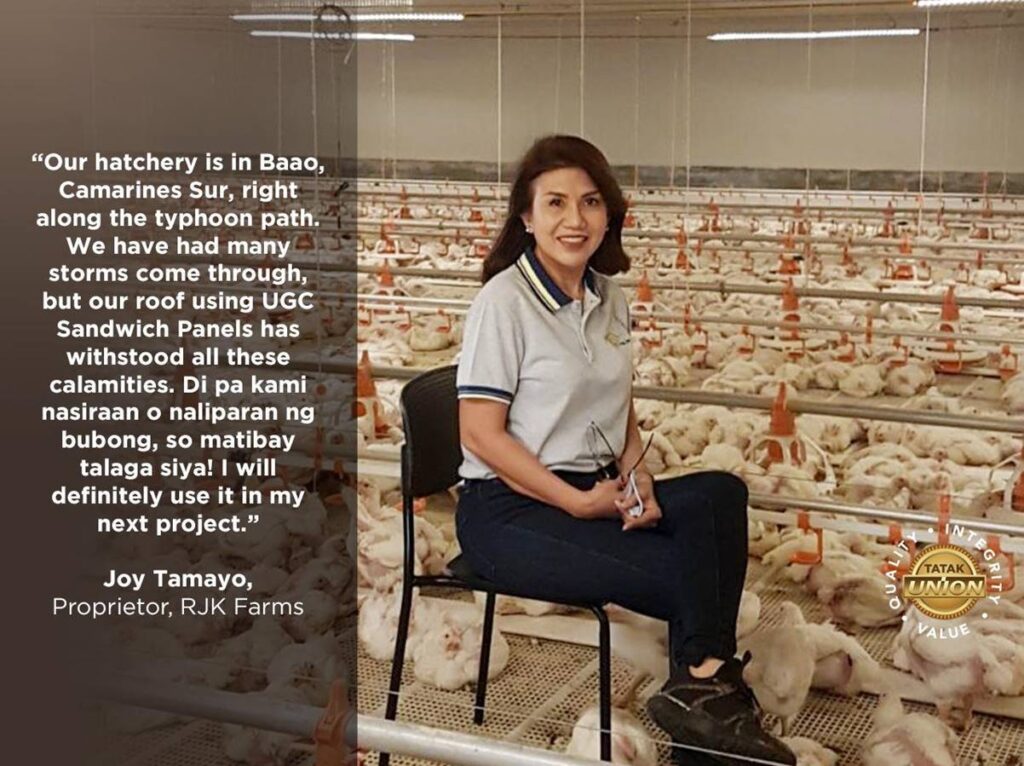 Joy Tamayo, whose poultry business is now in its 10th year, considers herself a loyal Union Galvasteel Corporation customer because her poultry farm is among the first ventures to use UGC's insulated panels for their sheds, and it has proven to be the best decision for their agricultural experience.
Joy's business was already utilizing GI sheets and sandwich panels for its ice business, because of UGC's record of accomplishment of being a pioneer in manufacturing galvanized sheets for roofing applications in the Philippines, Joy shares that they are now UGC's sandwich panels in their hatchery, poultry, and dressing plant.
"We have tried using other PU panels, especially the imported ones, and there are discrepancies between their claims and the actual product quality. With UGC, if ever there is any problem with the quality of the product, UGC addresses it right away to my satisfaction."
Proper insulation ensures general animal health, creates a more comfortable working environment for employees since they don't have to worry much about the flock's condition, and brings down input costs.
"In our poultry projects, 35-40% of our project costs go to panels and roofing! And you can imagine if your poultry covers a large area, that is a lot of money," quips the satisfied UGC customer.
Where to Get Affordable Roof and Panel Insulation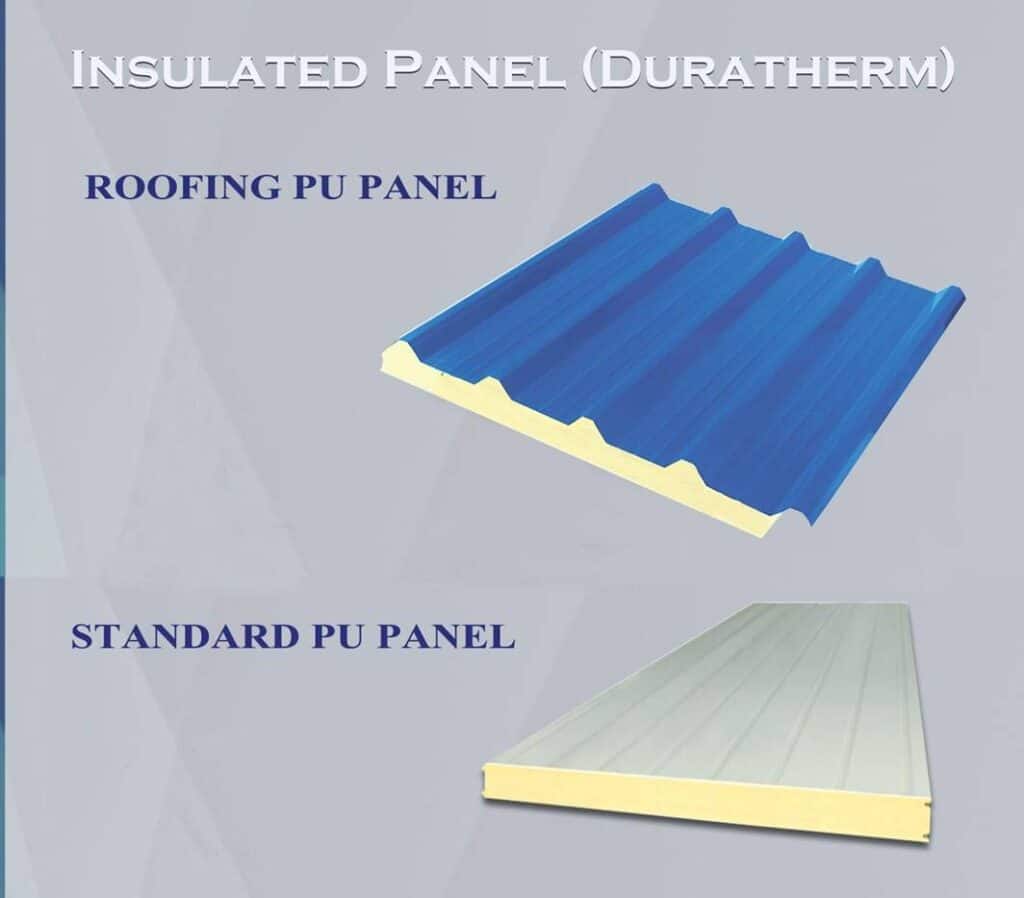 Union Galvasteel Corporation offers a wide array of roofing products, including insulation panels suited for construction projects in the country, including your poultry farm business.
UGC has Duratherm, which comes in two options. The Duratherm Roofing PU Panel is ideal for storage facilities like poultry sheds. Roofing PU Insulated panels consist of three layers: the two outer skins made of metal and polyurethane foam in between them. PU panels provide a durable, robust, and energy-efficient insulation option for any business.
There's also the Duratherm Standard insulation panel, in two (2) types, Polyurethane (PUR) or Polyisocyanurate (PIR) where the foam forms a solid bond to the outer skin, resulting in a more robust panel. You can also use Standard PU panels on walls and partitions in your infrastructure.
UGC roofing experts are available to assist you with roofing insulation across the Philippines. Want to know what insulation panels work best with your poultry shed? Get in touch with our roofing experts by visiting our website. You can also reach us at our trunkline (02) 8520-8822 or our customer service numbers 09175033965 (Globe) or 09190032302 (Smart) if you have roofing questions or want a sample quotation of our products and services.