Following concerns raised by various industry stakeholders over the provisions and implementation of DAO 20-10, the Bureau of Philippine Standards (BPS) has issued Memorandum Circular No. 21-13, series of 2021, to clarify and make more explicit the guidelines for the technical regulation of hot-dip metallic-coated and pre-painted galvanized iron steel coils and sheets for roofing and general applications.
DTI Sec. Ramon Lopez said that MC 21-13 is the result of the department's review of the DAO 20-10 guidelines "to balance the interests of the stakeholders without prejudice to the safety of consumers."
The department clarified that DAO 20-10 includes all steel coils and sheets intended for roofing and general applications with a Total Coat Thickness (TCT) of up to 0.89mm, inclusive of base metal and metallic coating.
Under the amended guidelines, the manufacture or importation of steel coils and sheets below 0.2mm is prohibited, except if they are distributed in a form that will not be used for roofing.
DTI maintains that a minimum TCT of 0.4mm is mandatory for steel coils and sheets for roofing purposes. These are required to be labelled "FOR ROOFING USE".
Steel products of lesser thickness (0.3mm and below) shall be labelled "NOT FOR ROOFING USE" or "FOR GENERAL APPLICATION" and if distributed in the local market in the form of plain or corrugated sheets or other similar forms shall be full-hard grade.
Supplemental provisions in the Philippine Standard (PS) applications are also contained in MC 21-13.
Under this directive, PS marks are required for all local and imported steel coils and sheets for roofing purposes with 0.2mm to 0.8mm thickness.
However, those intended for non-roofing use are exempted from PS Certification, but will still be subject to inspection and verification by the Department.
For its part, Union Galvasteel Corporation welcomes the continuing clarification by DTI on the provisions of DAO 20-10.
"We fully support the amended guidelines for DAO 20-21 as they are intended to protect the consuming public from unscrupulous practices and sub-standard products", declares PHINMA Construction Materials Group (CMG) President Ed Sahagun.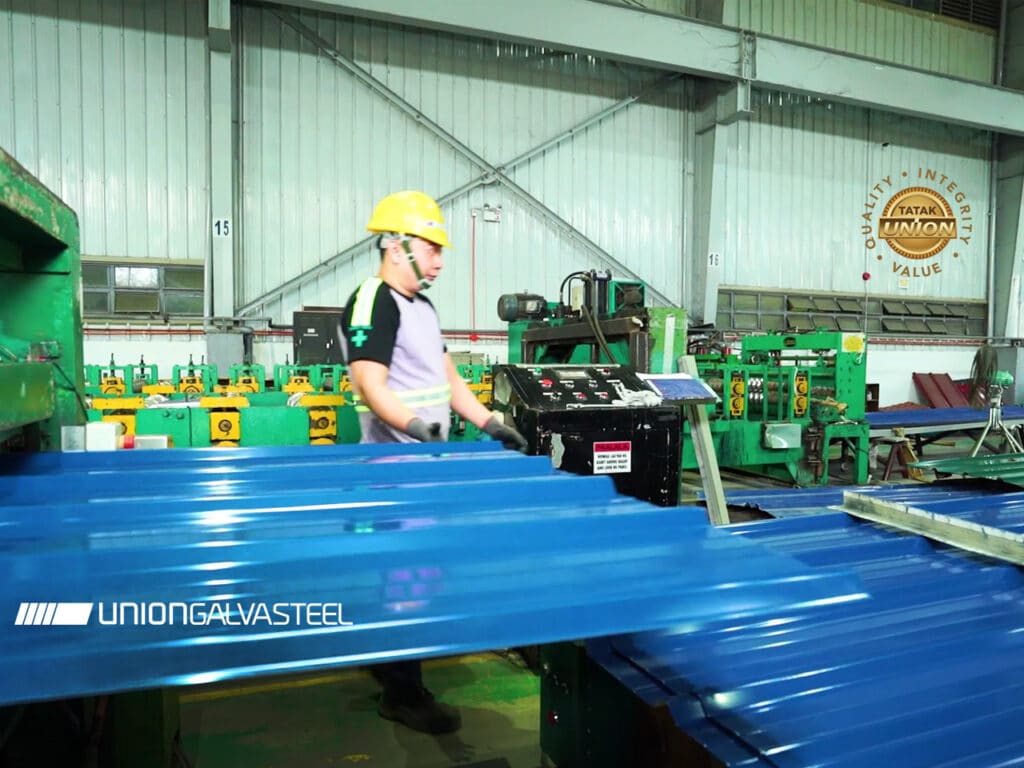 All UNION GALVASTEEL products bear the TATAK UNION mark, representing QUALITY, INTEGRITY and VALUE. "It is your assurance of product excellence in every UNION product", Mr. Sahagun added.