You may have seen advertisements about apartments or condominiums with a loft. But what is a loft? Traditional Filipino homes rarely have provisions for lofts, so its concept may be new to some. Technically speaking, a loft is an elevated area in a room that is directly under the roof. It is used mostly for storage and can be accessed using a ladder. In America, they also call this an attic.
In real estate ads, they often use the term loft to refer to the elevated space in a room not particularly for storage but for others—like an office or a bedroom. If your space can allow it, you can add a loft to your room. Find out the things to consider before adding a loft to the house through this loft conversion guide.
Benefits of Having a Loft
If loft conversion ideas excite you, then you're on the right track as a loft offers many benefits. Here are some of them.
Additional Space
If you can no longer expand your space sideways, look up! As long as you have enough headroom, you can transform your home's dead vertical space into a loft. This could give you additional space, be it for storage or living space. You can consider having an open ceiling so you have more headroom.
Added Value to Home
With the additional space you gain with your loft, your place also gains additional value if you plan to resell it later.
New View
With higher elevation, you could catch your area's best view. If you're doing loft conversion in your home, you can have a new window on your roof to have greater scenery.
Energy Efficiency
With new windows that come with your loft, you let more natural lighting in, so you use less lighting for electricity during the day.
Loft Conversion Key Considerations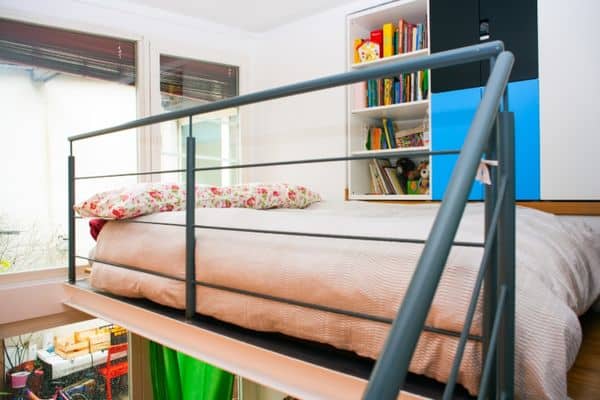 As much as lofts are pleasant additions to homes, not everyone can have them. Here are key things to consider if you're planning to do a loft conversion.
Space
Space is perhaps the most important consideration when converting a room into a loft. Headspace is important, especially if the loft will be used as a living space.

Will there be enough headroom as you stand up in the loft? You need at least 2.5m of vertical space to have comfortable headroom, so you will not hit the ceiling or roof. You also need to think of your floor space as you will build a stair or ladder to access your new loft.
Budget
You will have to spend on materials and labor for your new loft. It may not be cheap, but it is a good investment. Also, a loft conversion can actually be cheaper than moving into a bigger, more spacious space. You can shop around for contractors that will fulfill your loft dreams. If it is something you can afford, then go for it.
Light source
You can take advantage of your new lift's proximity to the roof by installing new windows for natural lighting, but what type of window would you have? A skylight window or a dormer window? A skylight window would be easier to install, as you don't need structural alterations. You just need to replace existing roof panels with glass windows. A dormer window will give you additional headspace, but it is more complicated to build.
Insulation
With the loft directly under your room, you will feel the heat more if you don't have proper insulation. You can use roof insulation foam, or if you have the budget for it, you can replace some of your roof with PU roofing panels. These panels have thermal properties that control heat. With these panels, you feel cooler inside your home, though it may be hotter outside.
Materials
Needless to say, you need to use durable materials in building your loft. Talk to your contractor about procuring only quality materials from trusted brands. For your loft's flooring, you can use a high-quality steel composite floor deck like Duradeck and Duraweb from

Union Galvasteel Corporation

or UGC, a manufacturer of steel decks in the Philippines. This steel deck uses less concrete and shoring support, so you save on loft materials costs. It has an aesthetically pleasing underside design, so you have a great view from under it.
Aside from the materials for the loft itself, you should also consider the materials for your roof, as you will probably be making some modifications to your roofing. For example, as mentioned earlier, you can use PU roofing panels for better insulation. Here, we recommend Duratherm. This lets you save on your electricity bill because you do not need to use air conditioning often or in high settings during summer. It can also withstand heavy rainfall and strong winds.
If you'll have an open ceiling for your roof, you should use light steel frames for your roof trusses and purlins. Roof trusses are frames that support roofs and protect them from damage, while purlins are bars or beams placed horizontally to provide structural support to roofs. Light steel frames are better than wooden frames because they are sturdier and more cost-effective. Aside from being termite-resistant, light steel frames are also fire-resistant. They also look way better than wood trusses, making them ideal for open ceilings.
If you need roofing materials price list in the Philippines or have other roofing concerns like steel deck sizes in the Philippines, Union Galvasteel Corporation is here for you. UGC manufactures and distributes pre-painted and other galvanized roofing. We have the largest and most diversified distribution network in the industry, and with warehouses and sales offices in strategic locations throughout the country, we are easy to find. Get in touch with us via our website or call these numbers for assistance: (02) 8520-8822-23; 8520-8831; (049) 545-0084 to 86 or 09175033965 (Globe) and 09190032303 (Smart).