Roofing is a crucial element of any structure. But did you know that there are several types of roofs according to material and purpose? For example, there are roofs made of wood, stones, and metals. As for purpose, the types can be differentiated as either for residential or industrial/commercial use. Most often, industrial, or commercial structures use long span roofs because of their size. Know more about long span roofing and discover pre-painted long span roof options in the Philippines through this blog.
What is Long Span Roofing?
Given that commercial or industrial structures are bigger than residential houses, the type of roofs they use also need to be bigger. So instead of having the same roofs for houses, these structures often use long span roofs. As the name implies, long span roofs are usually at least 12 meters long (standard length as per PNS 67), which is longer than the length of traditional roofs. Some consider 14ft still as standard, but length above 14ft is already classified as long span. The 12m could be long span minimum length for onsite-rollforming. Long span roofs are usually made of wood, concrete, or metal. Each of these materials has its benefits. However, metal long span roofs, especially the pre-painted ones, offer both functionality and practicality.
Advantages of Pre-painted Long Span Metal Roofs
They come in various colors
A painted roof looks better than the commonly used unpainted corrugated galvanized iron or G.I. roofs. Also, with pre-painted long span roofs, you don't have to worry about doing the painting yourself. Thus, it will save you time and additional costs.
They are easy to install
Some pre-painted long span roofs are prefabricated to fit specific roofing projects, so installing them on site is a breeze. Union Galvasteel Corporation offers On-site Rollforming to give you more time to establish and monitor your project schedule since we are with you in the field facing the issues of limited laydown space and unpredictable site conditions.
They are durable
As much as pre-painted long span roofs look pleasing, the paint also functions as an additional layer of protection from weather elements to make it last longer. The paint also serves as a barrier to corrosion and makes the roofing more resistant to termites and fire.
They provide the protection you need
On hot days, pre-painted metal roofs reflect sunlight to keep heat from being absorbed into your home. On rainy days, the paint gives a layer of protection to the roof, making it more durable against extreme weather conditions.
They are cost-effective
Because pre-painted long span roofs last for an exceptionally long time, at least 15 10 years when properly maintained, they end up being more cost-effective than regular metal roofs. So, investing in a quality pre-painted long span roof, especially for bigger establishments, is more practical than constantly paying for repair.
Finding the Right Pre-painted Long Span Roof
If you're in the market for pre-painted long-span roofs, then Union Galvasteel Corporation has a wide array of options for you. What's amazing about these roofs is that they can be used not just for commercial or industrial structures, but also for residential structures. So even if you're planning to build a home, you can still consider them as materials for your projects.
If the structure is in an area experiencing rain frequently, then we recommend the Durarib roof. It can withstand strong winds and prevent rainwater leakage on the side lap of the panels. Its wide effective coverage also makes it more economical. Durarib can be used as sidings and normally used in mass housing projects, poultry farms, and typical warehouses.
Another metal roof we recommend is Duracurve. Its arc tri-crimp design gives an edgy appeal to any structure. Because it is economical, wind-resistant, and low-maintenance, it is ideal for gymnasiums, domes, covered courts, walkways, and high residential buildings.
If you are after classic elegance, Duracorr is the long span roofing for you. It has sinusoidal corrugation that offers superior strength and stability. It is ideal for residential structures, but it can also be used for schools and as sidings or under sheathing for poultry houses, typical warehouses, and manufacturing plants.
Duraseam is ideal for commercial and industrial structures. This long span roof is mechanically seamed for assured water tightness. It is also free of any holes from screws that could allow moisture to seep through. This roof is ideal for commercial and industrial structures.
For a roof that looks like concrete tiles but is less expensive, we have Duratile. Its tile profile creates a timeless elegance that adds class to every structure. Aside from looking great, it also has an anti-capillary leak feature that prevents water leakage on the side lap. It can be used for commercial buildings as well as mid- to high-end residential buildings.
Laverne is another long span roof that mimics the design of another roofing material—concrete. But aside from providing an enhanced aesthetic look, it is also designed to protect structures from leaks. This roof is ideal for mass housing projects and high-end residential buildings.
All these pre-painted long span roofs come in different colors—red, green, beige, blue, orange, white, brown, and other special colors upon request.
Thus, whatever theme or overall look you are after for your structure, you can achieve them with our products.
Pre-painted Long Span Roof Supplier in the Philippines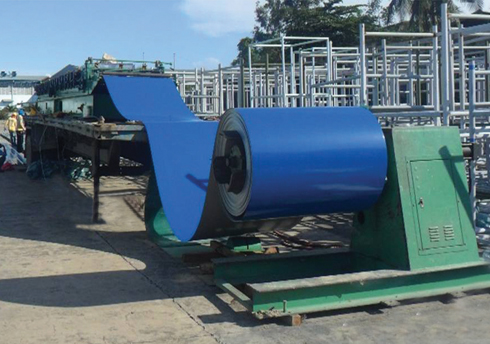 We at Union Galvasteel Corporation are more than happy to answer your questions about long span roof price in the Philippines or other roofing concerns. We are the market leader in the manufacturing and distribution of pre-painted and other galvanized roofing and galvanized steel building products in the Philippines. If you need any of our products, we are easy to find, as we have the largest and most diversified distribution network in the industry. We have warehouses and sales offices in strategic locations throughout the country. Contact us via our website or call these numbers for assistance: (02) 8520-8822-23; 8520-8831; (049) 545-0084 to 86 or 09175033965 (Globe) and 09190032303 (Smart).