Union Galvasteel Corporation is known today as a company that offers various roofing, walling, and cladding products that are of top quality. Our products have many applications, are cost effective, and are environmentally friendly. Our company culture has always been to challenge ourselves to innovate, in order to always offer fresh products and ideas to the construction industry.
We started as a pioneer in the Philippine cement industry, but have now become the market leader in the manufacturing and distribution of galvanized roofing and galvanized steel building products. We have also become a known roofing supplier in the Philippines.
One of the ways we were able to become leaders is by hiring talented people, adhering to operational excellence, and ensuring that our technology is of top-notch quality. We are relentless in exploring proactive ways towards improvement, which sets us apart from the rest in the field.
Most importantly, we are committed to creating better lives for Filipinos, and sharing our love for excellent products and service by proudly stating, "Sa tibay at ganda, panalo ka!"
But how did start?
A Look at UGC's history
We first began as the Union Steel Plant Division of Bacnotan Cement Industries, Inc., a pioneer in the cement industry. Commercial operations started in 1963 through a galvanizing plant in Poro, La Union. We manufactured Galvanized Iron (GI) sheets and eventually expanded to Ilang, Davao City in 1968 and to Calamba, Laguna in 1990.
In 1993, the steel plant was separated from Bacnotan to become its own business unit, and incorporated as Bacnotan Steel Corporation. Later on, we were renamed Union Galvasteel Corporation (UGC).
UGC formally began in 1997 by establishing a modern Continuous Galvanizing Line and Color Coating Line for the manufacture of prepainted galvanized steel coils in Calamba, Laguna. The company quickly became the pioneer roofing contractor in the Philippines.
UGC's Growth throughout the Years
Over the years, we became the market leader in the manufacturing and distribution of prepainted and other galvanized roofing products. We also became leaders in the manufacturing and distribution of galvanized steel building products, including building system components like steel deckings, c-purlins, door jambs, steel trusses, pre-engineered building structures (PEBS), and insulated panels for commercial, industrial, and residential applications.
UGC has also expanded to have the largest and most diversified distribution network in the industry. We now have roll-forming plants, warehouses, and sales offices in strategic locations across the country.
As a top roofing manufacturer in the Philippines, we help build commercial and industrial projects, which include manufacturing plants, warehouses, and even shopping malls. Our residential projects include subdivisions, apartments, condominiums, and houses. We are also known for agricultural projects, namely in the construction of poultry facilities, piggeries, farms, and storage facilities. We also help with wider community projects by helping build churches, mass housing facilities, and covered courts.
UGC Roofing Construction Services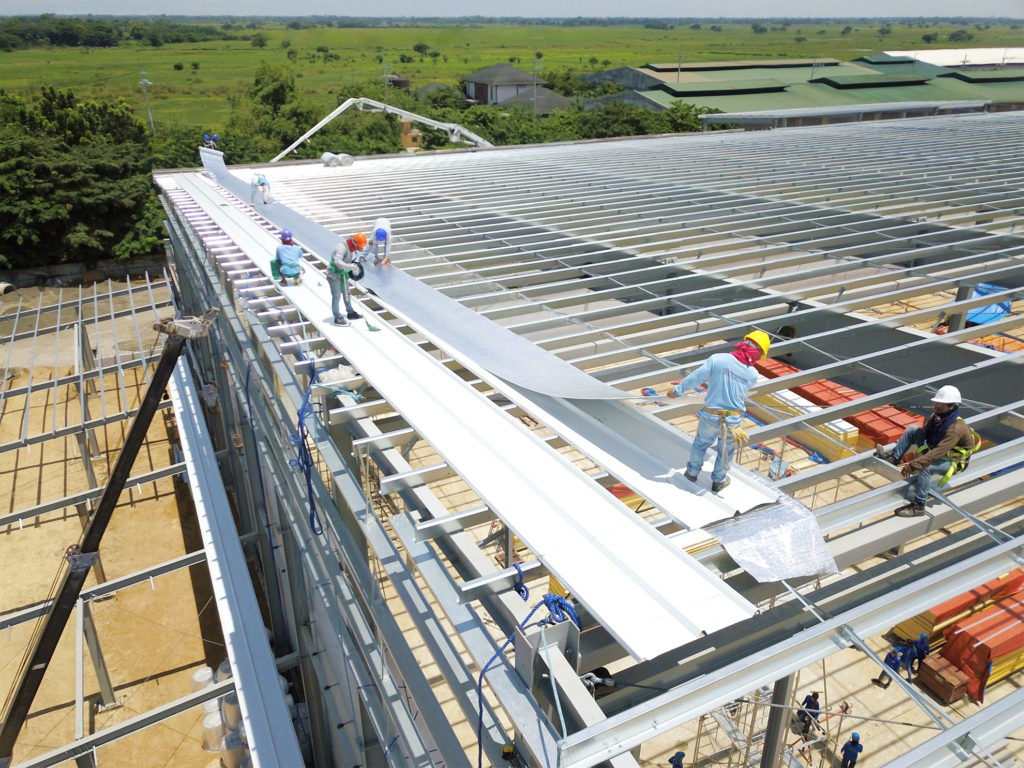 We gladly extend our help in creating budgets, scheduling projects, and ensuring that building projects are completed. We have onsite roll-forming services that offer preserved product quality for long-span panels while providing faster workflow due to reduced material handling. Onsite roll-forming allows for better establishing and monitoring of project schedules, as issues may be faced more efficiently when on-site. We also have roofing estimation services, aimed to help with project planning and budget preparation. Our company provides detailed roofing estimates for building projects and we are able to give sales quotations that are complete with the necessary or specified roofing accessories. Lastly, we also have delivery services, in partnership with our accredited haulers, coupled with our installation services, in partnership with our accredited contractors. Our delivery and installation services aim to help achieve project completion on time.
Check out our services page to find out more or reach us through these numbers: (02) 8520-8822-23, 8520-8831, (049) 545-0084 to 86, 09175033965 (Globe), and 09190032303 (Smart).
What Our Slogan Really Means
Our slogan is simple: "Sa tibay at ganda, panalo ka!" It not only reflects the beauty and durability of our products but reflects our utmost commitment to product quality and service to help better the lives of Filipinos. Our mission is to provide better service each and every day, and we have done so for generations. Our definition of service comes straight from our heart and towards the heart of every Filipino.
Aside from manufacturing aesthetically pleasing and durable products, what we really want is for our products to be versatile and flexible for various applications. We also ensure that they are environment-friendly while remaining ready for climate change. We also consider value for money by making all our products cost-efficient and by providing the best service possible.
We challenge ourselves to always innovate to offer infinite possibilities in the construction industry.
In doing so, we help build better lives for Filipinos. We don't just make construction materials. We're not just another roofing company in the Philippines. We help build the nation.