Gone are the days of thatched roofing and earthen tiles. Today, there are now a variety of roofing materials that abound in the market. These provide homeowners with both durable and inexpensive options, including the Polyurethane Sandwich Panel.
Polyurethane (PU) is a material found in everyday items such as refrigerators, automobiles, shoes, and even beds. It is a synthetic material with numerous applications. For example, the flexible foam used in mattresses is made from PU. It's also utilized in shoe soles, tires, and furniture padding.
Its wide usage is due to the various advantages it provides. These include flexibility, high load capacity, strong bonding ability, and a cost-effective manufacturing technique. It's also resistant to tears, abrasions, water, oil, grease, mold, mildew, and fungus. This has led PU to become frequently utilized in a variety of consumer and commercial products. Similarly, it is also used as roofing in the construction industry in the Philippines, particularly as a Polyurethane Sandwich Panel.
A Closer Look at the Polyurethane Sandwich Panel
The core of these panels is the polyurethane rigid foam. Polyurethanes are distinguished by their manufacturing process, as they are made by measuring and mixing four or more streams of liquid components containing polyurethane precursors during the production stage.
As a result, a high-molecular-weight polymer is often produced by a Sandwich Panel manufacturer through a PU sandwich panel production line. One section of the sandwich panel production line, known as the "PU Foaming Machine" or "Metering Machine," is dedicated to this procedure.
Since 1950, polyurethane has been utilized as a highly effective thermal insulator. Polyurethanes have excellent insulating characteristics, resulting in energy savings of up to 60%. Because the use of fossil fuels produces around 80% of the world's carbon dioxide (CO2), polyurethane can be an effective way to reduce energy use. As a result, it can help decrease CO2 emissions, which is one of the most significant causes of global warming. Furthermore, polyurethane insulators are regarded as lightweight and cost-effective when compared to other thermal insulators, while having better thermal insulation efficiency.
Do you want to know more about PU Sandwich Panels? Read Revealing the Magic: How Insulated Panels Work
Polyurethane Sandwich Panel Uses and Applications
Polyurethane Sandwich Panels, often known as PU Panels, are structures consisting of polyurethane foam sandwiched between two side skins made of a different material, such as metal. Thermal insulation is provided by foam in between. The mix of materials allows PU to be lightweight, durable, as well as resistant to corrosion and extreme weather.
The three layers that make up the PU Sandwich Panel (the core and the two side skins) are used whenever a combination of high structural rigidity and low weight is needed. Some examples of its applications include pack houses, CA chambers, ripening chambers, freezer rooms, control rooms, insulated roofs, and wall claddings. They are also often used to build prefabricated houses and shelters, portable cabins, health centers, schools, stadiums, and warehouses.
Here are the other advantages of PU sandwich panels:
Lightweight
Fire resistant
Has a low installation cost
Can be a moisture insulator
Can be a sound insulator
Can withstand shear, tensile, and pressure forces
Great for cooling and heating
Has a high resistance against microbial and biologic contamination
Can come in various color options and types
The Union Galvasteel Corporation's Standard PU Panel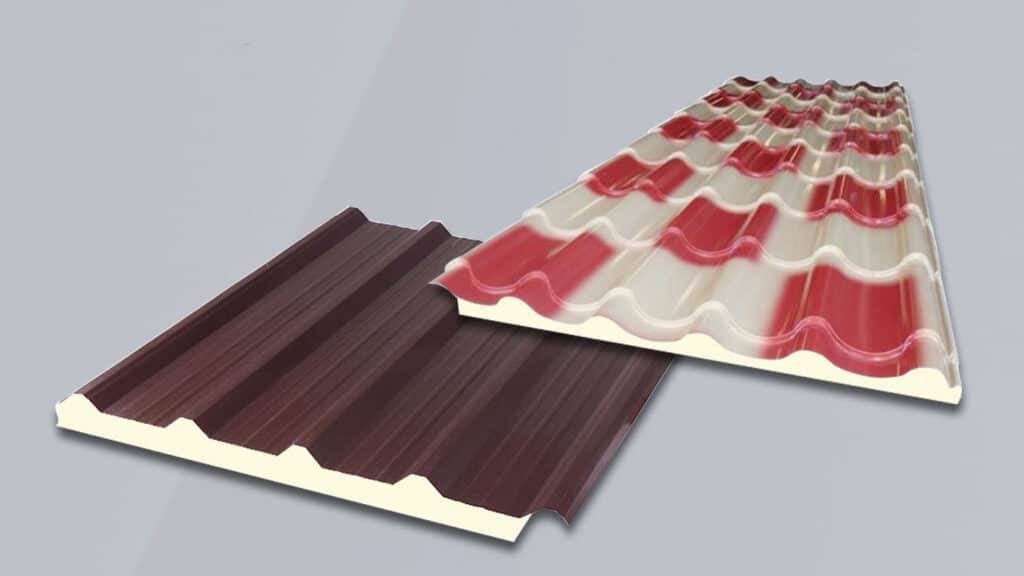 Union Galvasteel Corporation offers a wide array of products, including PU Sandwich Panel roofing. Our Roofing PU Panel and Standard PU Panel consist of a rigid foam insulation layer sandwiched between two structural metal skin surfaces. The core is made of Polyurethane and Polyisocyanurate insulated panels that form a strong bond to the outer skin, which makes the panels durable.
These panels are better than traditional wood framing and are less susceptible to shifting. These make them one of the best roofing materials for homes and commercial structures.
Installing our PU panels is easy and requires less time and manpower, as compared to other materials. They are also effective as thermal insulation, keeping the roof from absorbing too much heat. This means that you can save money as you will consume less electricity to cool your home.
Union Galvasteel Corporation is the market leader in the manufacturing and distribution of pre-painted and other galvanized roofing materials, as well as insulated panels for commercial, industrial, and residential use. Aside from these, we also have other insulated metal panels for sale, which means that we have the right materials for whatever type of structure you plan to build.
We have the largest and most diversified distribution network in the industry, with roll-forming plants, warehouses, and sales offices in strategic locations throughout the country. We ensure that we create only the best by hiring the top talent, adhere to operational excellence, and ensure that our technology is top-notch. We are relentless in exploring proactive ways towards improvement, which sets us apart from the rest in the field.
We started as a pioneer in the Philippine cement industry, but are now the market leader in the manufacturing and distribution of various roofing and building products. Learn more about our services or call these numbers for assistance: (02) 8520-8822-23, 8520-8831, (049) 545-0084 to 86, 09175033965 (Globe), and 09190032303 (Smart). We always seek to explore creative, innovative, and environment-friendly ways to push the boundaries in our industry.
Don't forget to reach out to us to learn more about our products and services! We aim to help Filipinos build better lives, so that we may all proudly exclaim, "Sa tibay at ganda, panalo ka!"