When searching for the best options for your roofing system, you may have heard of or encountered insulated panels. They are growing in popularity because of the various benefits that they offer compared to traditional roofs. They are known to be durable, cost-efficient, and energy-saving. But how exactly can they do that? Continue reading to find out how structural insulated panels work.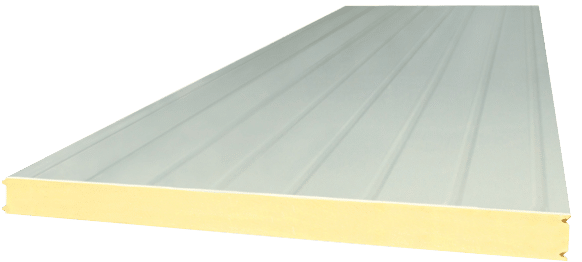 What are insulated panels?
Before we discuss how insulated panels work, we have to understand first what they are. Insulated panels are also sometimes called "insulated sandwich panels" because they have several layers, like a sandwich. They consist of a core made of polyurethane (PU), polyisocyanurate (PIR), or other insulating materials such as rock wool sandwiched by covering sheets usually made of steel. Insulated panels are used in various industries. Aside from construction, they are also used in automotive and aerospace. For this article, we will focus on their usage in the construction industry, especially in the Philippines, where they are commonly used as roof, wall, or ceiling building.
Why use insulated panels?
There are various reasons to use insulated panels. It offers a lot of advantages both for construction, design teams, and end-users.
For builders and designers, insulated panels are light and easy to install. They also do not require any special tools. These make construction faster by up to three times compared to installing traditional roofs. They also require less manpower. All these contribute to cost savings. Home designers also prefer insulated panels for their flexible designs. They come in various sizes, colors, and finishes, so they can fit any design ideas they have in mind.
For homeowners, insulated panels provide comfort, protection, and other benefits. With this, they can enjoy long-lasting and low-maintenance roofs, as insulated panels are made to withstand heavy rainfall, strong winds, and snowfall in areas that experience winter. Despite being light, insulated panels are very durable.
Also, the insulation they provide leads to savings in energy costs. No need to use too much air conditioning during hot summers since insulated panels can absorb and deflect direct heat. Aside from providing insulation, they are also used for soundproofing and even as a fire retardant.
So, how do structural insulated panels work?
The secret is in the layers of materials. The core of the panels, made of PU, PIR, or other materials as stated earlier, is what provides insulation. PU, developed by German chemist Otto Bayer in the 1930s, is a synthetic resin that is actually commonly found in various household items, like the sponge you use to wash your dishes or the mattress in your bed. PU is known for its outstanding thermal properties, which provide energy efficiency.
Protecting the core are the exterior materials, which can be made of stainless steel, aluminum, or glass fiber reinforced plastic. These materials are what provide durability to the insulated panels. The thicker the material used, the stronger the panels are. Those who prefer lighter panels may go with thinner materials, which are also less expensive.
The exterior materials protect the core, but they also need protection through their coating. The coating adds another layer of protection against corrosion due to weather elements. They also deflect UV rays, keeping heat away from your home especially during hot days.
These small but important details, when combined, give insulated panels their magical appeal.
Insulated Panels Supplier in the Philippines
Now that you know how insulated panels work, you might be looking for the best panels for your home or business. Look no further as Union Galvasteel Corporation has its Duratherm line of roofing and standard panels. These panels consist of a rigid foam insulation layer sandwiched between two structural metal skin surfaces. The PU and PIR insulated core form a strong bond to the outer skin, creating a stronger panel that is structurally superior to traditional wood framing and providing a stronger structure less susceptible to shifting. Also, our insulated panels come in different colors like red, blue, brown, white, beige, and green. So whatever color you have in mind for your home or commercial establishment, we have something for you.
Aside from residential structures, our insulated PU panels are also found in general buildings like offices, factories, warehouses, gymnasiums, laboratories, and mobile homes. They are also used in the agriculture industry, for growing rooms or rooms that need to have controlled temperature. We also had drying rooms for timber, fruits, and ceramic products that utilized these products. In the food industry, they are commonly used for cold storage, food processing and production plants, and commercial chillers.
UGC is the market leader in the manufacturing and distribution of prepainted and other galvanized roofing as well as insulated panels for commercial, industrial, and residential use. We are the roofing company in the Philippines with the largest and most diversified distribution network in the industry, with roll-forming plants, warehouses, and sales offices in strategic locations throughout the country. Get in touch with us via our website or call these numbers for assistance: (02) 8520-8822-23; 8520-8831; (049) 545-0084 to 86 or 09175033965 (Globe) and 09190032303 (Smart).