A home should be designed to make it a safe and comfortable place for people living in them. From the floor to the roof, every part should be of high quality and should serve its purpose. For example, a door should be secured to prevent the unauthorized entry of uninvited guests. The roof should be sturdy enough to protect the home from different weather conditions. These can be ensured by using the right materials for these important parts of a home. Speaking of roofs, did you know that certain roofing material is recommended for homes in the Philippines?
The Philippines experiences almost the same number of rainy days and sunny days. On some days, these conditions can be extreme—summer days can be extremely hot, and over 20 typhoons enter the country every year. As the first line of defense against the weather, the roof should be able to withstand this weather. Though a traditional roof panel can do this job, a layer of insulated panel roofing material could make your space more secure and comfortable.
What is an insulated panel?
An insulated panel is a material used in various industries. It is composed of layers of materials—usually metal as outer sheets sandwiching an insulating material, which can be polyurethane (PU), polyisocyanurate (PIR), or Polyethylene (PE).
The three insulation materials have similarities and differences. The first obvious similarity is that they all provide insulation. They also resist moisture which is extremely helpful during humid days.
Their differences comprise the level of protection these insulation materials provide. PE is not fire resistant, unlike PU and PIR. They also differ in cost, with PIR being the most expensive. Of the three insulating materials mentioned earlier, which one should you have as your roof? PE is not fire-resistant. PIR is more expensive. That makes PU a top choice. PU, a synthetic resin commonly found in various household items, like bed mattresses and kitchen sponges, is also known for its outstanding thermal properties.
Learn more about insulated panels: PE vs. PU vs. PIR: 3 Major Insulation Materials and Their Differences
Benefits of Insulated Roofing
Insulated panels are recommended for homes because of their advantages for homeowners and home builders.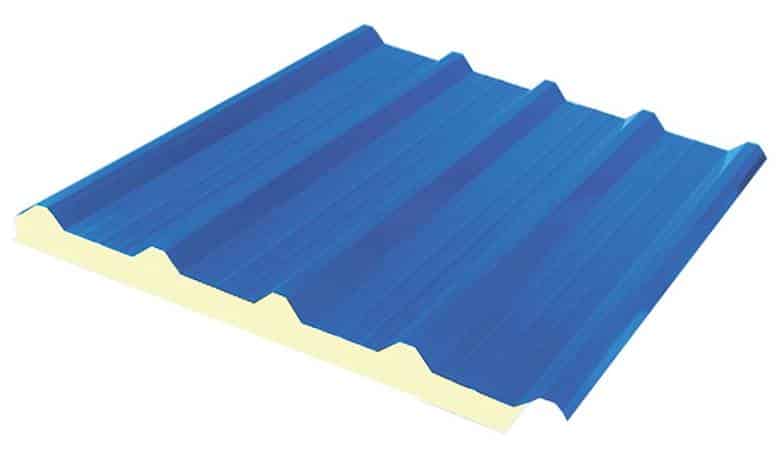 Benefits for homeowners
For homeowners, insulated panels provide comfort, protection, and cost-efficiency to name a few. As Insulated panels have thermal properties that control the heat that penetrates homes. This makes you feel cooler inside your home even if it's hot outside. This allows you to gain energy and cost savings, as you do not need to use air conditioning at high settings during hot summer days.
Also, insulated panels can withstand heavy rainfall and strong winds. They are very durable despite being light. You can also save on maintenance costs because these panels are long-lasting and low-maintenance.
Insulated panels, particularly those with PU and PIR core, are fire-resistant. Fire resistance should be a feature every home should have as aside from protecting your hard-earned investment, it can also save the lives of your loved ones.
If your home needs soundproofing, insulated panels are recommended, as they can provide soundproofing.
Benefits for homebuilders
Insulated panels are easy to install, as they do not require any special tools. This makes them a favorite of homebuilders. Also, they make construction faster by up to three times compared to installing traditional roofs, and they require less manpower.
These benefits lead to cost savings. Another good thing about insulated panels that homebuilders like is their design flexibility. Because they come in various sizes, colors, and finishes, they can fit any design ideas homebuilders have in mind.
How Insulated Panels Work
The layers of materials in an insulated panel give it admirable properties. Its core provides insulation, while its exterior layers, which are of stainless steel, aluminum, or glass fiber reinforced plastic, make the panel durable. When painted, an insulated panel provides even more protection. The paint coating adds another layer of protection against corrosion that weather elements may cause. The paint also deflects UV rays, keeping heat away from your home.
Aside from homes, insulated panels are also used in offices, factories, warehouses, gymnasiums, laboratories, and mobile homes. They are particularly used above rooms that need to have a controlled temperature.
Where to Get Insulated Roofing
If you are looking for the best insulated panel, look no further as Union Galvasteel Corporation has its Duratherm line of roofing and standard panels. The standard PU sandwich panel consists of a rigid foam insulation layer sandwiched between two structural metal skin surfaces. The insulated core forms a strong bond to the outer skin, creating a stronger panel that is structurally superior to traditional wood framing and providing a stronger structure less susceptible to shifting.
The Roofing PU Panels are a durable and energy-efficient building option for construction projects in the Philippines
Also, these PU insulated panels come in different colors like red, blue, brown, white, beige, and green. So whatever color you have in mind for your home, we have it for you.
UGC is the market leader in the manufacturing and distribution of pre-painted and other galvanized roofing materials in the Philippines including insulated panels for commercial, industrial, and residential use. We have the largest and most diversified distribution network in the industry, with roll forming plants, warehouses, and sales offices in strategic locations throughout the country. Get in touch with us via our website or call these numbers for assistance: (02) 8520-8823; 8520-8831; (049) 545-0084 to 86 or 09175033965 (Globe) and 09190032303 (Smart).