The roof is the most essential feature in any house. It provides protection from the sun, rain, wind, and snow and it also gives you warmth and coolness during winter and summer, respectively. Because of its vital role, adding insulation to your roof would help in prolonging its performance and life, especially in various seasonal changes.
Commercial and residential contractors and homeowners should consider the structure's thermal needs and the insulation panel's material and cost. When chosen wisely and adequately, the roof can withstand various weather and climate changes for an extended period. Poor choices, on the other hand, would lead to low roof performance.
Primary Types of Roof Insulation
There are several roof insulation panels available in the market. However, they differ mainly in terms of their properties, advantages, and disadvantages. The significant types of roof insulation include the following:
1. Wood fiber
Wood fiber is one of the most infamous roof insulation types. It is made from a combination of raw materials, such as wood, cane, or vegetable fibers, and fillers or binders. This material can either be asphalt-impregnated or -coated for better moisture resistance. A few of its advantages and disadvantages include:
Advantages:
durable
decent strength
easy to cut and form
Disadvantages:
unstable
deterioration upon moisture contact
poor fire resistance
2. Perlite
Some roof manufacturing companies combine the inorganic siliceous volcanic glass known as perlite with organic fibers and binders as an insulation panel. Similar to wood fibers, it is also asphalt-coated to limit unwanted adhesive absorption. A few of its advantages and disadvantages include:
Advantages:
fire-resistant
good strength
stable
Disadvantages:
friable
poor tensile strength
deterioration upon moisture contact
3. Polyurethane
Polyurethane is one of the most used roofing insulations in the market because of its high-quality performance and unique properties. It is derived from the reaction between a diisocyanate and polyol, giving rise to its extensive range of features. Among which is its ability to block undesirable air infiltrations while maintaining the strength and efficiency of the roof. A few of its advantages and disadvantages include:
Advantages:
 ●    heat resistant
 ●    excellent sound insulation
Disadvantages:
 ●    may form condensates
4. Polyisocyanurate
With the use of a chlorine-free blowing agent, roof companies can produce polyisocyanurate. This insulation material features a closed-cell foam plastic core that is found in between organic or inorganic facers. Its structure is responsible for maintaining its high thermal resistance despite the chances of air diffusion. A few of its advantages and disadvantages include:
Advantages:
●    good strength
●    lightweight
●    stable
●    fire-resistant
Disadvantages:
 ●    may contribute to global warming
5. Polystyrene
There are two kinds of polystyrene insulation – expanded and extruded. Expanded polystyrene is impregnated with a foaming agent and develops when exposed to high temperatures. Meanwhile, extruded polystyrene is run through an extrusion process and grows due to atmospheric conditions. A few of its advantages and disadvantages include:
Advantages:
stable
lightweight
inexpensive
Disadvantages:
poor fire resistance
low strength
combustible toxic substances
6. Cellular glass
Cellular glass consists of a mixture of crushed glass and a foaming agent. The presence of heat causes the glass to melt and the foaming agent to decompose. When this happens, a uniform mixture of closed cells forms the material. A few of its advantages and disadvantages include:
Advantages:
stable
low water absorption
good strength
Disadvantages:
expensive
friable
low vapor conductivity
7. Gypsum board
Lastly, the gypsum board is a non-structural, non-combustible, and water-resistant insulation panel. Unlike wood fibers and perlite, this material is usually treated with a non-asphaltic coating for adhesion enhancement. It also acts as a thermal barrier over foam-plastic insulations. A few of its advantages and disadvantages include:
Advantages:
high moisture resistance
excellent wind uplift
fire-resistant
Disadvantages:
heavy
expensive
difficult to cut and form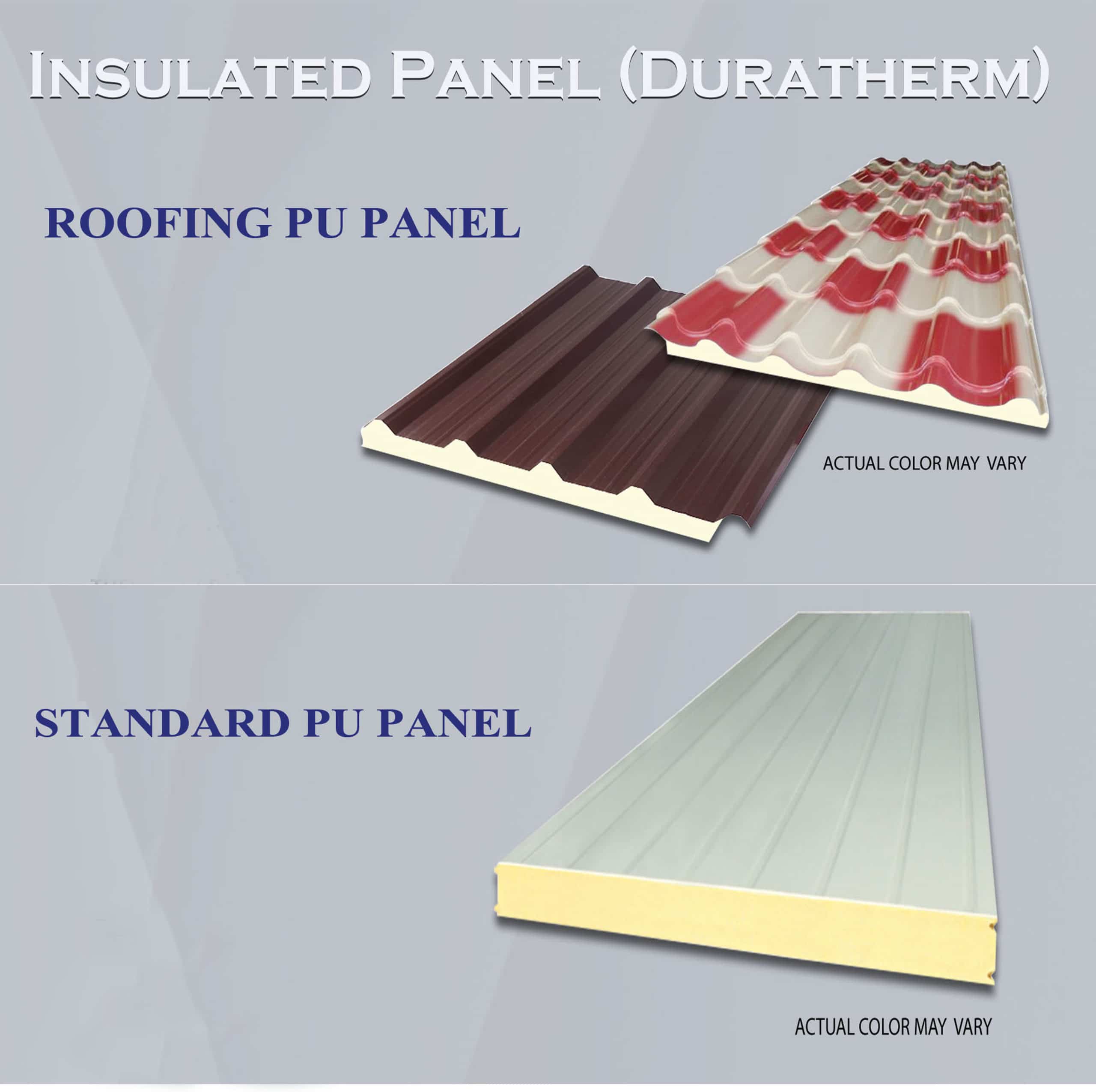 Union Galvasteel Corporation's Duratherm Insulation
Since there are several types of roof insulation in the market, choosing the most suitable one for your house can be a time-consuming and challenging task. Fortunately, the Union Galvasteel Corporation offers its very own Duratherm insulation, made mainly from polyurethane or polyisocyanurate for better fire extinguishing properties. Customers are ensured of the following features for every insulation panel they buy:
aesthetically designed
durable
adapts to weather and climate changes
excellent and compressive outer material
versatile thermal conductivity and density
flexible insulation and metal thickness
transportable panel length
You can even get your Duratherm insulation in two varieties – the standard PU panel or the
roofing PU panel. For more information, you can check out their product brochure.
Best Roofing Company in The Philippines
With over five decades of experience in the industry, Union Galvasteel Corporation has become the leading manufacturer and distributor of prepainted roofing and galvanized steel building products in the Philippines. They also have the largest and most diversified distribution network throughout the country.
Every product UGC manufactures embodies the company's slogan, "SA TIBAY AT GANDA, PANALO KA," providing only the best and high-class products and services to make the lives of the Filipino people better. Aside from their operational excellence, they are also known for having the best human resources who are equipped with excellent skills and knowledge.
UGC also guarantees that they practice globally accepted protocols to ensure that their products are aesthetically designed. They also use state-of-the-art technology to ensure the versatility and durability of their products for various applications.