One of the worst nightmares of every homeowner is a leaky roof. As the home is supposed to be a fortress that shall keep a family safe regardless of weather conditions, having water enter your home because of leaks can be annoying. It can damage your home and furniture, and give you sleepless nights, especially during the rainy season. The best way to avoid leaky roofs is with proper installation and maintenance. Aside from the roofing panels, homeowners should also ensure the proper installation of one important roofing material, the roof ridge cap. What is a roof ridge cap and why is it important? Let us find out.
What is a ridge cap on a roof? Is it necessary?
A ridge cap is a roofing accessory connected to your main roof panels. More than just an "accessory," it complements your roof by providing functions that the main roof panels can't provide. Without it, the roof cannot fully perform its function of protecting your home. Accessories such as ridge caps are as important as the roof itself.
A ridge cap prevents moisture from entering your home and damaging it. Thus, this roofing accessory is essential and should not be cut back by your roofing contractor. Always consider the roof ridge cap's quality and installation to maximize its benefits.
The ridge cap is found on the topmost part of a home's roof, considering that it follows the traditional roofing design. Many roofs have two sides of panels rising upward. The part where these two sides meet is called the ridge line or just the ridge. Water, moisture, and even small debris may seep into your home through the ridge. That is why a ridge cap is placed over the ridge to protect it and prevent weather elements, pests, and dirt from getting in and causing damage.
Types of Ridge Caps
The type of ridge caps to use on your roof depends on its material. If you have metal roofing, then you should also have a metal roofing ridge cap.
There are two types of closures to choose from if you are using a metal roofing ridge cap. A solid closure is airtight and watertight, while a vented closure allows warm air to be released outside. The latter is ideal if there is an attic or a room directly under the roof. Once you choose the best closure for your roof, you can then proceed with the metal roof ridge cap installation.
Another type of ridge cap is asphalt roofing ridge cap shingles, used with asphalt roofs.
Prefabricated asphalt ridge cap shingles are available, which are easy to install and cost-effective. If you want something unique, you can use regular shingles and cut them to your desired size to have special ridge caps. Whether you choose prefabricated or create your own asphalt ridge cap shingles, proper installation and using the right ridge cap size are important for the ridge caps to perform their function of protecting your home.
Common Ridge Cap Problems and their Causes
Like other roofing accessories, ridge caps are not resistant to problems. Over time, your roofing ridge caps may have cracks, holes, and other forms of damage caused by the following:
Extreme weather — Strong winds and heavy rains can cause damage to your roofs and the ridge caps. This is especially relevant for Filipino houses during the typhoon season. High winds may blow away parts of your roof or bring debris that may hit your roof and damage it. Being at the topmost part of your home, your ridge cap has a remarkably high likelihood of being damaged.
Improper installation — As mentioned earlier, proper installation of the roof ridge is crucial if you want it to perform its function well. To ensure proper installation, hire only certified roofing contractors who know the right techniques for installing ridge caps.
Poor maintenance — Just like any other part of your home, your roofing should be maintained properly if you want to make it useful for a long time. Check your roof at least once a year or after a heavy storm for any damage and apply the remedies necessary if you see issues.
Read more roof maintenance tips at 6 Steps for Roof Maintenance.
Walking on your roof — There may be instances when you need to go up your roof, like when doing maintenance work. Though roofs can withstand light footsteps, if you are not careful, you can damage your roof and other parts of it like the ridge cap.
Normal wear and tear — Nothing lasts forever, including roofs and roof elements. Eventually, no matter how well-maintained your roofing is, you will need to replace your roof ridge cap. Otherwise, you may encounter problems.
If aside from roof ridge caps, the entire roofing could also experience issues throughout the year. So, it's best to check your roof's condition and assess whether you need a roof repair or roof replacement. Read more at Roof Repair vs Roof Replacement: Factors to Consider for Your Next Roof Project.
Finding Durable Roofing Accessories in the Philippines
With the roofing ridge cap being one of the most important accessories for your roof, you need to ensure that what you will get is of high durability. When looking for reliable roof ridge caps or other roofing accessories like bridge cap flashing or roof flashing in the Philippines, go only with the brand that you can trust, like Union Galvasteel Corporation.
UGC offers prepainted roofing accessories, which are better than regular ones. As they are prepainted, you no longer must worry about painting them yourself, or you no longer must pay other people to do it for you. This leads to savings in terms of time and cost. Also, you can finish your project faster.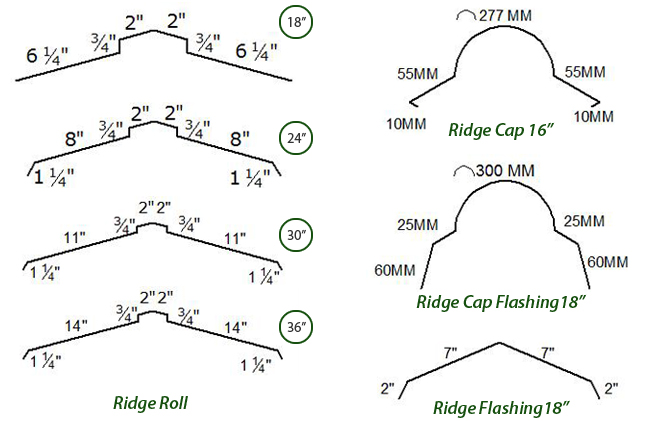 The paint also adds a layer of protection to your accessories. The paint prevents corrosion from building up and damaging your roof and accessories. Because of their durability, they are low-maintenance and long-lasting, also saving you money eventually.
For more information on roofing accessories, UGC is here for you. We are a leading roofing company in the Philippines that manufactures and distributes prepainted and other galvanized roofing materials for commercial, industrial, and residential use. We have the largest and most diversified distribution network in the industry, with roll forming plants, warehouses, and sales offices in strategic locations throughout the country. Get in touch with us via our website , Facebook page, or call these numbers for assistance: (02) 8520-8823; 8520-8831; (049) 545-0084 to 86 or 09175033965 (Globe) and 09190032303 (Smart).