Businesses have always ensured that their establishments have the right look and ambiance for their stakeholders. In previous years, offices have had a standard look—clean and professional—conducive for employees to work and attractive to clients and guests. Recently, with trends and developments in architecture and interior design, some establishments have deviated from traditional designs to embrace modern design concepts. One example of this concept is open ceiling design. Traditionally, panels are installed to form the ceiling, which hides electrical wiring and other components that other people might consider eyesores. However, when done right, open ceilings can look great. Learn more about open ceiling design and materials you can use from roofing supplier Philippines, Union Galvasteel.
What is Open Ceiling Design
Also called "exposed structure ceiling," an open ceiling has no panels covering it, exposing electrical and plumbing components like wires and pipes. This design became a trend just around 10 years ago, and now we see them in many homes and business establishments. Just because it is trendy doesn't mean you should have one. Find out if an open ceiling design fits your home and your needs.
Open Ceiling Design Pros and Cons
Before you remove your ceiling panels and make an open ceiling, consider first the pros and cons of an open ceiling.
Why you should have an open ceiling?
An open ceiling looks stylish. Because it is rarely present in many homes and businesses, open ceilings add a wow factor to any structure when done properly. The exposed wirings and pipes become not only functional but also decorative.
An open ceiling provides better lighting. Without ceiling panels, you can place lights higher, which provides better lighting distribution. Moreover, if the room where the open ceiling is on the side that receives the most sunlight, natural lighting is also improved.
An open ceiling makes rooms look more spacious. Traditional ceiling panels limit the vertical space of a room. Without the panels, the space looks bigger.
Why you should not have an open ceiling?
An open ceiling requires great execution and high labor cost. As mentioned earlier, an open ceiling can look great when done right. You can't just remove ceiling panels and leave electrical and plumbing components the way they are. The placements of these components are actually carefully planned so that they would look nice. So unless you have experienced professionals working with you, an open ceiling may not be recommended. Hiring experts means paying more for labor costs.
An open ceiling requires regular maintenance. Unlike traditional ceiling panels you can clean with just one sweep, the exposed components create nooks and crannies which may be hard to clean. They would collect dust that would require regular cleaning.
An open ceiling may create sound problems. While ceiling tiles absorb sound and prevent echoes, an open ceiling would still require acoustical treatments or sound control solutions to prevent echoing. Echoes may be annoying, and in a workplace, this can be counter-productive. The sound control solutions would also require additional costs.
Open Ceiling Design Considerations
Once you've committed to open ceiling installation, then you can have them in most spaces. They are great for offices as they give off an industrial vibe, which is popular in millennial or startup workplaces. Coffee shops would also benefit from the aesthetics that an open ceiling would provide. They can expect more customers. Other spaces where open ceilings would work are warehouses and gyms. You can also have an open ceiling at home to make it look more spacious.
If you're 100% sure about getting an open ceiling, one thing you have to consider is the paint color. You can have any color, but it would most probably boil down to two options. Black is best if you want to hide imperfections in the exposed components. Black is recommended if the space already has good natural lighting, as you don't have to worry about the space looking dark. However, for other spaces that receive little natural lighting or don't get any at all, like a basement, then white is the best paint color. Your open ceiling color may also depend on the theme of the space. It can match your wall paint color or complement your furniture.
You should also consider roof trusses and purlins if you'll have an open ceiling on the topmost floor of your home or business. Roof trusses are frames that support roofs and protect them from damage, while purlins are bars or beams placed horizontally to provide structural support to roofs. Traditional roof trusses and purlins are made of wood, but they are slowly being replaced by light metal frames, which are sturdier and more cost-effective. Aside from being termite-resistant, light steel frames are also fire-resistant. These steel materials have fire-retardant coatings, so they resist fire and stop it from spreading fast when structures are already on fire. They also look way better than wood trusses, making them ideal for open ceilings.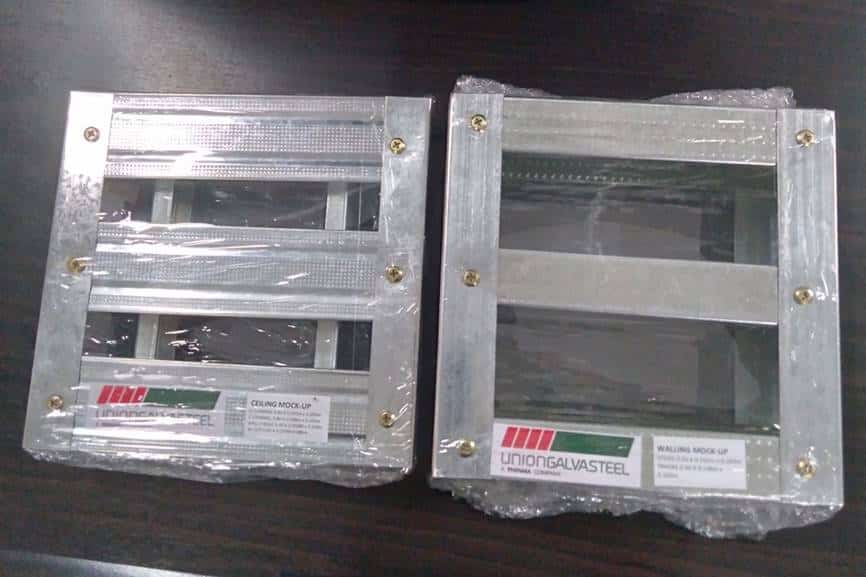 If you need light steel frames like truss detail or purlins for your open ceiling project, only source them from a trusted roofing supplier in the Philippines. Union Galvasteel Corporation or UGC manufactures and distributes galvanized roofing materials. We have the largest and most diversified distribution network in the industry, and with warehouses and sales offices in strategic locations throughout the country, we are easy to find. Get in touch with us via our website or call these numbers for assistance: (02) 8520-8822-23; 8520-8831; (049) 545-0084 to 86 or 09175033965 (Globe) and 09190032303 (Smart).