Your home's roof is the part that is most exposed to the elements. However, the extreme weather conditions here in the Philippines could ​​damage your roofing system. Such troubles include typhoons. During strong typhoons, roofs are subjected to heavy rainfall and forceful winds. Other weather conditions such as high humidity and prolonged exposure to heat can also deteriorate its composition.
Aside from all these, air pollutants can also damage roofing materials and wear them down over time. Therefore, it's important to get your roofing system checked, cleaned, and maintained regularly.
When a roof becomes damaged, your home can have major structural issues. For example, roof leaks can promote moisture buildup leading to ruined wall paint. Leaks can also cause water to drip onto furniture, which can damage them. The scariest thing is that they can cause short circuits when they reach electrical wiring.
This is why homeowners should never ignore signs of roof damage. However, would you know whether you need a roof repair or complete roof replacement? Read on.
Roof Repairs vs. New Roof Installation
If your roof becomes damaged, then you would need to think about either getting it repaired or replacing the roofing system entirely.
Here is an overview of their differences?
Roof Repairs
A roof repair just means fixing small damage without needing to replace many parts of the roof. These can include small leaks that can be patched with sealant or replacing just one metal sheet. Generally, roof repairs are quick, easy, and inexpensive.
What are the signs that you can opt for a repair instead of a replacement? If the damage can be solved by patching or coating, then it's better to opt for repairs. It may also be the best choice if your roof is under five years old.
However, this still means that a roof repair must still be carefully planned and executed with care. So, contacting a professional is always the best way to go.
Roof Replacements
Roof replacement, on the other hand, means installing new materials in place of many existing roof parts. You may need to do this if the roof has severe damage.
This may mean that many parts are damaged, or that the parts that have become damaged cannot be solved by just a simple patch-up. This may also mean that the parts of the roof have been repaired many times already, and the problems keep recurring.
Replacing an entire roof comes with significant upfront costs. However, you should keep in mind that a new roof over a home is expected to last for decades. This would not only provide you the best protection from the outdoor elements but would also give you peace of mind.
What to Consider When Deciding to Repair or Replace Your Roof
Let's now delve into the nitty-gritty. What specific factors do you have to consider, then, whether to just repair your roof or replace it altogether?
Age of Roof
One major factor is the age of your roof. When was your roof installed? Depending on the roofing material, age may be a good factor to consider in your decision-making. For example, prepainted metal roofing can last 30 years or more if maintained properly. Asphalt roofing usually lasts anywhere from 12-20 years while clay roof tiles can last about 60 years, though they are prone to cracks.

Extent of Roof Damage
Also, look at the extent of the damage. If the roof has already deteriorated severely due to physical damage, then a replacement may be the better option. You can call your roofing contractor for an inspection, as they can help you better understand the extent of any type of roof damage.

Damage can also be categorized into two: aesthetic and structural. Aesthetic damage is related to how the roof looks. For example, the roofing material may seem old and worn, or there may be moss or algae growth. Structural damage is any problem related to how the roof is built and how it functions. These may be cracks, holes, dents, or rust.

Opt for repairs if only a small portion of your roof is damaged. You can also just replace individual parts, such as metal panels, if necessary.

Your Budget
You should also consider your budget. Though replacement may sometimes be necessary, you should note that it also costs significantly higher. Consult your roofing professionals about roofing estimates to prepare your budget.
If you want to do some easy repairs yourself, then you may do so. One way to plug minor roof leaks is by using a roof sealant. You can also add a coat of roof guard or roof paint by yourself.

However, even though repairs are cheaper, you should also remember that the cost will eventually pile up if you need to constantly repair the same damage multiple times.
The best thing to do is to call your roofing contractor and communicate your budget concerns. Your contractor can provide estimates to help you weigh your options.

Need to repair your leaky roof? Read No Holes Left Unpatched: Fixing A Leaky Roof for roof DIY repair tips.
Addressing Roof Damage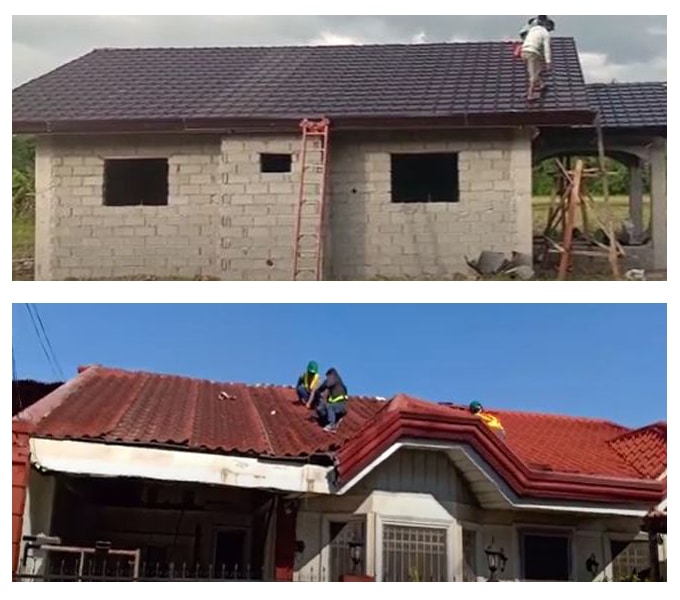 It's always important to immediately address roof damage. It doesn't matter if the problem is small or large, or if you need just minor repairs or an overhaul. What matters most is that you solve small problems before they turn into more significant ones, as these will lead to added-up costs of multiple repairs or even additional damage.
Additionally, addressing roof damage early on will provide you with various benefits. For one, a well-maintained roof immediately makes a home more visually attractive. This is because roofs make up a large portion of your home's outward appearance. You can also upgrade your roof when you get repaired or replaced. For example, you can opt for colors or coating that will help your home maintain cooler temperatures, leading to better energy efficiency.
You can opt for pre-painted roofing materials offered by Union Galvasteel Corporation. You can choose LaVerne as it has a wide range of uses, from mass housing projects to high-end residential buildings. It is easy to install but provides a stronger panel design with leak protection. If wetness and moisture are what you're up against, then the Duraseam is the best choice. Duraseam is free of any holes from screws which could allow moisture to seep through. There's also Duratwin, with overlap and sidelap design which provide enhanced protection against the stormy weather. Choose among these mentioned roofing products or visit our page for more options.
Where to Find the Best Roofing Products and Services
Regardless of whether you opt for repairs or replacement, what you should remember is to choose top-quality roofing products and services. We at Union Galvasteel Corporation (UGC) offer high-quality roofing products, as well as walling, and cladding materials. We also provide roofing estimation and installation services to provide the best for Filipino homes.
We at UGC always ensure that our products are flexible, durable, and with various applications, while remaining environmentally friendly. Due to this, we always challenge ourselves to innovate to offer fresh products and ideas to the construction industry.
If you need a roofing expert to ask about roofing repair and roofing installation, UGC is here to help! Our services include roofing estimation, delivery, and installation. Simply call our office at tel. nos. (02) 8520-8823, (02) 8520-8831, or (049) 545-0084 to 86. Contact us to learn more.
Photo by Life Of Pix from Pexels