So, you finally decided to replace your roof just in time for the New Year! Congratulations! You made the right investment! However, having a strong, safe roof doesn't stop there. Just like any other investment, you have to take care of your roof. Still thinking twice? Here are some reasons why you need to consider proper roof maintenance.
It makes your roof reach its suggested lifespan, if not longer. Depending on the material of your roof, it may last for decades. However, if not properly maintained, don't expect it to last that long. Remember, your roof is exposed to various weather elements each day. Especially in our country where the weather can be extreme, it is important to ensure that your roof is in great condition all year round.
It maintains your home's curb appeal. Who doesn't want a marvelous looking house, right? A well-maintained roof is one factor that provides your home with great aesthetics, adding value to your property if you intend to sell it later on.
It gives you peace of mind. With regular roof maintenance, you do not have to worry about your roof flying away during a storm or your family getting wet on a rainy season because of roof leaks.
It saves you money. Some roof maintenance may require the help of a professional, but in the long run, you will save money as you will avoid costlier roof repairs or, worse, roof replacement.
In an earlier article, we gave you basic tips on how to make your roof looking brand new, Now, here are more maintenance tips to guarantee that you'll have safe and secure roofs over your head for years to come.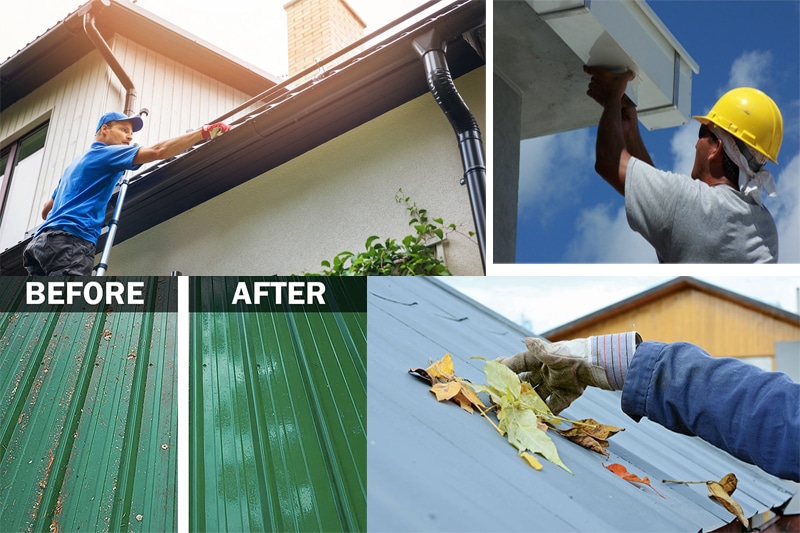 Clean your roof and gutters.
At least twice a year, check your roof to ensure that they are free from leaves or debris that may cause corrosion. It is also important to clean your gutters as pileups can create moisture that may reach your roof and lead to corrosion later on. Small corrosion when left untreated for a long time will become big and cause leaks.
Watch out for algae, mold, and moss.
Depending on the material of your roof, algae, mold, and moss may grow on them. They usually appear during the humid times of the year, as they thrive in damp environments. If you see black or green streaks on your roof that were not there before, algae, mold, and moss may be the culprit. When left on their own, they may affect the integrity of your roofing. Ordinary cleaning may not remove them totally. A mixture of bleach and water is needed, but you have to do this carefully as it may damage your roof even more when not done properly.
Inspect your roof.
Once or twice a year, have a professional inspect your roof for any damage. The untrained eye may miss some signs of damage, so it's best to leave it to the professionals. This may incur a cost but think of all the savings you will get by not doing roof repair or replacements in the future. As the old saying goes, prevention is better than cure.
Look out for leaks.
This one does not require professional assistance as you don't have to go up your roof to inspect. Check your ceiling for the smallest signs of leaks, such as dark stains or sagging parts. These are signs of water damage, which is probably due to corrosion on your roof. They usually appear after rains, so remember to look for these signs during the rainy season. The sooner you have them repaired, the less damage and less cost it will incur.
Roof maintenance is not as daunting as other tasks, but homeowners usually forget about it until they notice a problem with their roofs. It is important not only for your roof or home but also for your family, as they will be protected from various threats and elements, so have a regular schedule for the tips mentioned above.
If you haven't done your roof maintenance yet, why not replace your roof with materials from UGC? Now is a great time to make such an investment, before the rains start coming. UGC is a roofing supplier in the Philippines for many years now. We have roofing products that are guaranteed to last for a long time and require little maintenance. We also have pre-painted roofs, so you have one less work as you no longer have to paint them! These roofs come in various colors, so you are sure to find one that fits your style or matches your home's color scheme.
Union Galvasteel is the market leader in the manufacturing and distribution of pre-painted and other galvanized roofing. If you need any of our products, we are easy to find, as we have the largest and most diversified distribution network in the industry. We have warehouses and sales offices in strategic locations throughout the country. Get in touch with us via our website or call these numbers for assistance: (02) 8520-8822-23; 8520-8831; (049) 545-0084 to 86 or 09175033965 (Globe) and 09190032303 (Smart).