When building or renovating your dream home, there are many factors to consider, but one of the things we must always keep in mind is the climate. After all, you want your home to withstand any weather conditions. In the Philippines, there are two major seasons according to PAGASA: the rainy season that we experience from June to November, and the dry season that runs from December to May. The part of your home that particularly needs to be ready for these seasons is no other than your roof because it keeps weather elements out of your home and makes living in it more comfortable. So, what are the best roof types to have for your home that can withstand both the rainy and dry seasons? Let's find out.
Factors to Consider in Choosing Your Roofing Materials
Before we discuss the different roofing materials available, you may want to know first the various factors to consider when choosing your roofing material. Installing a new roof comes with many responsibilities. A new roof is an investment. Before settling for a particular type of roof, there are many factors to consider.
As mentioned, weather is one of them. Take into consideration the natural elements that your roof will be subjected to.
This leads us to another factor – maintenance. Given the weather conditions in the Philippines, you may want to factor in the steps you have to do to keep your roofs in tip-top shape all-year round. Otherwise, you may end up spending money unexpectedly for repairs or replacement.
Speaking of money, budget should also be a factor. Aside from the upfront cost you'll have to pay for your roofs, you also have to think ahead. How long will your roof last before you need to replace them? Will maintenance cost be an issue? Once you have factored all these three – weather, maintenance, and budget – then you're ready to go roof shopping.
Roofing Material Options in the Philippines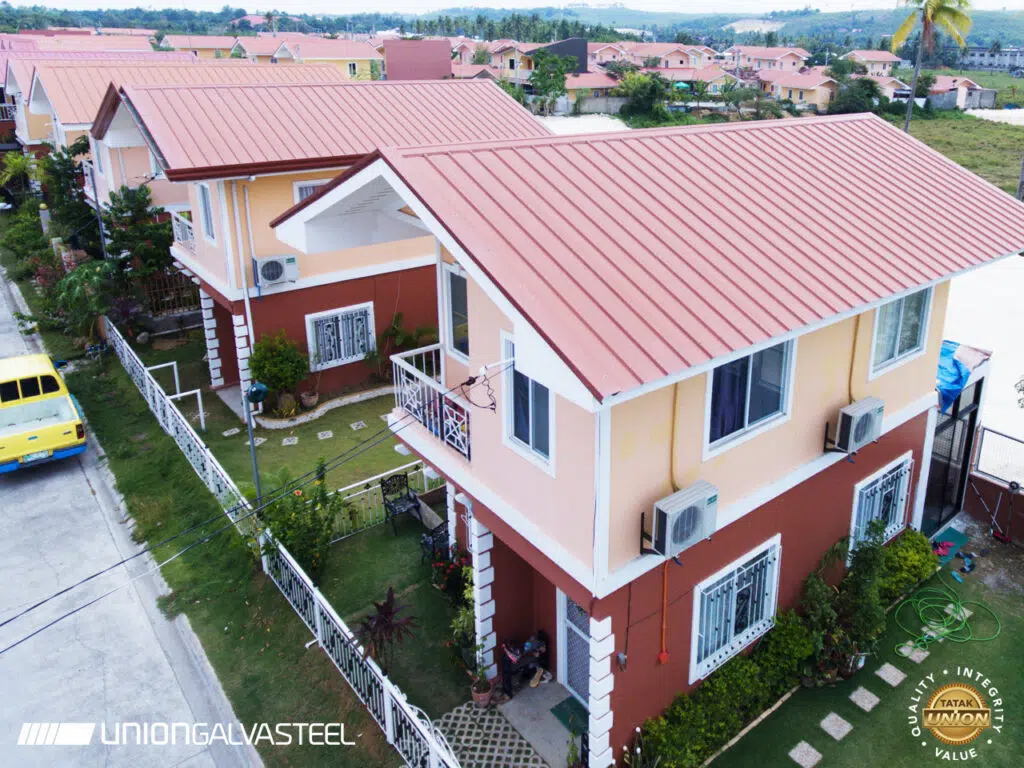 Slate roofs
Slate roofs are ideal for the Philippine climates because of their durability. They can withstand heavy rains, strong winds, and extreme heat. They are also known to be fire-resistant. If you want a comfortable home during summer, go for light-colored slate tiles as they can deflect the sun's heat. Meanwhile, the natural materials in slate roofs are great against moisture, so they can be free from leaks when the rainy season comes. They are so durable that they are known to last for a very long time. However, this durability comes with a price, a hefty price. Slate is one of the most expensive roofing materials available in the market.
Cement and Clay Roof Tiles
Cement and clay tiles, particularly "S" tiles, are ideal for a country that experiences both rainy and hot seasons. "S" tiles are called as such because their shape forms the letter S. This shape is the secret behind its amazing properties, as it allows air to circulate properly and keeps your home cool when the weather outside is hot. On the other hand, these are made for study materials and can withstand heavy rains. This is a great advantage especially for typhoon-prone areas for you don't have to worry about roof leaks or your roof getting blown away by strong winds when the rainy season comes. Aside from the protection they give to your home all year round, tile roofs add sophistication to any home. The curb appeal it provides can make living in your home a source of great pride. Though these tiles are aesthetically pleasing, they are also expensive.
Metal roofs
Metal is the roofing material that you can commonly see in many houses here in the Philippines, and the reasons are not surprising. First, it has reflective properties that keep the sun's heat away from your home, which not only keeps your home cool but also helps you better manage your electricity usage.
A cooler home during the dry season means less time using your air conditioner. To make its cooling property even better, paint your metal roofs with light colors like white or beige. Second, during the rainy season, metal roofs are also known to keep rainwater from entering your home, as long as your metal roofs are properly installed. It is also recommended for metal roofs to be painted to add another layer of protection from corrosion, which may be caused by the rain. Third, metal roofs are durable and can last for a very long time as long as they are properly maintained. Last, they are more affordable compared to other roofing materials. They are cheaper than cement, clay, or slate roofs. And because of their longevity, metal roofs make a cost-efficient roofing investment for most Filipino homes
Looking into Prepainted Roofing Materials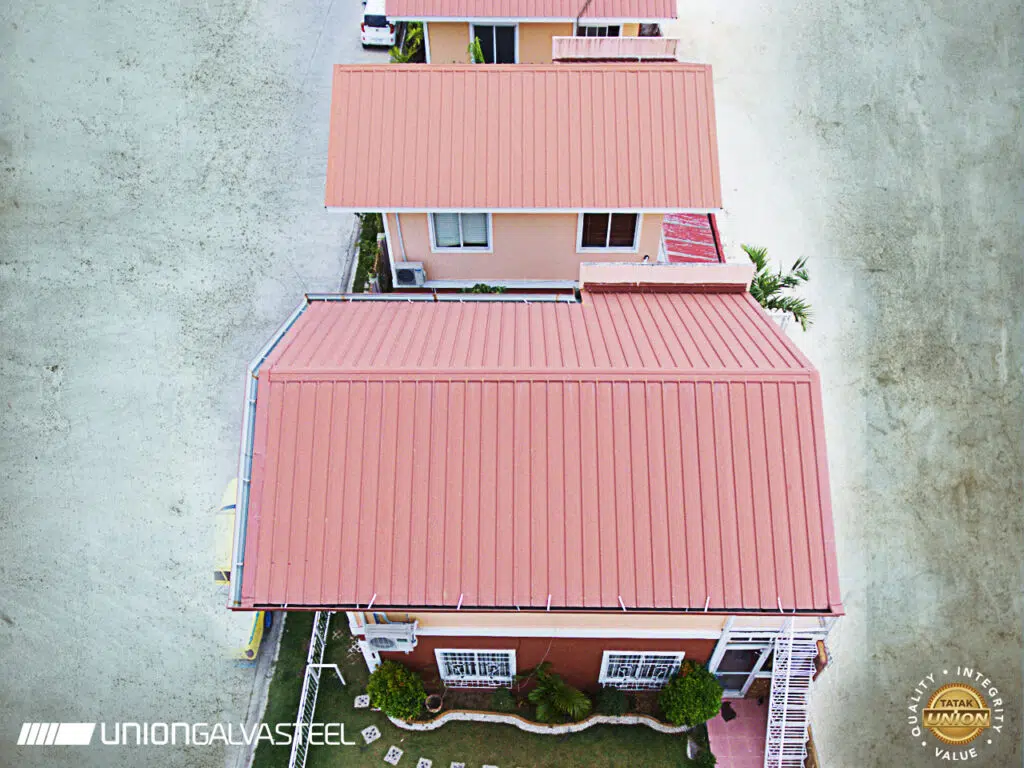 If you want to enjoy the benefits of metal roofs but want to add some flair to your home like what roof tiles provide, an alternative is metal roof tiles. These are roofing materials made of metal but have the sophistication of roof tiles. What's good about metal roof tiles is that they are way cheaper than actual roof tiles.
Union Galvasteel Corporation offers Duratile, a roofing profile ideal for mid to high-end residential buildings as well as commercial buildings. Just like roof tiles, Duratile can create a timeless elegance that adds class to every structure. With its anti-capillary leak feature, it prevents water leakage on the side lap. It is also prepainted, so you don't have to do or pay for the backbreaking job of painting your roof.
Aside from Duratile, UGC also offers Laverne. Laverne provides an enhanced aesthetic look creating an illusion of a concrete roof. Laverne Tile Metal Roof is made with oven-cured high-performance quality epoxy primer and polyester topcoat and back coat paints.
Looking for roof tiles in the Philippines? Look no further than UGC. With over 60 years in the construction materials industry, we manufacture and distribute prepainted and other galvanized roofing. Our prepainted metal roof tiles offer durability and the ability to withstand rain, shine, and typhoons while retaining their form and beauty.
We also offer services to help you with your roofing needs. We provide detailed roofing estimates, on-site rollforming, and delivery and installation of our products. All these services we offer to help you complete your project hassle-free and on time. Get in touch with us via our website or call these numbers for assistance: (02) 8520-8822-23; 8520-8831; (049) 545-0084 to 86 or 09175033965 (Globe) and 09190032303 (Smart).