Light steel framing is slowly becoming a great option in Philippine construction because of its versatility and the range of building types it can be used for. You can use light steel framing for residential or commercial purposes. Steel, by nature, is a superior construction material, so it's no surprise that it can do wonders.
Lightweight steel framing is framing infrastructure with cold-shaping galvanized metal profiled with reduced thickness and low weight.
A lot of contractors and homebuilders in the Philippines are still on the fence about using light steel frames or light metal frames for their homes, buildings, and other properties because of many factors—some of which are confounded. Although wood frames have stood the test of time, metal framing is proving to be a good, if not a better, option.
Contrary to several misconceptions about light steel frames, they actually make an excellent choice for construction and an even better one for the environment since they help save lumber, ultimately helping address environmental issues like deforestation and illegal logging.
Here are a few misconstructions on light steel frames. It's time to dispel them to help you frame better options:
Myth#1: Light steel frames are expensive
Steel framing is very competitive in price and gives you value for your money. In fact, more steel is recycled each year than aluminum, paper, glass, and plastic combined. The initial cost of steel framing is higher than wood framing as the latter is more budget-friendly in the short term.
Steel is lighter than wood and more lightweight materials are cheaper in terms of shipping costs. Replacement is also not an issue since materials for light steel framings are locally available and easily accessible.
Myth#2: Light steel frames are high-maintenance
Light steel framing range from low-rise housing to multi-story developments. Steel framing is a cost-effective and eco-friendly method for construction since steels are versatile and recyclable with no degradation.
A steel frame is weather-proof and resistant to moisture and fire. It's also easier to transport and install than wooden structures. Using light steel framing for your home since it's sustainable and opting for this framing for your construction is equivalent to an environmentally-conscious and economical decision.
Myth#3: Steel frames can cause more lightning
In contrast to an urban notion, steel buildings resist lightning and do not attract it. Steel is a positive conductor to the earth, with the energy conducted straight to the ground. A galvanized steel frame building allows lightning current to pass harmlessly through the framing and into the ground.
Myth#4: Steel expands over time
Everything expands and contracts with heat and cold. The Philippines can experience temperatures that sizzle to over 40 degrees. That's why a well-constructed and well-insulated home is essential for Filipino families.
Steel framing is the best option because steel products have a far closer expansion rate than wood or plasterboard. Steel has a more substantial strength-to-weight ratio compared with wood.
Myth#5: Steel frame requires more work
There is some truth to this myth. Light metal frames require more design labor work to save time and costs eventually. More time is spent on designs so that every component is measured and produced prior to site construction.
Steel frames can also be fabricated into different shapes while maintaining their strength and their lightness makes it easier for on-site handling. You can have that solid foundation without worrying about prolonged labor costs since light steel frames ensure faster build times and cut down the site labor force.
Myth#6: Steel frame disrupts Wi-Fi signal
Many people buy into this longstanding myth and for a good reason. Steel, in general, can interrupt signal reception—whether it be cellular, radio, or Wi-Fi. However, light steel framing is different from a sheet of steel.
Electromagnetic waves can easily diffract around the framing thanks to the air and space between the beams, allowing signal waves to get through the house or building. Light steel frame does not affect your TV reception either. 
Light Steel Frames Options for You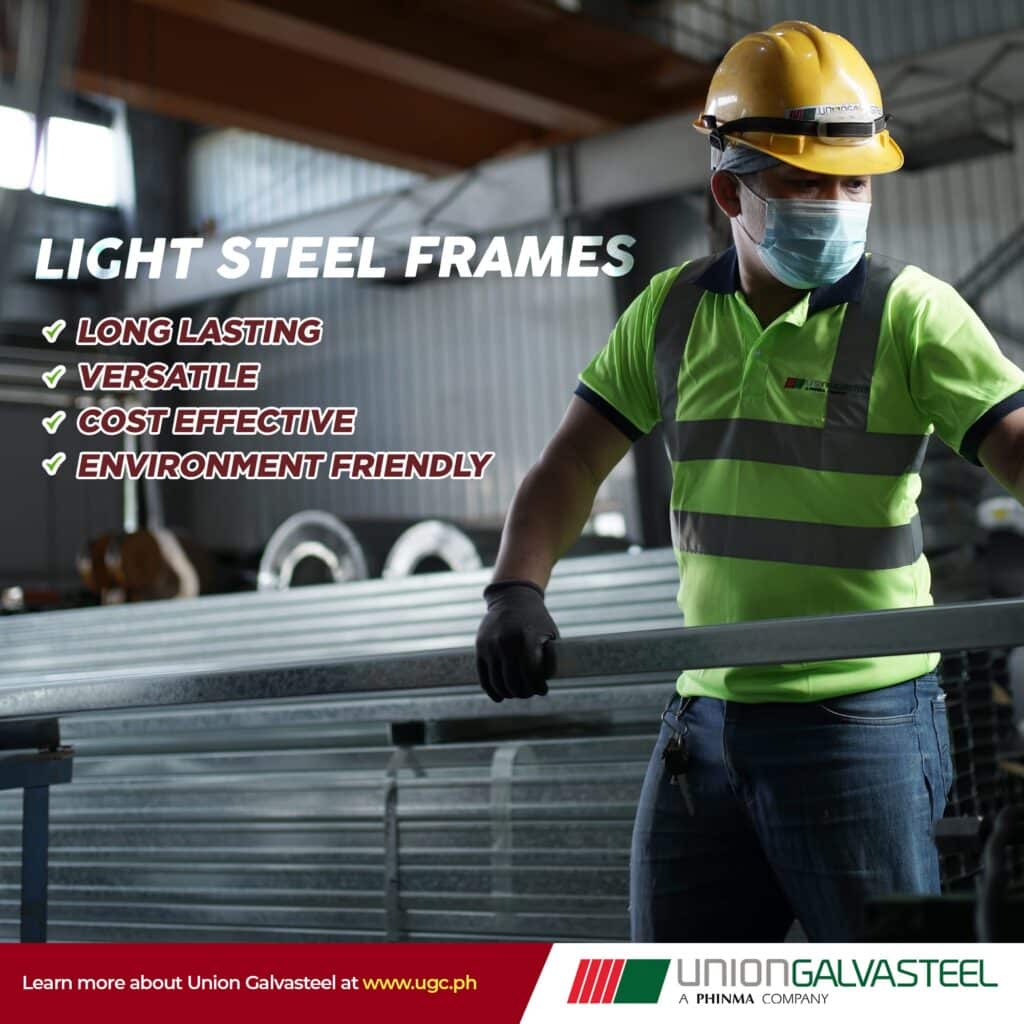 If you are looking for more cost-efficient and sustainable framing options, Union Galvasteel Corporation is here for you. A trusted supplier of galvanized steel decks in the Philippines for decades, UGC offers light steel frames designed to the customer's preferences. With UGC, you can rest assured that faulty items will never hinder your construction journey.
UGC's light steel frames give strength and beauty to the open ceiling design and drywall partition structure that's perfect for commercial spaces, residential properties, or even your personal working space. UGC's light metal frames are available in different specifications: studs, tracks, single furring, double furring, and carrying channel.
UGC's light steel frames offer the same strength when used as a ceiling base for fiber cement boards. UGC also uses modernized roll-forming machines to cut light metal frames into standard sizes, which are fabricated under controlled conditions to establish consistent value. It's lightweight, durable, and gives you value for your money. That's why with UGC, "Panatag ka sa lakas at tibay."
Union Galvasteel Corporation manufactures, delivers, and installs high-quality light metal frames for residential, commercial, and government clients. We are present in Luzon, Visayas, and Mindanao, so we can cater to your construction needs wherever you are in the Philippines.
Ask our professionals to learn more about light metal frame pricing and design. Visit our website to learn more about our lightweight metal frames and roofing services. You can also reach us at our telephone numbers: (02) 8520-8823; 8520-8831 Truckline or (049) 545-0084 to 86 Trunkline.