The Philippines' weather authority, PAGASA, reports that 20 tropical cyclones or typhoons hit the country every year, on average. Nearly 70% of these typhoons are experienced from July to October. Now that we are at the peak of the typhoon season, have you asked yourself: Is my home typhoon resistant?
To answer the question, you have to consider your home's top-down protection, or starting at your roof to make your home ready for strong typhoons. This is important as your roof is your home's first line of defense during typhoons.
Role of Roofs in Protecting Your House
Properly installed roofing can protect your home and your family from various weather elements – the heat of the sun, strong winds, and of course the rain. It can also protect you from other threats like burglars and wild animals. Therefore, having strong roofs is essential to any home.
During typhoons, the strengths of roofs are tested. A weak roof can cause leaks that can damage your property. An even weaker roof may be blown away by strong winds, exposing your family to cold rainwater, which can lead to health and safety hazards. It's not enough to have just any roof. You need a reliable roof to protect your home from typhoons.
Home Shapes and Roofs That Hold Up Best during Typhoons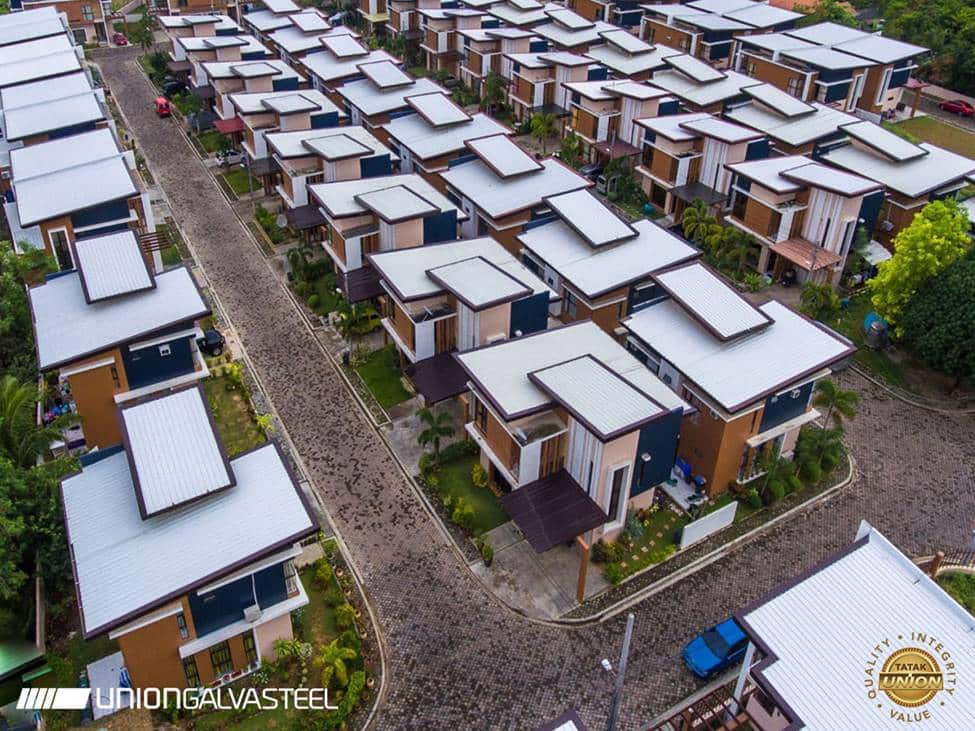 During a heavy downpour, you don't want rainwater collecting on your roof, so the shape of your house plays an important role in making your home typhoon-proof. You want a roof whose shape would allow rainwater to easily slide off. Examples of these roof shapes are Gable Roof (a triangular-shaped roof) and Shed Roof (a slanted roof). On the other hand, you may want to avoid butterfly roofs, flat roofs, or M-shaped roofs as they have space where water may accumulate. Aside from having the right roof shape, you also need an efficient gutter system to control the flow of the rainwater.
You also need to consider the material of your roof. Roofs made of slate and asphalt shingles are known to withstand heavy rains. However, they come with a hefty price tag. A more cost-efficient option is metal roofing. Specifically, we recommend prepainted metal roofing from Union Galvasteel Corporation or UGC. Metal roof alone is already durable, but prepainted ones have an additional layer of protection from weather elements to make them last longer. The paint functions as a protection against corrosion. It also makes the roofing more resistant to termites and fire.
UGC Products for the Typhoon Season
Below are UGC product ideal for areas experiencing frequent heavy rains:
All these pre-painted roofs come in different colors—red, green, beige, blue, orange, white, brown, and other special colors upon request, with terms & conditions.
For your roofing needs, you can rely on UGC. We are a company for roofing in the Philippines company that manufactures and distributes prepainted and other galvanized roofing. You won't have trouble finding us, as we have the largest and most diversified distribution network in the industry, with warehouses and sales offices in strategic locations throughout the country. We also offer services to help you with your roofing needs. We provide detailed roofing estimates, on-site rollforming, and delivery and installation of our products. All of these services we offer to help you complete your project hassle-free and on time.
Other Ways to Make Your House Typhoon-Resistant
The roof is not the only part of your home that you need to reinforce to protect it from typhoons. Your windows, doors, and even your yard can make or break your home during typhoons.
For your windows, we recommend having impact windows, which are windows made of glass that can resist impact caused by strong winds and heavy rains. They can also prevent objects from shattering the windows, not just flying objects brought by strong winds but also those that burglars may use to break into your house.
For doors, fiberglass ones are recommended as they are known to resist impact and wind. Since they are made tougher than wooden doors, they are less prone to scratches, peeling, and warping. If you have a garage, metal garage doors or gates are recommended.
If you have a yard with plants and trees, make sure that it is well-maintained. Tall trees may leave debris on your roof, blocking your gutters. Be sure to trim them regularly and cut off branches hanging over your roof.
By keeping all the tips mentioned in mind and actually following them, you can make your home typhoon-resistant and have a worry-free typhoon season.
If you have questions about roof price in the Philippines or metal roofing prices in the Philippines, do not hesitate to get in touch with us via our website or call these numbers for assistance: (02) 8520-8822-23; 8520-8831; (049) 545-0084 to 86 or 09175033965 (Globe) and 09190032303 (Smart).