How do you choose house roof color? Aside from considering the overall appeal that it gives to our property, we don't put too much thought into it. Roof color is important, for it plays an essential role in the ventilation inside your home. If you want your roof color to work to your advantage, continue reading below.
Roof Color and Heat
Just like for our clothes, the color of our roof affects how hot or cool we feel. During summer, we are advised to wear light-colored shirts to feel cool, and that goes the same for roofs. The Philippines is a tropical country that has sunny days for half of the year. The sun's heat can sometimes be extreme during summer days. Thus, having a light-colored roof is recommended. However, how exactly does the roof color affect the temperature inside homes?
To put it simply, a light-colored roof absorbs less heat, so the heat that goes inside your home is filtered, making your home feel cooler. On the other hand, a dark-colored roof absorbs more heat, which then transfers inside your home.
However, note that roof color is not the only factor that affects the temperature of your home. The material of your roof can also affect how you feel inside your home. For example, asphalt shingles have low reflective properties, meaning they will absorb heat regardless of their color. If you are after a cool summer, then installing an asphalt shingles roof is not recommended. A roofing material known to reflect heat best is metal. But won't metal get hot and make the inside of the house hot, too? Not at all! In fact, a light-colored asphalt shingles roof will absorb more heat than a dark-colored metal roof.
The Ideal House Roof Color for Your Home
Following the logic, the light colors deflect heat, then white is the best color for your roof. However, as white is prone to looking dirty when not well-maintained, some homeowners avoid this roof color. If you have metal roofs, then you don't have to worry about roof colors at all because, as mentioned earlier, they will still deflect light. If you want other roof colors, then here are some of the colors we recommend:
Gray. An alternative to a white roof is gray. It is still light, but you don't have to worry about it looking dirty eventually.

Beige.

Another light color we recommend is beige. This neutral color reflects heat while giving your home a sophisticated look.

Red.

When it comes to curb appeal, nothing can beat red. Red is the color that attracts attention. And it seems to be a popular choice among Filipino homeowners. A quick check on Google Maps would show that many homes in the country have red roofs.
Green. Green is restful to the eye, which is not surprising as it is the color of trees and plants. Nature, as we know, puts us in a relaxing mood. Though we don't really see our roofs that much, knowing that we have a green roof is enough to put us in the right mood.
Blue. Blue is a common color for roofs because it complements almost any color of a home's exterior. Blue goes well with common house colors like white, cream, brown, or yellow.
Pre-painted Roof Manufacturer in the Philippines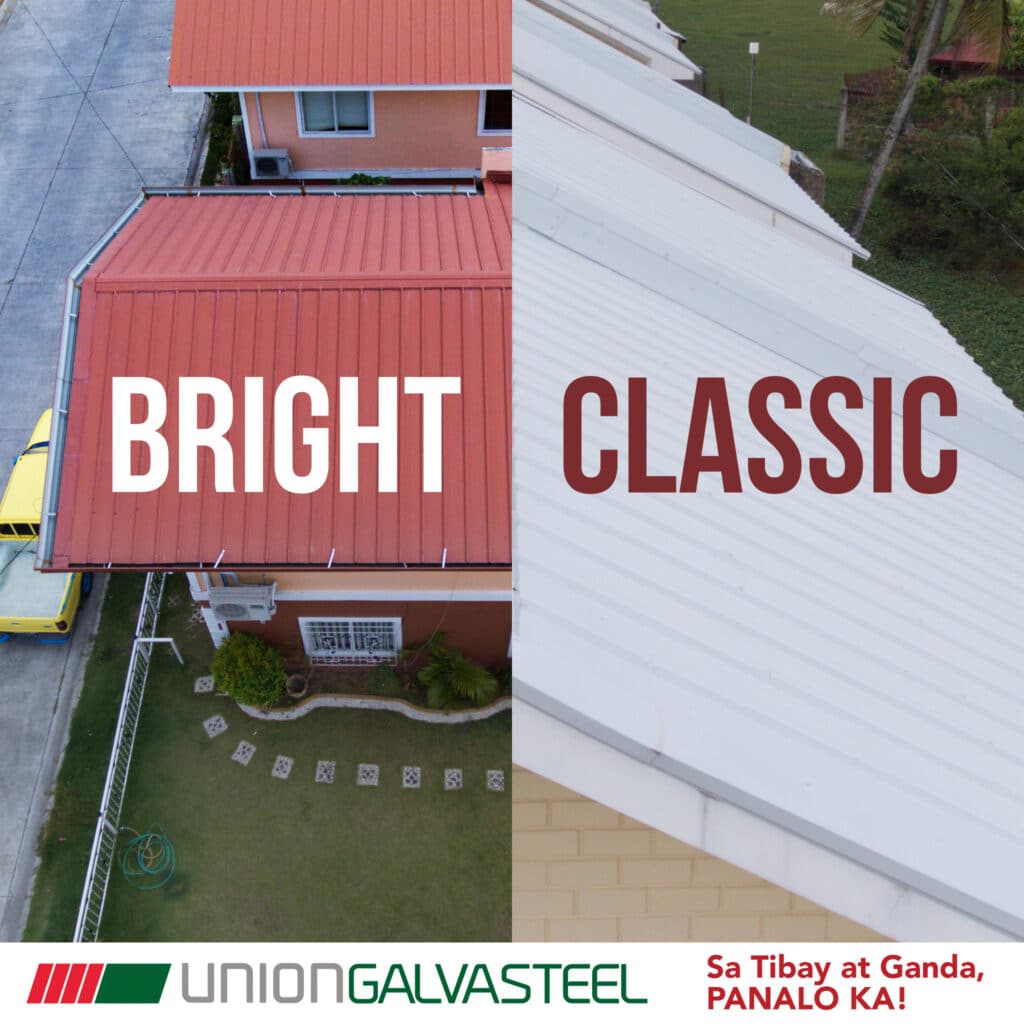 If you're looking for metal roofs but don't want the hassle of painting them your favorite color, then we have good news for you! Union Galvasteel Corporation has pre-painted metal roofs for you! They come in various colors—blue, green, red, beige, gray, white, and any color you can think of because UGC manufactures them in special colors upon request. They are even available in multicolor and woodgrain variants.
Aside from keeping your home cool during summer, UGC's pre-painted metal roofs also offer a lot of benefits. They are easy to install, durable, and cost-effective. You also have a lot of designs to choose from. Check our pre-painted roof products and get the best roof for Philippine's weather conditions.
If you want a roof that never goes out of style, we recommend the Duracorr roofs, which have a simple, classic design and offer strength and reliability. For something eye-catching, we have our Laverne roofs, which provide an enhanced aesthetic with its design looking like concrete. Aside from looking gorgeous, Laverne roofs are strong and protect your home from leaks. Another recommendation is the Duratwin roofs, which have a unique 2-rib design that offers durability.
Looking for a colored roof in the Philippines? We have it!
UGC is a roofing company in the Philippines that manufactures and distributes pre-painted and other galvanized roofing. You won't have trouble finding us, as we have the largest and most diversified distribution network in the industry, with warehouses and sales offices in strategic locations throughout the country. We also offer services to help you with your roofing needs. We provide detailed roofing estimates, on-site rollforming, and delivery and installation of our products. All the roofing services that we offer will help you complete your project hassle-free and on time. Get in touch with us via our website or call these numbers for assistance: (02) 8520-8822-23; 8520-8831; (049) 545-0084 to 86 or 09175033965 (Globe) and 09190032303 (Smart).