So, you're planning to build your dream home. For sure, you have specific details in mind, such as the color scheme, overall theme, and materials to be used. What kind of tiles will you have in your bathroom? Will you have marble or granite as kitchen countertop? How about your roof? Yes, you also have to to include roofing in your plans! After all, roofs are your defense against extreme weather conditions and other external threats such as wild animals or even burglars. There are different types of roofing materials that you can choose from when building your dream home. The right one may depend on your taste, budget, or specific requirements. Here are some of the common roofing materials you may have as options.
Wood Roofing
Wood shingles or shakes are uncommon in the Philippines, but some homeowners prefer these because they are attractive and they add luxury to a home. Their lifespan depends on the type of wood used. In the United States, redwood and cedar are popular because they can last for up to 50 years. However, for a country like ours that experiences a number of typhoons in a year, wood shingles or shakes may not be advisable as the moisture can shorten the lifespan of these wood roofs. They can also be quite expensive.
Asphalt Roofing
Asphalt roofs were first invented in the United States in the early 1900s to replace shingles made of rags. Rags burn easily, so homeowners looked for other materials to use that can resist fire. Since asphalt is fire retardant, it became the material of choice. Asphalt shingles are usually composed of different layers of materials like fiberglass or natural stones, with asphalt acting as the finishing material.
Among various types of roof shingles, asphalt is perhaps the most commonly used because it is affordable and durable. It is also waterproof and can withstand extreme temperatures. That said, it can last up to 30 or 40 years. Asphalt roofs come in an array of colors and are quite easy to install.
Concrete Roofing
Concrete roofs are often sought after as roofing materials because they add elegance to any home. They can last up to five decades or even longer when properly maintained. And in case you decide to replace them with other materials, they will not go to waste as you can reuse them for another roofing project. They are recyclable, making them environment friendly. Also, because concrete is heavy, you don't have to worry about it being blown away by the wind easily. You just have to ensure that your home can support its weight. However, asphalt roofs can be quite expensive. It also requires professionals to be installed. If not fitted correctly, they may easily crack and break when walked upon or when tree branches fall on them.
Concrete tile roofs are made from sand-mix concrete, and they can come in various colors and designs. There is no questioning the aesthetics that these roofs bring, so they are quite popular despite some of their cons.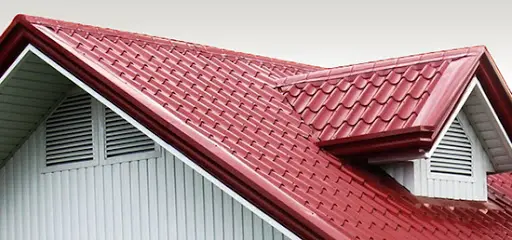 Synthetic Roofing
Roofs made of synthetic materials such as plastic, rubber, and polymer are becoming in demand now because they are durable and require low maintenance. Some are even resistant to fire. They are lightweight, making them ideal for homes that may not have enough support for other materials, like concrete tiles. Being cheaper than natural products also makes them a popular choice for some homeowners. They can also be modeled to look like the more expensive roof materials. However, they are not as durable as their natural counterparts. For example, synthetic rubber slate tile roofs can be easily damaged when walked upon.
Metal Roofing
Metal Roofing is perhaps the most commonly used roofing material for homes in the Philippines because they are resistant to extreme weather conditions, making them ideal to use in the country. Aluminum and stainless steel are two of the most commonly used metal roofs, but copper and zinc may also be used. Installing metal roofing often requires professional help, so you may need to spend for labor, but when installed properly and with proper maintenance, they can last for decades, making it a cost-efficient roofing option.
The usual metal roofs found in local hardware stores are GI corrugated roofing sheets in aluminum or silvery finish, but pre-painted metal roofs are now also available for those who want to avoid the hassle of painting their roofs.
Among all these options, the most practical would be metal roofing, as it provides durability perfect for our country's unpredictable weather conditions, and they are cost-efficient, too. Pre-painted galvanized roofings has advantages of light weight and beautiful appearance, which made it perfect for building's roof and wall panel. It also has high erosion resistance, corrosion resistance, longer service life than wood material, pre-painted steel sheet is very popular and can be made with special shapes and colors for different structure design requirements. Check out the wide array of metal roofing products UGC has to offer in this article: Against the Weather: Choosing the Correct Roofing Materials for Your Home
Complete your dream home with metal roofing from Union Galvasteel Corporation, one of the most reliable roofing company in the Philippines. We are the market leader in the manufacturing and distribution of pre-painted and other galvanized roofing and galvanized steel building products in the Philippines. We also have the largest and most diversified distribution network in the industry, and our warehouses and sales offices are in strategic locations throughout the country, so we are very easy to find. Get in touch with us via our website or call these numbers for assistance: (02) 8520-8822-23; 8520-8831; (049) 545-0084 to 86 or 09175033965 (Globe) and 09190032303 (Smart).