Framing is all about creating support and shape for a structure by putting together different materials. These can be natural wood, engineered wood, or structural steel. There are two types of framing. The first is heavy-frame construction, where there are few but heavy vertical supports, such as steel framing, timber framing, or pole building framing. The second is light-frame construction, with much smaller supports, such as platform and light-steel framing.
Partition wall framing is important when building a house, as it separates the rooms, or divides a large room into multiple spaces. Think of it as the skeleton that is the framework for how the whole space looks and functions.
In house construction, wall framing includes the horizontal and the vertical members of both interior partitions and external walls. Here are some of the important terms:
The steel deck is a roll-formed product made of steel sheets, and is supported by beams or steel joists. Its primary function is to support roofing, concrete, or any form of an insulating membrane. This is the most efficient product to use for roof and floor systems.
The framing member includes studs, joists, plates or tracks, bridging, bracing, and other related accessories.
Wall stud – a vertical framing member in a wall frame. Wall studs are fundamental parts when building a frame. A stud can be any variation of small, tightly spaced parallel framing members.
Wall plate – a horizontal load-bearing member that is part of the structural aspect of a wall frame.
Joist – also a horizontal structural member, but is used to span an entire space. Joists are often placed between beams so that they can transfer weight to vertical members. They also provide stiffness to subfloor sheathings when they are part of a floor framing system. These are tightly spaced beams.
Lintel – also called a "lintol," a lintel is a horizontal block, which spans a space between two vertical supports. It can also span an opening and can be an ornamental structural item when placed over doors, portals, or windows.
Trabeated system – sometimes called a "post and lintel," these are horizontal structures or elements that are held up by vertical elements, but with large, open spaces in between. They are used to hold up a roof and are usually seen when columns, posts, or pillars are part of the architecture.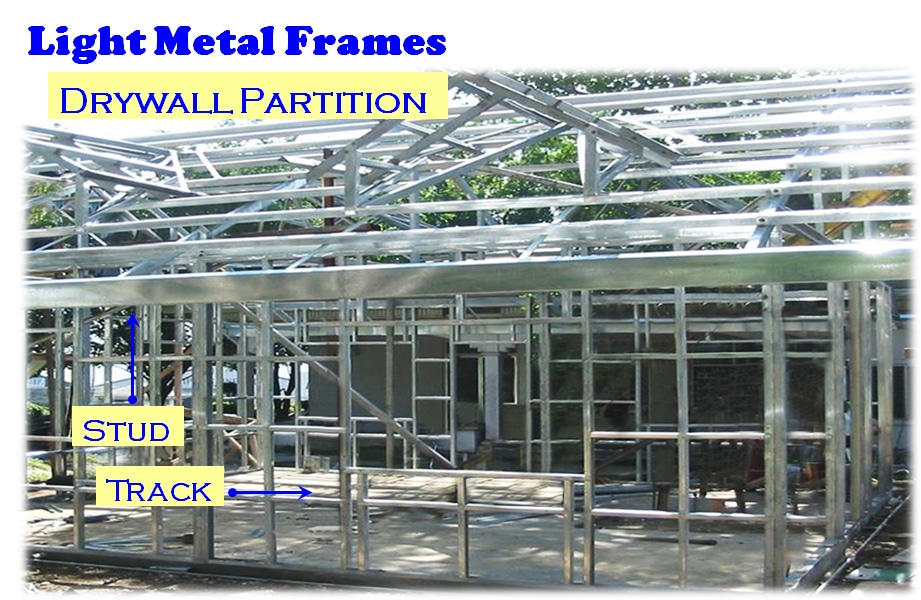 Other important terms:
Wood light frame construction – this is the most commonly used method to construct buildings, as it is very versatile. It is done by assembling evenly spaced lumber and hammered down with nails.
Balloon frame – it is a wooden building frame made out of tightly spaced members, wherein all the wall members are singular pieces that run to the top plates from the sill.
Sheathing – it is the rough material covering that is usually applied outside of a wall framing, to provide additional strength so that it may serve as a base for exterior cladding.
Header – it is the member used for doors and windows, and it carries other perpendicular framing members.
Rafter – it runs through the entire slope of a roof, which makes it a framing member that is similar to a joist but at an angle.
Firestop – a component installed for safety measures, it is usually placed on the floor, and anywhere near an opening or around the edge. Its primary purpose is to prevent a fire from growing larger.
Here are other important partition framing parts that you must know:
C-tracks, which are used for alignment and attachment to ceiling and flooring.
C-studs, which are used as vertical and horizontal support.
Accessories and connectors, which include, but are not limited to blind rivets, wafer tex, concrete nails, tox with screws, and metal screws.
More about partition walls:
Partition wall frames are similar to wood-frame walls, although they require other considerations. The basic framing of a partition wall is the same as the framing of exterior walls, wherein vertical studs extend from the soleplate at the floor level, all the way to the top place at the ceiling. If a doorway, window, or other opening interrupts the wall framing, then the opening is framed by trimmer studs on all sides, with a header and partial-height jack studs at the top.
When the partition wall intersects with another partition wall or meets an exterior wall, the result is T-shaped. So that there can be a nailing surface to be able to attach the wallboard at the corners of the intersection, a T-post can be erected and used. A T-post provides a nailing surface that uses less lumber, because it can extend beyond the stud that is parallel to the exterior wall, thereby covering more space. However, when two partition walls meet in a cross-shaped intersection, then two T-posts (also called a double T-post) may be used, and this is done by placing the wider member in between two standard studs.
There are other alternatives to T-Post framing, however. One of these is to use drywall clips or other forms of support that can attach to the stud, as well as to the inside corner of the intersection to support the wallboard on the other side. Another alternative is to add ladder blocking, which needs horizontal members that span the entire gap between the studs of an exterior wall, as well as behind the end stud of a partition wall. This will provide a nailing surface, as well as support for the wallboard.
Connect with us so you can know more about our products! We offer the best steel deck in the Philippines, as well as all other parts needed for framing, roofing, walling, and cladding.
Union Galvasteel is a total steel solutions company with over five decades of experience, leadership, and expertise in the construction materials industry. As the current market leader in the manufacturing and distribution of galvanized roofing and galvanized steel building products, we always challenge ourselves to innovate, and to offer fresh products and ideas to the construction industry. We ensure that we create only the best by hiring the top talent, adhering to operational excellence, and ensuring that our technology is top-notch. We are relentless in exploring proactive ways towards improvement, which sets us apart from the rest in the field.
Sa tibay at ganda, panalo ka!