Most successful endeavors do not happen by accident. They happen because they were planned with precision. Apply this mindset in your life and you are sure to be on your way to a great path. This can also be applied when doing home renovation or construction. Houses have blueprints while ceilings have a ceiling framing plan. Creating a plan is important if you have an area in the house to establish or renovate. In roofing, for example, there is what we call a roof framing plan. Learn more about roof framing and tips on how to use this plan for better ceiling frame installation.
What is roof framing?
Roof framing refers to creating the design or shape of your roof. There are five common types of roof frames, which are listed below:
Gable Roof (Dos Aguas)
A gable roof is shaped like a triangle, formed by two sections of the roof sloping down. This roof frame is easy to build and allows good ventilation.
Mansard Roof
A Mansard Roof has four sides with two slopes steeper on the bottom part. This design creates flexibility and adds space to the top portion of the house.
Gambrel Roof
A Gambrel roof has two sides, with one steeper on the lower part. Like the Mansard roof, it creates more space, making it ideal for storage buildings and sheds.
Flat Roof (One Aguas)
Despite the name, a flat roof is not flat, as it has a little slope that allows water to run off. This kind of roof design is usually used in commercial or industrial buildings, but it can also be used in homes. It is easier to construct and requires fewer materials.
Shed Roof (One Aguas)
A shed roof is like a flat roof, but it has a more angled or sloping roof usually attached to a wall. It is commonly used for home sheds and porches because the steep incline allows water to run off easily.
There are other types of roof frames, like Butterfly Roof, made of two tandem pieces forming in the middle to create a letter V shape. A Saltbox Roof has a long pitch, asymmetry design, and two sides with contrasting long and short lengths. It is good for areas with heavy rainfall because of its slope, which makes it easier for the water rain to run off. Another roof frame design is Curve Roof, which is similar to Shed Roof except that its planes are curved. There is also the Pyramid Roof, which is ideal for areas experiencing high-winds areas. It is also commonly used for small structures, like bungalows, pool houses, garages, and storage buildings that need extra space and ventilation.
What is roof frame planning?
Once you have a shape or design in mind, you may proceed with roof frame planning, which is a layout or diagram of your roof design, including its measurements, materials, and components like wires, drainage, and ventilation. The objective of roof frame planning is to make it easy for you and your contractor to build your dream roof within a realistic period.
The main goal of the roof framing plan is to aid both contractor and manufacturer take valid measurements and determine construction feasibility and material needs for construction projects.
Tips for Creating a Roof Framing Plan
Aside from choosing a roof design, you must have accurate measurements of your desired roof. Here are some of the measurements you need to take:
Span – the measurement from one wall to another wall of the top portion of your home
Rise – the measurement from the center of the span to the top of the roof
Run – the measurement of the span divided by two
Pitch – the angle of the roof slope, which can be shallow or steep
With your roof design and measurements, you are a step closer to building your new roof.
Roof Frame Components
When building a roof frame, you will need components like purlins. Purlins are bars or beams placed horizontally to provide structural support to your roof. They also support the deck of the roof so it can withstand weight and weather elements. Purlins are made either of wood or metal. However, a metal purlin is better because they are lightweight, easy to install, and durable. Aside from the support it provides to roof decks, it also makes roofs resistant to intense winds.
Based on their shapes, purlins can be classified into two: C purlins and Z purlins. As the name suggests, Z purlins are shaped like the letter Z when viewed from the width side. This shape creates an overlap that makes structures more durable.
Due to being strong, Z purlins are used often in large structures. The shape also makes Z purlins flexible and usable for various purposes. Meanwhile, C purlins form the letter C when viewed from a certain angle. Aside from providing support to roofs, C purlins can also be used for walls and floors. Because their shape is less complicated than Z purlins, C purlins are easier to install.
Read more at Purlins Buying Guide: Types, Sizes, and Materials
Purlins Manufacturer in the Philippines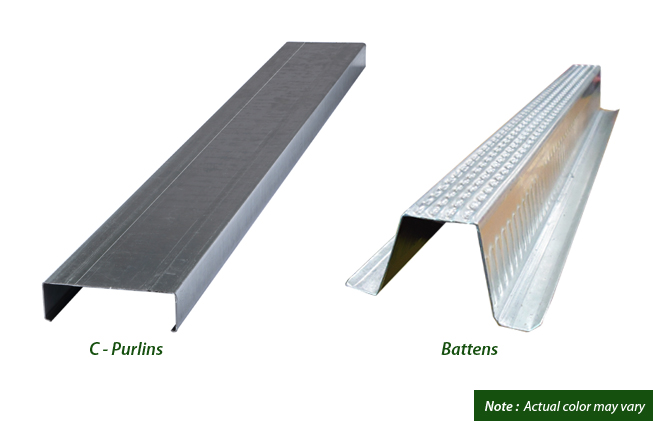 If you need a supplier of purlins or light steel frames necessary to build your roofing frame, look no further than Union Galvasteel Corporation. UGC's Purlins and Light Steel Frames are lightweight, strong, and non-combustible, which makes them ideal for residential as well as warehouse buildings.
If you have questions about C purlins sizes in the Philippines or anything related to roofing like ceiling frame detail, ceiling frame materials, ceiling framing plan, and ceiling frame installation, then get in touch with UGC.
We manufacture and distribute pre-painted and other galvanized roofing and galvanized steel building products. We are easy to find, as we have the largest and most diversified distribution network in the industry. We have warehouses and sales offices in strategic locations throughout the country. Contact the best roofing manufacturer in the Philippines today! Reach us via our website, Facebook page, or call these numbers for assistance: (02) 8520-8822-23; 8520-8831; (049) 545-0084 to 86 or 09175033965 (Globe) and 09190032303 (Smart).