The health pandemic that the world is experiencing has changed how people do things— from studying and working to shopping and entertainment. With people's health as a top priority, protocols are set in place to ensure that the virus is contained or mitigated.
Thankfully, with the availability of vaccines, movement is slowly getting back to the way it was before. However, don't expect that everything will go completely back to normal. Some practices that have become popular during the height of the pandemic—like working from home—have become part of what we now call the "new normal." In the construction industry, new normal may mean additional health and safety precautions for project owners and construction team alike. In this blog article, we will discuss how the pandemic affected the construction industry and safety guidelines from the trusted roofing manufacturer in the Philippines, Union Galvasteel.
Impact of COVID-19 on the Construction Industry
With lockdowns in place when the pandemic first started, construction projects were placed on hold, and this affected construction firms, suppliers, and workers.
The International Labor Organization reports that construction firms faced liquidity problems because of reduced spending and consumption. Some even faced bankruptcy. Also, with most businesses on hold or on reduced operations, procuring raw materials for construction became a problem. With shortages of materials, construction projects were delayed. Perhaps the most affected are the workers. With the issues mentioned earlier, many construction laborers lost their jobs.
Eventually, because the construction industry is considered essential, the government allowed construction projects to continue during the pandemic. It was considered essential as construction stimulates economic recovery. However, changes have to be put in place to ensure the safety of everyone.
Construction Industry's New Normal
In the Philippines, the Department of Public Works and Highways (DPWH) released guidelines for the implementation of allowed infrastructure projects during the pandemic. They have specific guidelines and during the deployment of workers, some of the most important ones are listed below:
Safety Guidelines Prior to Deployment
1. Construction personnel are required to undergo quarantine for fourteen (14) days prior to deployment; alternatively, the employee may undergo any Food and Drug Administration–approved COVID-19 test, and be retested as the need arises.
2. Consultation with medical doctors must be made prior to testing. COVID-19 test procedures and return-to-work policies of the contractors must comply with Department of Health (DOH) issuances.
3. Contractors should provide their employees with the necessary welfare facilities and amenities, including quarters for accommodations, and shall ensure compliance with minimum health standards such as social distancing, proper hygiene, etc.
4. Disinfection facilities must be provided in project sites and placed in strategic locations therein in compliance with DOH and the Inter-Agency Task Force for the Management of Emerging Infectious Diseases (IATF) Guidelines.
5. Safety Officers must conduct proper information dissemination on COVID-19 construction protocols on top of existing construction safety practices.
Safety Guidelines During Deployment
1. Regular maintenance and daily disinfection must be done in field offices, employees' quarters, and other common areas.
2. Pre- and post-work health conditions of workers must be monitored daily by the contractors. The monitoring must include, but is not limited to, temperature, health, and exposure checks. Personnel who manifest COVID-19 symptoms must be immediately isolated and quarantined for fourteen (14) days and if necessary, brought to the nearest DOH COVID-19 treatment facility under strict confidentiality and privacy. Proper protocols in accordance with the Department of Trade and Industry (DTI) and Department of Labor and Employment (DOLE) Interim Guidelines must be strictly observed.
3. A full-time Safety Engineer/Officer must be assigned at the construction site to strictly monitor work activities and ensure compliance with DOLE D.O. No. 13 and the DTI-DOLE Interim Guidelines on the wearing of required additional PPE such as, but not limited to, face masks, safety glasses/goggles, face shields, and long sleeve T-shirts, as well as other measures stated in the Required Construction Safety Guidelines.
4. Non-essential personnel, visitors, and the general public shall be restricted from entering the construction site, employees' quarters, and field offices. All personnel entering the construction site on a temporary basis such as delivery truck drivers, inspectors, etc., must be properly logged and checked for symptoms.
5. Infectious wastes such as protective personal equipment and other waste products from outside the construction premises must be disposed of properly.
What are the Allowed Construction Projects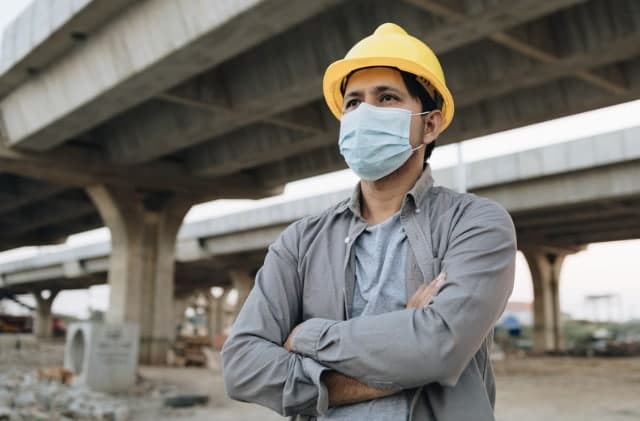 The types of projects allowed would depend on the alert level specific areas are under. Currently, all public and private construction projects are allowed as long as they strictly follow the Revised Construction Safety Guidelines of DPWH. However, in an area is under the strictest community quarantine, only the following construction projects are allowed:
1. Essential projects, whether public or private, such as but not limited to quarantine and isolation facilities for suspect, probable, and confirmed COVID-19 cases;
2. Facilities for health sector dealing with suspect, probable, and confirmed COVID -19 cases;
3. Facilities for construction personnel who perform emergency works, flood control, and other disaster risk reduction and rehabilitation works;
4. Sewerage projects, water services facilities projects, and digital works;
5. Priority public infrastructure projects; and
6. Priority private infrastructure projects pertaining to food production, agriculture, fisheries, energy, housing, communication, water utilities, manufacturing, and business process outsourcing
Aside from following all these guidelines, the best way to do construction projects smoothly during the new normal is to work with reliable partners when it comes to building materials.
For example, when looking for a roofing contractor in the Philippines, work with the best in the industry. Union Galvasteel Corporation is one of the leading companies in the Philippines when it comes to quality construction products and services. Union Galvasteel offers Roofing, Walling and Claddings, Insulated Panel, Building System Components, Pre-Engineered Building Structures (PEBS), and Roofing Accessories for your construction needs. Aside from offering a variety of building components, we also help clients with budget preparation, project scheduling, and project completion.
Working with a professional like UGC increases your chances of building new normal-compliant structures. If you need any of our products, we are easy to find, as we have the largest and most diversified distribution network in the industry. We have warehouses and sales offices in strategic locations throughout the country. Get in touch with us via our website or call these numbers for assistance: (02) 8520-8822-23; 8520-8831; (049) 545-0084 to 86 or 09175033965 (Globe) and 09190032303 (Smart).