At least once during the pandemic, you may have ordered food or other items online. Online transactions have increased significantly recently. Many people choose to stay at home and prefer to do things online for safety, shopping included. This has formed a habit. With restrictions easing, people still do online shopping because of its convenience. With the increase in online transactions, another service industry also started booming—the courier industry. After all, someone has to bring the orders to the customers, so businesses tap third-party delivery companies.
A local newspaper has reported that delivery service companies have expanded their operations due to high demands brought about by the pandemic. Many local delivery companies and brands have become household names. These companies have invested in technology to provide faster and safer services not only for their clients but also for their riders and merchant partners. They also hired more people, which is a welcome development, especially when people are losing their jobs.
Courier and Warehousing
This progress has built a chain reaction. With the growing volume of orders, companies started to rent warehouses to keep the items prior to shipping. Thus, the warehousing business has also boomed.
Basically, warehousing involves the storage of products from a manufacturer until they are ready for delivery to another location or to their intended recipient. Shops invest in warehouse companies for easier product management and faster coordination.
Starting a Warehousing Business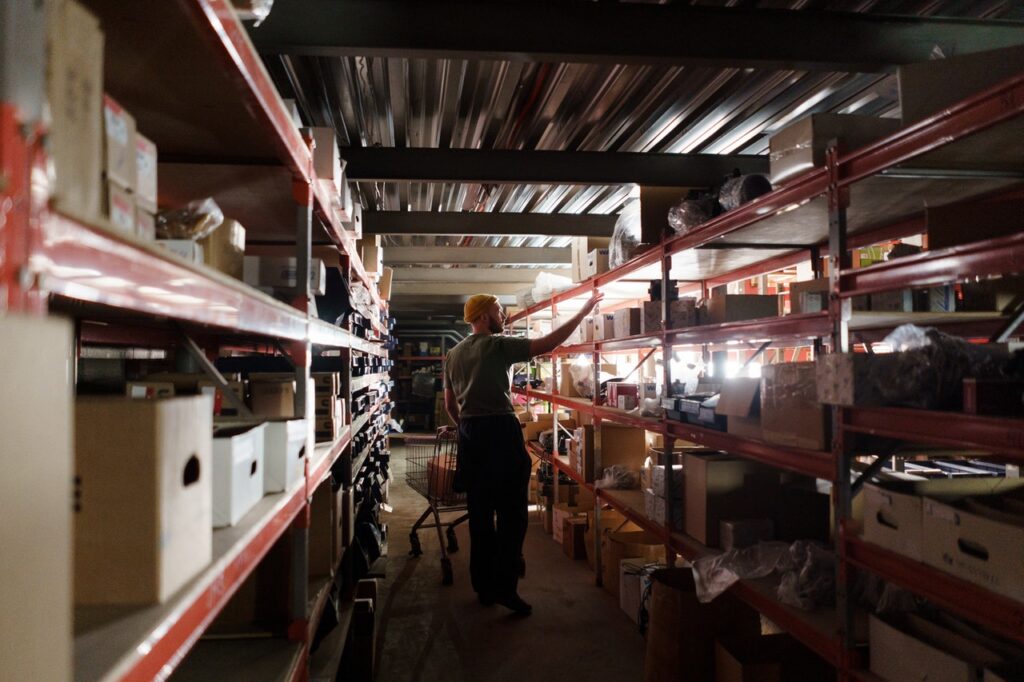 A warehousing business requires a decent amount of storage space to accommodate goods. Aside from this, you also need to consider other factors if you want to start a warehousing business. Follow these key steps:
Research for the best location and products to store.
The good thing about warehouses is that they don't have to be in a posh area as you will not entertain customers there. However, ensure that your warehouse is clean and spacious. It also must be in a location that is accessible, something in between the source of products and areas where these products are in demand.
Aside from location, you also must think about the products that you can accommodate. Health and beauty products are in demand today, so this might be one product that you can house. To keep the products in pristine condition, you must have the right ventilation or temperature to store them. You may also store a variety of products in your warehouse. Just make sure that they are fine to be together. For example, don't store food products with laundry products. You may do so if your warehouse is big enough to have separate sections for each product type.
Have the right inventory systems and staff.
You don't want items to be delivered to the wrong recipient, so you must ensure that you can properly track and trace items that come in and go out of your facility. There are various inventory management applications that you can utilize to make this process a breeze. Your people should also be trained to use these applications properly.
Comply with existing laws.
Just like any legitimate business, make sure that your warehousing business has the necessary permits or licenses from the authorities. From the issuance of official receipts to the observance of protocols, you should comply with regulations.
Ensure that your warehouse is well-constructed.
Warehouses should be durable. Otherwise, it may get damaged during a strong rain, ruining everything inside it. That is a business nightmare! Use only the right materials when building warehouses. For roof and walling, we recommend Insulated Polyurethane or PU panels.
PU Panels for your warehouses
PU panels are composed of three layers: the two outer skins usually made of metal and the polyurethane foam in between them. For other applications, the inner skin is sometimes made of PVC with a layer of aluminum.
Polyurethane is a synthetic plastic material used in common items like shoes, appliances, and beds. It is a commonly used material in various products because of its various advantages. As a roofing material, it offers high load capacity, strong bonding ability, and flexibility. Furthermore, it is resistant to water, oil and grease, mold, mildew, and fungus, and it has protection against tears and abrasion. PU is also a great thermal insulator. This allows businesses to save on energy costs because they consume less electricity to control an area's temperature.
The advantages of the PU panel don't stop there. They are also durable and expected to last long. They can provide ample protection from extreme weather elements and are fire-resistant. These qualities are important for a warehouse business because it provides added security and protection to your stored goods. Moreover, because they are quick and easy to install, they require low labor costs, so they are economical.
Trusted PU Panels Supplier in the Philippines
If you need PU panels for your warehouses, then we recommend Union Galvasteel Corporation's Duratherm roofs. These roofs are guaranteed to be exceptionally durable, so they can protect your warehouses from external threats, such as harsh weather. Also, the Duratherm sheathing has a USDA-approved paint coating with a Solar Reflectance Index (SRI) of 72 for PU White. SRI refers to the reflective property of the material. The higher the SRI, the better it reflects sun rays, helping the structure remain cool inside despite intense heat outside.
Insulated PU panels are also best for walls and ceilings, not just roofs. UGC has Standard PU Insulated Panels that are stronger than the traditional wall system, especially those made of wood. They are also energy efficient.
If you are looking for a PU insulated panel supplier in the Philippines, then we have good news! UGC is the market leader in the manufacturing and distribution of commercial, industrial, and residential roof products and roof and wall insulation in the Philippines. Get in touch with us via our website or call these numbers for assistance: (02) 8520-8823; 8520-8831; (049) 545-0084 to 86 or 09175033965 (Globe) and 09190032303 (Smart).