Have you ever wondered what type of roof is used in big structures like warehouses and gymnasiums? Often, they don't use the same roofs used in residential structures. Because of the size of these structures, they require roofs that will match their size, and these are long span roofs. In this blog, you'll learn more about long span roofs and how to find the best long span roof price in the Philippines.
What is a Long Span Roof?
Long span roofs are similar to other roofs in terms of function–they protect structures from weather elements and provide insulation when necessary. However, they are longer than traditional roofs as they exceed 12 m in span. These roofs are often made of steel, timber, and concrete. Out of all, steel is the preferred material because of its strength and fire resistance. As they are cost-efficient and require less time to construct, they are ideal for structures that require lengthy roofing such as manufacturing plants, aircraft hangars, and auditoriums.
If you're looking for long span metal roofs, then you're in the right place as Union Galvasteel Corporation has a wide array of products for your needs.
Long Span Roof Options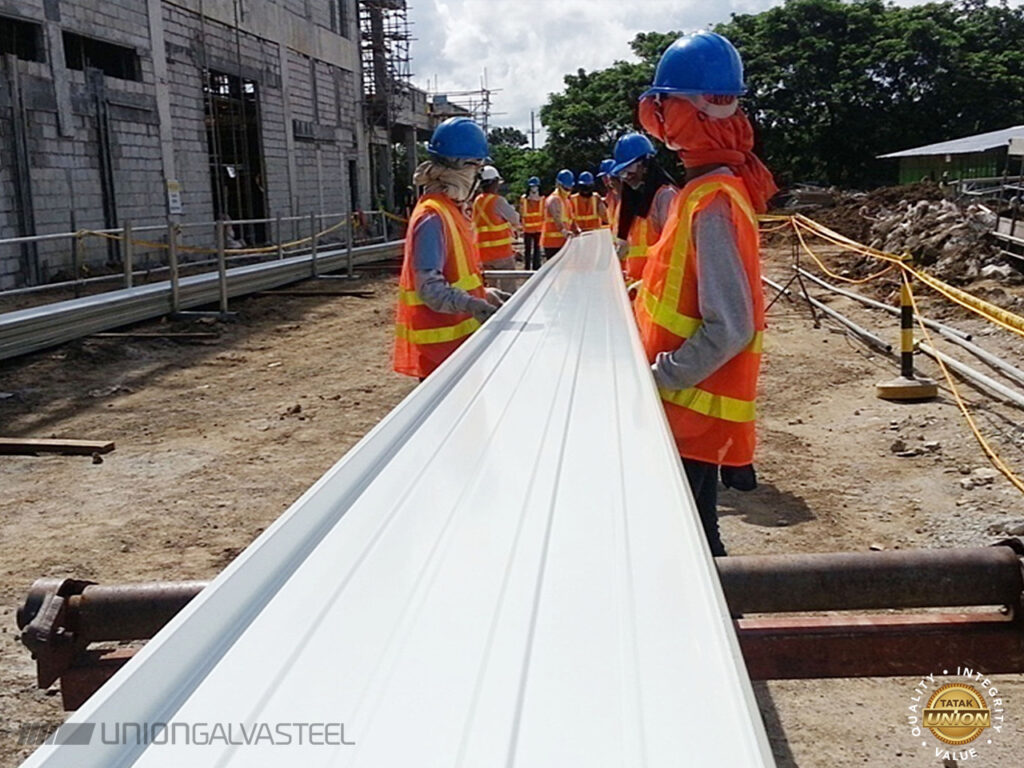 One of our long span metal roofs is Duracurve, which features an arc tri-crimp design that looks spectacular and gives an edgy feel to any structure. Duracurve is economical, wind-resistant, and low maintenance—making it ideal for gymnasiums, domes, covered courts, walkways, and high residential buildings.
Another long span metal roof we have is Duraseam. This roof features a very steep slope. Its screws are hidden, so it looks neat. Also, it is mechanically seamed for assured water tightness. It is also free of any holes from screws that could allow moisture to seep through. Duraseam is ideal for commercial and industrial structures.
For a classic roof design, we have Duracorr. Its Sinusoidal corrugation provides superior strength and stability. It cannot be easily dented when stepped on. Roofing experts recommend this long span metal roofing for schools and as sidings or under sheathing for poultry houses, typical warehouses, and manufacturing plants. Because of its simplicity and reliability, Duracorr is also ideal for residential structures. In fact, it's one of our most used roof designs for homes.
Another long span metal roofing ideal for areas regularly experiencing rain is our Hi Rib. It has a deep corrugation design that can carry a large volume of rainwater. Because of its high rib height at 50 mm, it eliminates the possibility of its rib being submerged during a heavy downpour and causing leaks. Hi Rib is recommended as roofing for gymnasiums, warehouses, and almost all flat roof structures. It is also suitable for commercial and industrial buildings.
For industrial plants with a long span and very steep slope, we recommend our Mega Hi-Rib, which has a deep corrugation design capable of carrying a large volume of rainwater. Its high rib height and non-flat surface provide extra strength and maximum rain drain-off capacity.
What's great with these long span metal roofs is that they are already prepainted, adding another layer of protection and removing the costly and burdensome task of painting them. Just imagine the time and money you must spend to paint long span metal roofs, especially if they cover a big structure.
Trusted Long Span Roofing Provider in the Philippines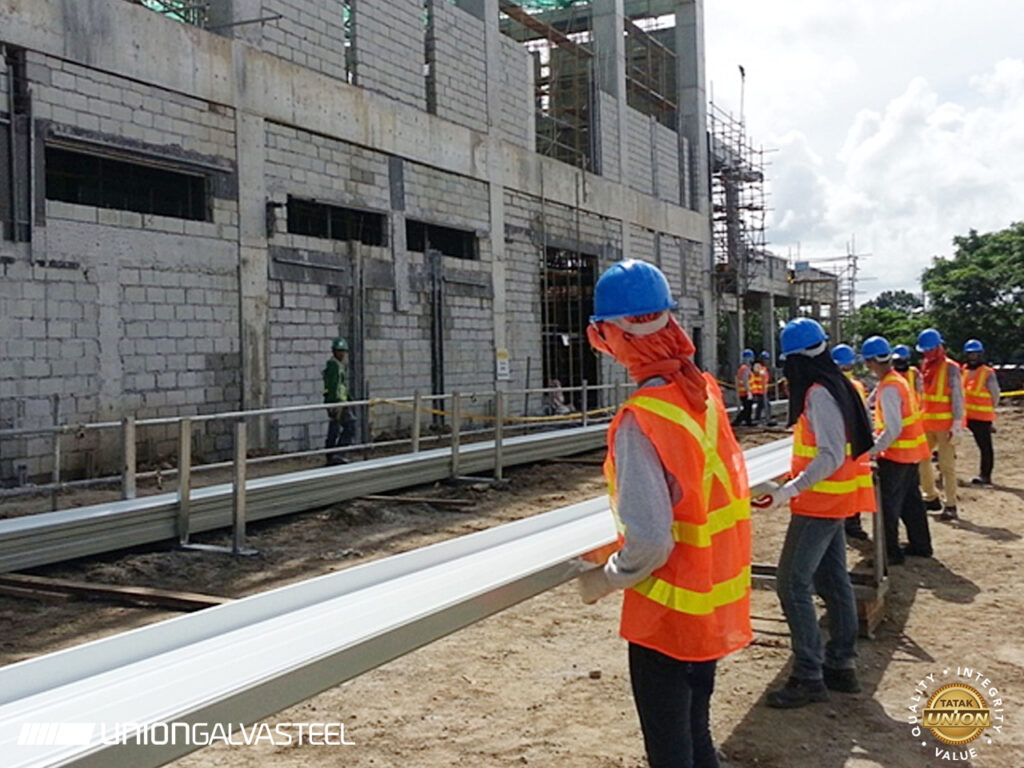 More than providing you with the right long span metal roof for your construction projects, UGC also provides services such as roofing estimates, onsite rollforming, delivery, and installation. With our roofing estimates, we can help you prepare your budget. We provide detailed roofing estimates in the form of sales quotations, complete with the specific roofing accessories necessary.
Meanwhile, our onsite rollforming gives you the advantage of preserving product quality specifically for long span panels. This service also allows for faster workflow because of reduced material handling. Because we are with you in the field, you can monitor the project schedule and avoid issues such as limited lay down space and unpredictable site conditions. And to ensure timely completion, we also offer delivery and installation services in partnership with our accredited haulers and contractors.
We at UGC are more than happy to answer your questions about long span roof price in Philippines or other roofing concerns. We are the market leader in the manufacturing and distribution of prepainted and other galvanized roofing and galvanized steel building products in the Philippines. If you need any of our products, we are easy to find, as we have the largest and most diversified distribution network in the industry. We have warehouses and sales offices in strategic locations throughout the country. Get in touch with us via our website or call these numbers for assistance: (02) 8520-8822-23; 8520-8831; (049) 545-0084 to 86 or 09175033965 (Globe) and 09190032303 (Smart).