After a few years of staying indoors, many of us have realized the value of making our spaces more comfortable and functional. Home renovation vlogs and room makeover posts have inspired many of us to do the same. But as much as it is encouraging and satisfying to do, home renovation may entail a cost. You might be stuck because you want your space to be unique at a budget-friendly price. Good news! We have a suggestion for you—use metal roof sheets. Yes, aside from protecting your homes from extreme weather conditions and other threats, metal roof sheets can be used in other parts of your home in creative ways. How? Continue reading.
Space Ideas Using Metal Roof Sheets
Transform your yard into your dream space! Here are space makeover ideas using affordable metal roof sheets:
Outdoor Bar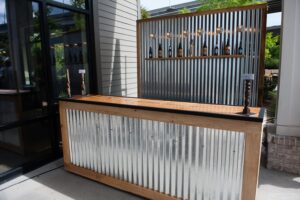 If your yard space can accommodate it, having an outdoor bar to entertain guests is a great idea. Just imagine that you are on an island where unlimited drinks are overflowing. Isn't that nice? Knowing that the weather in our country can be extreme at times, having a bar with a roof is the ideal setup. The countertop may be mostly made of cement. Be sure that the cement you use is strong, as you don't want it to get damaged easily. Go only for cement products from reliable brands, like Union Cement.
For its roof, you need something as strong as its structure, so we recommend using metal roof sheets. Depending on how big the bar is, it will be needing only a few pieces of roof sheets. You can paint the roof to match the color of its base or use pre-painted metal roof sheets to save you time and energy. For sure, your place will the favorite of friends with this outdoor bar.
Covered Garden
For plantitos and plantitas out there, here's something you may like—a covered garden. If you have plants that don't need direct sunlight, then a covered garden will suit them. The roof will also protect plants from strong winds and rains, so you don't have to worry about them being outdoors. You can have the roof hanging from the side of the wall, or create a gazebo-type structure in your yard as a covered garden.
Plant bed
You should not limit your creativity to metal roof sheets. You can also use other roofing accessories. For example, instead of having small plants in pots, why not have them in a plant bed made of roof gutter, yes, that piece that prevents rainwater from getting into your home. Buy pre-painted roof gutters that match your style or home décor. You may also go for a Spanish gutter to add more flair to your unique garden.
Gazebo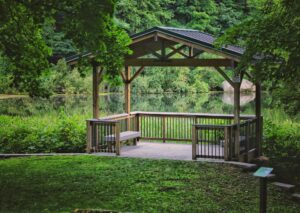 If you want a place in your yard where you can just hang around, then a gazebo is a great idea. It is quite easy to create if you have the basic construction skills. You just need a few pieces of wood as frames and of course a roof to shade you from the sun or rain showers. Add a small coffee table and a few chairs and your gazebo will be a cozy outdoor lounge.
Dog house
For pet lovers, we also have a recommendation on how to turn your yard into a functional yet stylish space. You can create small houses for your dogs! The dog houses are not the typical ones you think of when imagining dog houses. With a few metal roof sheets, you can create masterpieces for your fur babies. For example, you can have two panels of roof sheets to form the shape of a tent and keep it open on the sides to let air in. This way, you don't have to worry about your pets, getting heatstroke, especially if you use a pre-painted roof that deflects sunlight.
Why Use Metal Roof Sheets Outdoors
Metal roof sheets are ideal for your outdoor construction projects for several reasons. First, they are lightweight and easy to install. They are also more durable than other materials like wood. Metal roofs, especially galvanized ones, are more cost-effective eventually.
However, not all roof materials are the same. When talking about metal roof sheets, you may visualize galvanized iron roofing in the Philippines or yero that usually come in silver. Now, there are pre-painted metal roofs that are as durable as traditional metal roofs. Because they are pre-painted, you don't have to worry about the backbreaking tasks of painting them. They also come in various colors, so you can surely find one that suits your aesthetics or the theme of your projects. The color is not just for the design; it adds another layer of protection from harsh weather conditions and helps with insulation.
If you're looking for the best roofing materials for your projects, then look no more as Union Galvasteel Corporation has the right products for you. UGC's prepainted roof materials come in different colors – red, green, beige, blue, orange, white, brown, and other special colors upon request. They are even available in multicolor and woodgrain variants. Thus, whatever theme or overall look you are, you can achieve them. Also, with UGC, the quality of roofs is guaranteed, as it has been in the industry for a very long time. Their products are also cost-effective. 
UGC is the market leader in the manufacturing and distribution of pre-painted and other galvanized roofing and galvanized steel building products in the Philippines. If you need any of our products, we are easy to find, as we have the largest and most diversified distribution network in the industry. We have warehouses and sales offices in strategic locations throughout the country. Get in touch with one of the trusted roofing manufacturers in the Philippines via our website or call these numbers for assistance: (02) 8520-8822-23; 8520-8831; (049) 545-0084 to 86 or 09175033965 (Globe) and 09190032303 (Smart).