What is a corrugated roof?
The term stands for corrugated galvanized iron roof. Galvanized iron has been around for centuries and is used to make small items such as nails and bolts to larger ones such bridges and building framing components. Galvanized iron is iron that has been coated with a protective layer of zinc. This is because iron alone can be susceptible to rust and corrosion when exposed to moisture and oxygen. Galvanization is a simple yet effective way to protect iron from potential damage and degradation.
A corrugated galvanized iron roof comes to mind of most people when they think of an ordinary roof. Since it's easy to make and easy to transport, most of the ordinary roof prices in the Philippines remain relatively cheap. The traditional shape of corrugated sheet is round and wavy. It is low cost, light weight, durable, energy efficient, long lasting, and easy to install. Read on to know other advantages of choosing corrugated roofs.
The Benefits of Corrugated Roofs
1. Corrugated Roofs Are Long-Lasting
Corrugated roofs are quite durable. In fact, they can hold a lot of weight even without additional support underneath. This is in contrast with ribbed roofing types, where one can only safely step on the ribs.
2. Corrugated Roofs Are Easy to Repair and Are Recyclable
Since it's easy to walk on corrugated roofs, repairing and cleaning them are also easier. They're also 100% recyclable. Even after a few decades, you still reuse them or bring them to a junk shop as they can still be remade into temporary shelter or fencing.
3. Corrugated Roofs Are Easy to Install and Replace
They are also easy to install. A corrugated roof's purlin supports, or the horizontal beams underneath them, can actually not be perfectly aligned, yet the corrugated roof will remain strong. What matters is that there are enough materials that support the roof's weight. This makes corrugated roofs ideal for temporary shelters.
Corrugated roofs are also very easy to replace. If it gets damaged and needs some repairs, it's very easy to find replacements. Corrugated sheets are also sold in various sizes.
A Closer Look at Corrugated Metal Roofing
Corrugated metal roofing is simply a series of metal sheets that are roll-formed to become metal panels. These panels are then affixed to the roof using screws. Sheets of metal are made stronger by corrugating, or folding the metal to make grooves and ridges. Steel already has a higher tensile strength than wood, meaning it's more resistant to breaking under tension.
They can be easily distinguished due to their wavy design. Though many roofing contractors only think of the S-shaped or wavy panels when they talk about corrugated roofing, corrugated roofs can also be square or boxy. This is because the term "corrugated" just pertains to any type of metal that is formed into grooves and ridges. This covers both metal roofing that are S-shaped and the boxier types.
Corrugated roofing is very durable because the sheets of metal become stronger when they are corrugated. Corrugating just pertains to folded metal that has grooves and ridges. Though metal is already quite resistant to tension, the corrugation process increases the metal's strength. This means that more lightweight metal that is usually quite flimsy can then be made into a strong panel.
The corrugation process is done through roll-forming, with metal sheets are pulled off from huge round metal coils before passing through rolling dies. This process then forms the panel into a corrugated sheet metal. The corrugation process further increases the tensile strength of steel. It creates a panel with high strength-to-weight ratios that can hold up to years of punishment in all kinds of weather. Once the sheet metal has passed through all the rollers, it is then cut into the correct panel length.
Corrugated Roof and More
Now that you know the benefits of corrugated roofing, you may want to know where you can find the best corrugated roofing materials. Look no further, as Union Galvasteel Corporation offers Durracorr. It features superior strength due to its sinusoidal corrugation, which means that it will not be easily dented even amidst the harshest weather conditions.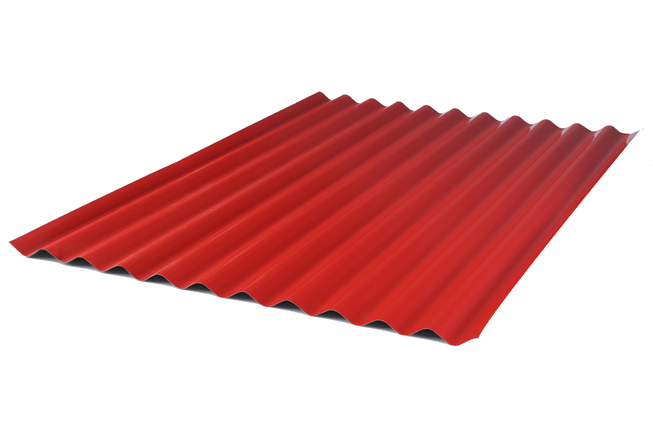 Duracorr
Its superior durability is because of its equally distributed corrugation. This makes it the top choice for warehouses, manufacturing plants, conventional housing projects, poultry houses, and even schools.
Aside from that, it is also an excellent choice for industrial, commercial, and residential projects, as the Duracorr is reliable and simple. It is not just an ordinary roofing material; it is the classic type of roof that provides superior strength.
Buy Duracorr and other types of top-quality roofing materials only from Union Galvasteel. Aside from providing roofing materials and accessories, UGC also has roll-forming plants, warehouses, and sales offices in strategic locations throughout the country.
We, at UGC, gladly offer roofing services to extend our help in creating budgets, scheduling projects, and ensuring that building projects are completed. We have onsite roll-forming services that offer preserved product quality for long-span panels while providing faster workflow due to reduced material handling. Onsite roll-forming will also allow better establishing and monitoring of project schedules, as issues may be faced more efficiently when on-site. We also have roofing estimation services aimed to help with project planning and budget preparation.
Our company will provide detailed roofing estimates for building projects and be able to give sales quotations that are complete with the necessary or specified roofing accessories. We also have delivery services, in partnership with our accredited haulers, and installation services, in partnership with our accredited contractors. Our delivery and installation services aim to help achieve project completion on time.
Our slogan is simple: "Sa tibay at ganda, panalo ka!" It not only reflects the beauty and durability of our products but reflects our utmost commitment to product quality and service to help better the lives of Filipinos.