Joy Tamayo's loyalty to UGC brings back good memories spanning more than a decade

I started in the ice manufacturing business in the mid-'80s. Then, I ventured into the poultry business, first via a poultry dressing plant before venturing into poultry growing operations, we are now on our 10th year in the poultry business.
I was already using UNION Galvasteel for my Ice Plants, using both G.I. for roofing and Sandwich Panels. When we expanded our business, we were the first in the poultry industry to use your products. Jojo Adriano, our UGC Sales Executive can verify that. You might say, we introduced UGC to the poultry business, in a way…

We tried using UGC SANDWICH PANELS for roofing of our hatchery. I was hesitant at first, because of the cost, as it is more expensive than the regular G.I. roof. Since we needed to control the temperature inside the hatchery, I decided to give it a try. True enough, it has really helped maintain the required temperature. We are in our 3rd year of using the sandwich panels and are very happy we did.

Our hatchery is in Baao, Camarines Sur, right along the typhoon path. We have had many storms come through, but our roof using UGC Sandwich Panels has withstood all these calamities. Di pa kami nasiraan o naliparan ng bubong, so matibay talaga siya! I will definitely use it in my next project.

In the past, our ice business only used G.I. for roofing. We had to sell and immediately distribute all the ice we could make. But today, it is different. You have to build storage to stock ice products especially for big customers. So in 2006, we installed UGC Sandwich Panels which allowed us to have the much needed large storage facilities.

I used to purchase from multiple suppliers for my roofing and construction needs. Then, I met Jojo Adriano of UGC. I felt comfortable dealing with him; I would say his way of dealing with clients like me is EXTRAORDINARY! I can call Jojo anytime, he always adjusts to the requirements of the client, even on discounts!

I can say that UGC for me is the standard. We have tried using other PU panels, especially the imported ones and there are discrepancies between their claims and the actual product quality. With UGC, if ever there is any problem with the quality of the product, UGC addresses it right away to my satisfaction. This is the reason why I am sticking with UGC, because of their service. In fact, we now use UGC Sandwich Panels in our Hatchery, Poultry and Dressing Plant.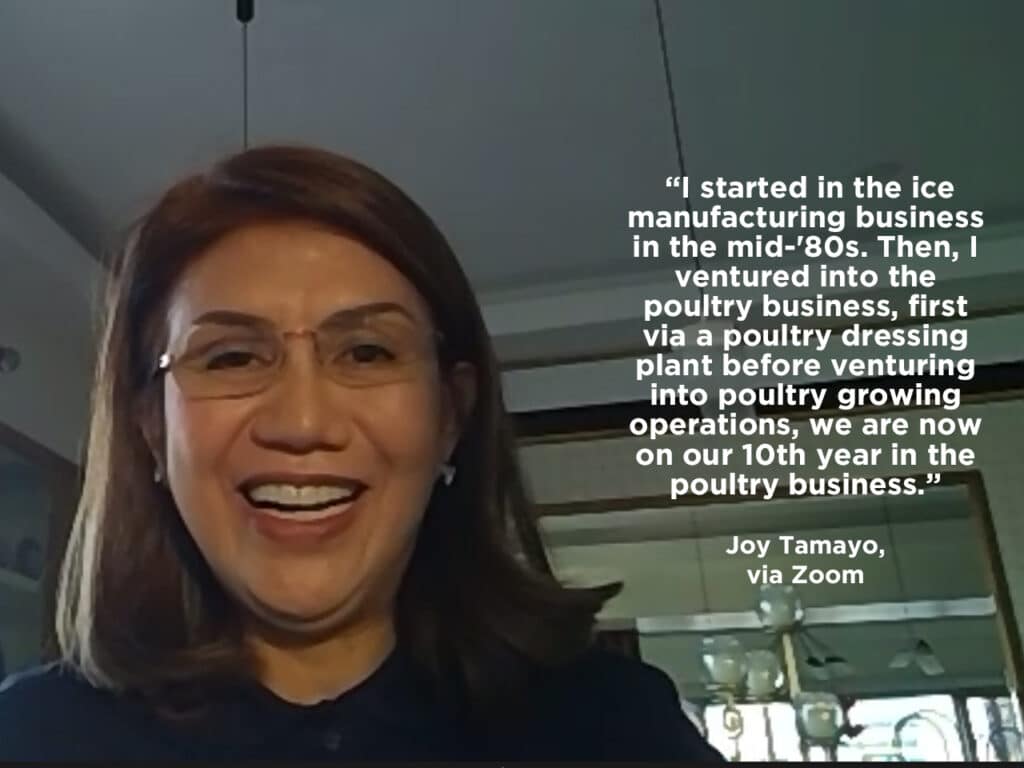 "I think I am one of your loyal customers. In our poultry projects, 35-40% of our project costs go to panels and roofing! And you can imagine if your poultry covers a large area, that is a lot of money. I negotiate directly with UGC for the best price and terms for our order, hindi na ako gumagamit ng ibang panel."

"This trust with your supplier goes beyond price. Kasi some suppliers will dive their price just to get your business. But it is more than that. Maganda talaga if you have a good relationship with your supplier para when you have concerns about product quality or price, naaayos kaagad! This is a continuous relationship, hindi lang pag-deliver hanggang dun nalang! I like to deal with a company that will support me, not only by giving me the best price, but who can also deliver on time and as promised. That's important for me."

When asked how she can describe her more-than-a-decade-long relationship with UNION Galvasteel, she claims, "Dependable. Price-competitive. Quality-wise, talagang matibay! Maasahan sa after-sales. I should say… approachable."

In this time of pandemic, UNION Galvasteel rose to the occasion, an elated Joy recounts, "We had 3 projects lined up before the pandemic. We couldn't stop construction and even at the height of the pandemic, UGC was always there to support us. Each construction project had 6 modules each, or a total of 18 modules in all. If UGC hadn't supported us, we couldn't have completed our first module as committed in December. If UGC didn't support us, we wouldn't be operating the first module. Tuloy-tuloy, dire-diretso, kahit bumabagyo – deliver pa din ng deliver ang UGC! Joy attests.

"During the pandemic, most businesses encountered financial challenges, we were not exempt. Collection rates were down and this affected our operations. We opted to ask UGC for credit term extensions and they agreed with not much fanfare. That says a lot about how they treat their customers, not just as an account. I am very happy dealing with UGC. During the pandemic, it is most important that your supplier knows and understands your situation. This goes beyond the business itself. Nothing can beat that… the confidence, the trust that we have established!"

"If a supplier gives you the best service like UGC, the only way for you to reciprocate is to pay it forward. My friends, who wanted to set up their own poultry business, after visiting RJK Farms, have become their customers as well.

A great way to pay it forward, Joy!