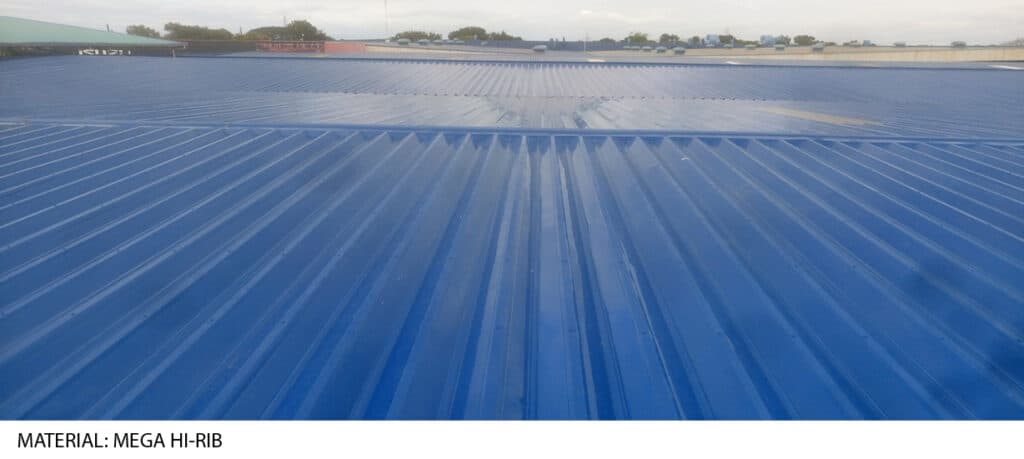 Corrugated, standing seam, multi-rib―metal roofing profiles can sound confusing and intimidating. This article will therefore provide an in-depth explanation on these. A solid understanding of metal sheathing will help promote its correct usage. And when the proper facing is utilized, a construction project ends up successful.
Apart from contributing to an erection venture's realization, the right knowledge of metal siding likewise benefits all parties involved in the undertaking. Homeowners and entrepreneurs obtain a roof that is durable and easy to keep up. Their assets will be properly shielded for years minus the huge overhaul outlays. The contractor gains accolades for being competent and will hence have more clients and earnings.
The Roof's "Skin"
Cladding is a development technique in which a layer of material is installed on a roof's surface to serve as its protective covering. This is the last stage in erecting a new canopy. The awning frame is first assembled and coated with a waterproof membrane system such as roofing felt. Holes between joins and around protrusions are subsequently secured with flashing. Once these steps are done, the facing is finally set up.
Siding substances include metal, concrete, plastic, and asphalt. Since a roof's primary function is to shield a structure from the elements, cladding accoutrements must be selected according to the climate of the area where the edifice will be built and the complex's purpose. In the Philippines, metal is a popular sheathing medium mainly because of its durability and flexibility. Metal cladding is low-maintenance―it can withstand heat, rain, and termites without getting destroyed easily. Holders thus end up with reduced repair expenses.
Metal facing is also versatile. Available in different sizes and patterns, it is suitable for various residential and commercial buildings. And metal siding is no longer limited to just a few basic colors. It now comes in practically every shade, greatly enhancing an erection's attractiveness.
Below are some examples of metal facing that roofing contractors in the country use:
Corrugated
Union Galvasteel Corporation's (UGC) Duracor or the corrugated metal sheet is a popular roofing profile, with a thickness range of 0.25mm-0.60mm. It is lightweight, rendering it ideal for small- and mid-scale assemblies. It does not overburden these, preventing damages and costly repairs.
It can cope with adverse weather conditions like heat waves and cyclones. When correctly installed, it will reliably safeguard for many years modest and intermediate edifices such as homes, schools, shops, barns, and pens.
Duracorr is strong and dependable. Its sinusoidal or curved design evenly distributes its stability, ensuring that it will not readily dent under pressure. The product ensures that even a simple house can endure hot summer days and intense typhoons minus the high roofing bills.
Standing Seam
Standing seam metal roof has features to adequately bulwark large-scale buildings, including factories and malls. A protracted canopy eliminates the need to join smaller metal awning pieces to form a large one. Entrepreneurs thus save on time and construction costs.
Rainwater slides quickly over standing seam facing due to the latter's steep slope. Needless to say, standing seam sheathing is appropriate for complexes found in locations like the Philippines, where rainfall is high. It sheds rainwater instantly, avoiding corrosion as a result.
Additionally, standing seam siding is mechanically seamed and has hidden screws. Mechanical seaming guarantees better water tightness than screwing, as it does not leave screw holes through which water can penetrate. This averts leaks that can damage not only the roof but also the truss and the ceiling.
The hidden screws improve the cladding's aesthetic appeal. Exposed fasteners make the siding appear untidy. Concealed fasteners, in sharp contrast, give the facing a neat look. The entire structure likewise becomes presentable.
UGC's Duraseam metal roof has a rib height of 51.5 MM, feed widths of 610 MM and 457 MM, effective coverage measurements of 470 MM and 322 MM, and a nominal thickness scope of 0.40 MM-0.60 MM. It can hence be used on diverse kinds of commercial premises. From offices to industrial facilities, the brand can be counted on to provide sufficient and low-maintenance roofing. Equipment, goods, and workers are kept safe, leading to greater productivity and profits.
We also offer on-site rollforming. If your covering calls for standing seam roofing that exceeds 25 M, UGC Rollforming will go to your site and create it there. We are able to work within shorter time frames, as we do not prefabricate and ferry metal sheets. At the same time, you save on delivery charges.
In addition, our on-site rollforming assures high-quality output. We do not deal with shipping restrictions and defective parts. Consequently, we generate metal roof according to your required length without the risk of later do-overs because of the forenamed issues.
Multi-Rib
Multi-rib panels are used on lengthy, regular to low slope piles. Its rib profile proportionately circulates rainwater throughout the roof and rapidly discards the water. Rusting and seepage caused by rainwater accumulation is therefore impeded.
UGC's multi-rib metal roof is composed of Durarib, Duratwin, Minirib, Hi-rib, and Mega Hi-rib. Durarib, Duratwin and Minirib have rib heights of 22 MM, 30 MM and 10 MM, respectively. These are thus excellent for rain-proofing mass housing projects, poultry farms, and small warehouses―amenities which have awning spaces that are too long for corrugated panels yet too limited for Hi-rib and Mega Hi-rib roofings.
The Hi-rib's rib height is at 50 MM, while the Mega Hi-rib's is at 88 MM. The hi-rib is fitting for huge, flat-roofed outfits such as gymnasiums and large warehouses. Having a higher rib height, the mega hi-rib is suited for industrial plants. Apart from instantly jettisoning rainwater, broad corrugation likewise gives these cladding applications extra strength. Hi-rib and mega high-rib roofs can be walked on without denting, ensuring the safety of maintenance personnel.
UGC pre-manufactures and delivers multi-rib panels up to 25 M long. UGC's rollforming team make longer sheets through our on-site rollforming service. 
The Right Cladding for the Right Results
In the Philippines, where natural disasters are commonplace, the use of wrong roofing profile can have detrimental effects. It can leave a structure severely damaged after a storm. Having a ruined edifice fixed can cost thousands, if not millions, of pesos. In the case of companies, additional losses can come in the form of lower efficiency, broken devices, and lawsuits due to employee injuries or deaths.
The right metal roofing can preclude these outcomes. The former strengthens buildings' roofs, turning erections into sturdy repositories, shelters, and workplaces. Safeguarded assets and healthy people ultimately translate to a more prosperous society.
Union Galvasteel Corporation manufactures, delivers, and installs metal roof claddings for residential, commercial, and government clients. For more information about our products, call our Calamba office at tel. nos. (02) 8520-8823; 8520-8831 Trunk line or (049) 545-0084 to 86 Trunk line or click here.