The roof is one of the most important parts of your home. It protects you from getting soaked in the rain and from getting scorched by the heat of the sun. When you hear "roof," you may think of the panels that are on the topmost part of your home, which is correct. However, your roof will not be complete with roofing accessories. What are the common roof accessories that you need for your home? Read on to find out.
Importance of Roofing Accessories
Roofing accessories are materials that connect to your main roof panels. More than just "accessories," they complement your roof by providing functions that the main roof panels can't provide. Without these accessories, the roof cannot fully perform its function of protecting your home. Needless to say, these accessories are as important as the roof itself.
Roofing accessories
Gutter
A roof gutter is a type of bent accessory usually placed in the middle of two parallel surfaces (for example, the space between parallel roofs or between a roof and a parapet wall). It may be lined with asphalt, EPDM rubber, roofing felt, or even metal. It comes in various designs like Spanish gutter, box gutter, parallel gutter, and trough gutter.
Valley Gutter
A valley gutter, or valley flashing, is created in the middle of non-parallel intersections of roof surfaces, usually at 90-degree corners (right angles) of pitched roofs. Valley gutters are formed when sloping roofs meet but from different angles.
Flashing
Flashing is a sheet of thin, water-proof material that prevents liquid from seeping into a building's interior. It also helps direct moisture flow in walls. There are various types of flashings, which we are enumerating below:
Roof flashings are installed around intersections to redirect water coming from joints or seams.
Wall flashings are usually embedded within wall interruptions, like windows, to prevent water from seeping in (water ingress).
End flashings are usually applied in areas where a roof's upward slope meets a wall.
Apron flashings are found at the low end of penetration, or a curb. Their purpose is to make a water-tight junction, which forms a 90-degree angle that begins from behind the cladding and comes out over the roof.
Ridge flashings create a cover over roofing materials.
Cap flashings are placed above doors and windows.
Still flashings are usually hidden under door thresholds or windows, preventing water ingress.
Channel flashings form the letter "U" and are placed where the edge of a tile roof meets a wall.
Speed flashings overlap and are placed at junctions in sloped roofs. A great example of this would be a chimney on a pitched roof (a roof that slopes downwards).
Through-wall flashings span the entire thickness of a wall to redirect water into weep holes, allowing water to drain from within an assembly.
Kickout flashings are found at the bottom of a roof's intersection and are used to deflect water from the wall.
Pipe flashings are used on roofs that are penetrated by pipes.
Valley flashings are found where two roof planes intersect, which then form a valley, where water may pool.
Drip edge
A drip edge is a metal flashing installed for protection that is located at roof edges.
Wall Capping
A wall capping covers the top section of the walls. It also adds a finishing touch in terms of aesthetics. It is usually made of steel.
Ridge Caps and Ridge Rolls
Ridge caps and ridge rolls are always designed to fit the ridges of roofs, which is why they are pre-bent and are usually offered for pre-painted steel roofing, with the same thickness as roof shingles. They are efficient in shedding debris and water, have enough adhesion, have a thick nailing area, and can prevent tears and blow-offs.
Read more about: 5 Common Types of Gutter Designs in the Philippines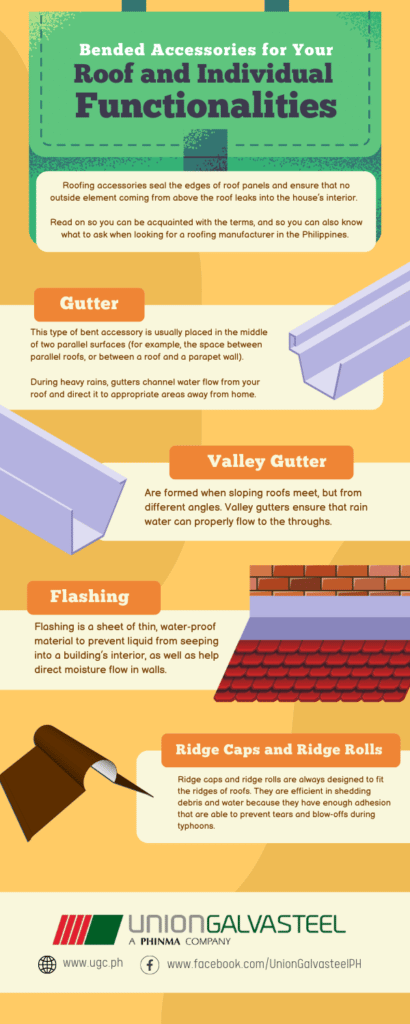 Pre-painted Roofing Accessories
When sourcing roofing accessories for your roof projects, be sure to get only the best. Not all roofing accessories are the same. For example, there are pre-painted roofing accessories, which are better than regular ones. As they are pre-painted, you no longer have to worry about the backbreaking tasks of painting the accessories yourself, or you no longer have to pay other people to do it for you. This leads to savings in terms of time and cost. You can finish your project a lot faster.
The layer of paint also adds a layer of protection to your accessories. The paint prevents corrosion from building up and ruining your roof and accessories. Because they are more durable, they require less maintenance while being long-lasting. This also makes pre-painted roofing accessories cost-effective.
If you need pre-painted roofing accessories, like rain gutter or roof flashing in the Philippines, then look no further than Union Galvasteel Corporation. UGC's bended products are the first items to be installed, followed by the roofing itself. Roofing accessories are typically used for the drainage system of a roof and to cover the corner and joint portion of a roof. They use a plain sheet, have ducts that collect rainwater from the roof and divert it away from the structure into the drain, and are customizable to fit the styles that you prefer. They come in red, green, beige, blue, orange, white, brown, multicolor, and woodgrain variants. If you need to customize your design to fit your aesthetic, special colors are also available upon request.
If you need information on roof gutter prices or if you're looking for a roof gutter supplier in the Philippines, UGC is here for you. We are a leading roofing manufacturer in the Philippines that manufactures and distributes pre-painted and other galvanized roofing materials for commercial, industrial, and residential use. We have the largest and most diversified distribution network in the industry, with rollforming plants, warehouses, and sales offices in strategic locations throughout the country. Get in touch with us via our website or call these numbers for assistance: (02) 8520-8823; 8520-8831; (049) 545-0084 to 86 or 09175033965 (Globe) and 09190032303 (Smart).