In any business that sells products, storage and warehousing are crucial. Storage is the preservation of products from the time they are manufactured up to the moment that they reach their intended consumers. This is important in a marketing cycle, as without proper storage, especially for food items, products may get damaged and unfit for consumption. Proper storage also makes season-specific produce available all year round to keep up with the demand. With proper storage, a business can continue thriving.
Types of storage structures
Underground storage
There are several types of storage structures. One is underground storage. As the name suggests, this structure is made by digging out. Its shape may be rectangular or circular, with stones, sand, or cement as a lining. The items it can accommodate may vary in its size. An underground storage structure protects inventories from various external threats or damage, like strong weather conditions or even thefts.
Surface storage
Another type is surface storage structure. This is above-ground storage, where items can be stored through bag storage and bulk or loose storage. With bag storage, multiple items are stored in a bag. This is helpful in isolating products that may need to be removed due to certain issues, like infestations. Because bags are properly labeled, items can easily be identified and separated. Bulk or loose storage is when items are stored individually.
Silo
A silo is another type of storage often found on agricultural farms. They are tower-like and used for bulk storage of items like coal, wood, grain, and other farm products. Because this structure is tall, it utilizes mechanical conveyor belts to move products in and out.
Warehouse
A warehouse is also a storage structure. It is a spacious facility where the flow of goods is controlled and monitored, just like any storage structure. In the Philippines, this is the most common type of storage structure.
There are more types of storage structures, but the above-mentioned are the most common ones.
Importance of Proper Storage in Agriculture
In the agriculture industry, proper storage of produce is especially important. As mentioned earlier, it allows seasonal products to be available all year round, which in effect secures the cash flow of an agricultural business. Storage also prevents or reduces the chances of food spoilage or pest infestation. By keeping them safely stored, their life is prolonged.
Proper food storage also ensures the safety of farm animals. For example, animal feeds have chemicals that can change and become toxic when exposed to elements due to improper storage. They may develop bacteria, mold, or fungi, which can be dangerous to animals when consumed. Feeds, when improperly stored, may also be consumed by wild animals.
Farm owners also benefit financially from proper storage. They can sell off-season items at a higher price since supply is low.
Factors to Consider For Proper Storage
To ensure proper storage, you must consider the amount or quantity of products to be stored. Especially for perishable products, you can't keep too many in the same storage, as they may have bruises or blemishes, which may affect their selling price.
Another factor is moisture. Having low moisture content is recommended to avoid bacteria, fungi, and mold from developing. However, some fruits and vegetables may need to be stored in a high-moisture environment.
A storage facility should also have the right temperature depending on the products to be stored. Dairy products, for example, need to be under low temperatures to maintain their freshness and avoid spoilage. The same goes for fish and meat products.
Building the Right Storage Facility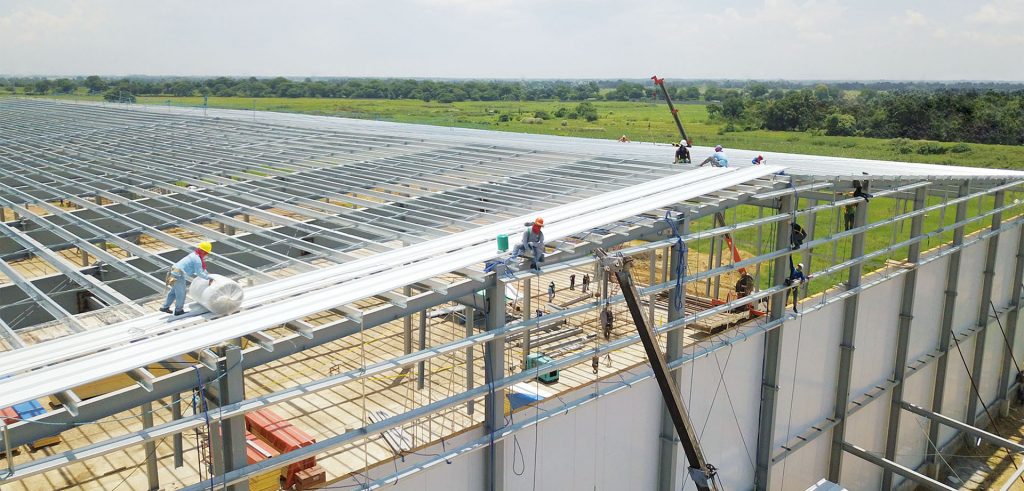 Storage facilities like warehouses should be built to last for a very long time. If not, they may easily get damaged during extreme weather conditions. One way to ensure the durability of such structures is by using only high-quality materials. For roofs and walls of storage structures, we recommend products from Union Galvasteel Corporation.
UGC has pre-painted roof materials that can guarantee that storage structures are well-protected from any potential threat. One product that does that is our Durarib roofs. These roofs have the distinct design of anti-capillary groove which can prevent rainwater leakage on the side lap of the panels. They can also be used as sidings of poultry farms and typical warehouses.
For long-span warehouses, we recommend our Dura HiRib metal roofs. It is corrosion resistant and can carry a large volume of rainwater without causing leaks.
Aside from being durable, these UGC roofing materials and more are already pre-painted, so you don't have to paint them yourself or hire someone else to paint them for you. They come in red, green, beige, blue, orange, white, brown, and other special colors upon request.
UGC also has Duratherm PU insulated panels ideals for storage facilities. PU insulated panels have three layers: the two outer skins usually made of metal and the polyurethane foam in between them. This composition is also why such materials are called sandwich panels. Polyurethane is a synthetic plastic material that gives roofs high load capacity, strong bonding ability, and flexibility. PU panels are also resistant to water, oil and grease, mold, mildew, and fungus, which you don't want near your agricultural produce. PU panels also have great thermal insulation, which is important in maintaining the right storage temperature.
If you are looking for insulated sandwich panels or roof insulation in the Philippines, then you are in the right place! UGC is a trusted manufacturer and distributor of sandwich panel in the Philippines. Get in touch with us via our website or call these numbers for assistance: (02) 8520-8823; 8520-8831; (049) 545-0084 to 86 or 09175033965 (Globe) and 09190032303 (Smart).