We all make resolutions when New Year comes, mostly for our self-improvement. However, let's not forget our home. Surely, our home needs some TLC, too. A particular part of your home that needs attention is your roof. After all, it keeps heat, water, and other weather elements outside our home. Without it, we'll be drenched either in our sweat or the rain. When was the last time you cleaned it? I bet it has been a while. The start of the year is a great time to make your roof ready for the things that will come in the year ahead.
Can fireworks damage your roof?
When fireworks are lit near homes, their bits and pieces may scatter on your roof, affecting its integrity. If these fireworks debris happen to have an ember and your roof has dry leaves or other flammable trash, it may spark a fire that may damage not just your roof but also your entire house! Last year, the Bureau of Fire Protections recorded 13 structural fires caused by fireworks and firecrackers. Thus, yes, fireworks can damage your roof and more!
You may say, "Fireworks accidents? But the New Year celebration is already over!" You may be right, but don't forget the upcoming Chinese New Year! We Filipinos and our Filipino-Chinese brothers are big on fireworks because we believe that they scare away bad elements.
How to Prepare Your Roof for the New Year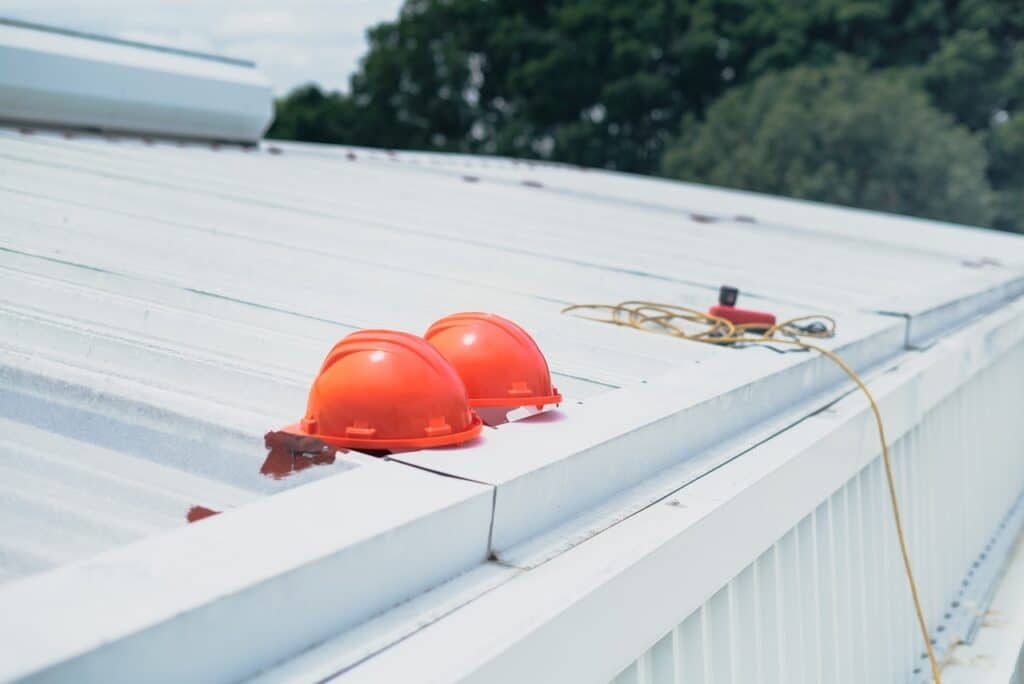 Assess your Roof
It is recommended to check on your roof once or twice a year, and the start of the year is one of the best times to do it. The weather is usually cool during January as it is months away from summer. Rain is also uncommon during this month. So, the perfect time to clean your roof is now. Just bring a broom and some water to remove fallen leaves and other visible debris. You must also scrub away moss because it attracts moisture, which affects your roof's integrity. Also, check for damages like holes or rust that you need to patch up or repaint.
Clean the Gutters Too
When cleaning the roof, also take it as an opportunity to clean the gutters. If gutters are clogged, water may build up and cause rust later. This rust can spread through your roof and cause corrosion.
Trim Overhanging Tree Branches
Having trees in your yard is welcome, especially if you are in a busy city where most of what you see is concrete. However, for the sake of your roof, trim it regularly to avoid branches and leaves from falling onto your roof, which can clog your gutters. Particularly, when the rainy season comes, intense winds may bring in branches onto your roof and damage it. Cutting tree branches will also prevent animals like cats from going up your roof.
Water down your roof
During New Year's Eve, hours before people start lighting up fireworks and firecrackers, water down your roof using a hose. This will minimize the incidence of fire in case firecrackers land on your roof.
Repaint your Roof
If you haven't repainted your roof in a while, now is the time to do so. Aside from adding color to your home, paint also adds another layer of protection. It prevents rust and, depending on the color, deflects light to keep your home cool during summer.
What if, upon checking your roof, you realized that it may be time to replace it because simple cleaning or repainting will no longer do? You know it's time when you see too much damage to your roof, or it has been so long since you last replaced it that it has succumbed to normal wear and tear. No need to worry as we can recommend the best roofing materials for you!
Standard Roofing Profiles
Union Galvasteel Corporation has a wide array of roofing products for residential and commercial use. Our Duracorr roofs have sinusoidal corrugation that provides superior strength and stability. It cannot be easily dented when stepped on because of its special attribute of equally distributed corrugation and durability. Duracorr is ideal for schools and conventional housing projects. It can also be used for residential, small, and mid-scale commercial and industrial projects.
For gymnasiums, domes, covered courts, walkways, and high residential buildings, we recommend our Duracurve roofs, which feature an arc tri-crimp design that looks spectacular and gives an edgy feel to any structure. It is also wind-resistant and low maintenance.
Aside from being durable, a hallmark of all UGC products, these roof materials are pre-painted already, so you have one less thing to worry about. Painting roofs is a backbreaking task, and it can be costly too because you must buy paints and pay for labor. You also don't have to worry about not having them in your favorite color because they come in red, green, beige, blue, orange, white, brown, and other special colors (upon request). This makes our pre-painted roofing materials a practical choice.
If you are looking for the best roofing materials in the Philippines? Look no further than UGC. We are a company that manufactures and distributes pre-painted and other galvanized roofing. We have the largest and most diversified distribution network in the industry. UGC has warehouses and sales offices in strategic locations throughout the country. Contact us via our website or call these numbers for assistance: (02) 8520-8822-23; 8520-8831; (049) 545-0084 to 86 or 09175033965 (Globe) and 09190032303 (Smart).