If you've been living in the Philippines for a long time, you probably already know that the weather in this country can be quite extreme. Hot days can be scorching hot while rainy days could even be strong typhoons. With this fact, you should always be prepared for whatever weather Mother Nature will bring. Outside, you always need to have an umbrella. Be sure it's a strong one so it won't easily get blown away by the wind. But during stormy days, it is best to stay at home to ensure your safety. However, how safe really are you when you're at home? Yes, with walls around you and a roof above your head, you may feel safe. Remember, however, that not all house or building materials are the same. Especially roofs, there are certain materials best suited for extreme climates. With the current summer days and the rainy season just around the corner, you must ensure that your roof can withstand polarizing weather conditions.
If you are looking for the best roofing material, that can protect your home from extreme weather conditions, search no more for Union Galvasteel Corporation got a recommendation for you! Discover Metal Roofing and why it's best for your property.
Why Metal Roofing?
Metal is a roofing material known to resist extreme weather conditions. During the hot season, prepainted metal roofing's reflective property keeps the sun's heat from homes. This lowers the temperature of the roof which in turn keeps the inside of your home cool. This will save you electricity as you can manage the use of air conditioning units. Prepainted metal roofs, are known to withstand rains, as the paint keeps water from corroding the metal. To ensure that leaks are prevented during heavy rains, metal roofs need to be installed properly. With proper maintenance, you can have your metal roof last for more than 10 years, making them cost-efficient.
Metal Roofing vs Other Roofing Materials
There are other roofing materials out there. But if you're looking for a roof that can withstand Philippine's harsh weather conditions with a great price, then investing in metal roofs is your way to go. Read on to know how metal roofs differ from other roofing materials:
Metal Roofs are More Light Weight than Cement Roofs
Cement "S" tiles are made of concrete and cement. Just like metal roofs, cement tile roofs can withstand strong heat, wind, and rain. And with their shape that looks like the letter "S," air can circulate properly, keeping the inside of your home cool during the hot season. However, not all homes may have cement tile roofs because they can be really heavy. Old homes with weak structures may collapse with cement roofs, so if you're planning to install cement tiles, you have to ensure that your home can support them. Most metal roofs, on the other hand, can be used in most homes due to them being light.
Metal Roofs are Budget-Friendly than Clay Tiles
Similar to metal roofs, clay tiles are also great for places commonly experiencing extreme weather – strong winds, rains, heat. Also, clay "S" tiles, like their concrete counterpart, allow air to circulate well and keep homes cool when the weather is hot. Clay tiles are known to last a very long, but this comes with a price. Clay tiles are also expensive, so it may not be an option if you are on a budget. Metal roofs are cheaper than clay tiles, and because their durability makes them worth every penny.
Choosing Metal Roof is More Sustainable than Slate Roofs
Slate roofs can resist extreme weather conditions thanks to them being thick and heavy. It will be hard for even the strongest wind to blow it away, so you have nothing to worry about when a typhoon hit. Its durability can make it last for over a century. However, slate is a rare roofing material, so it's not the most affordable option. Materials for metal roofs, meanwhile, are easily available. They can even be recycled, making them sustainable.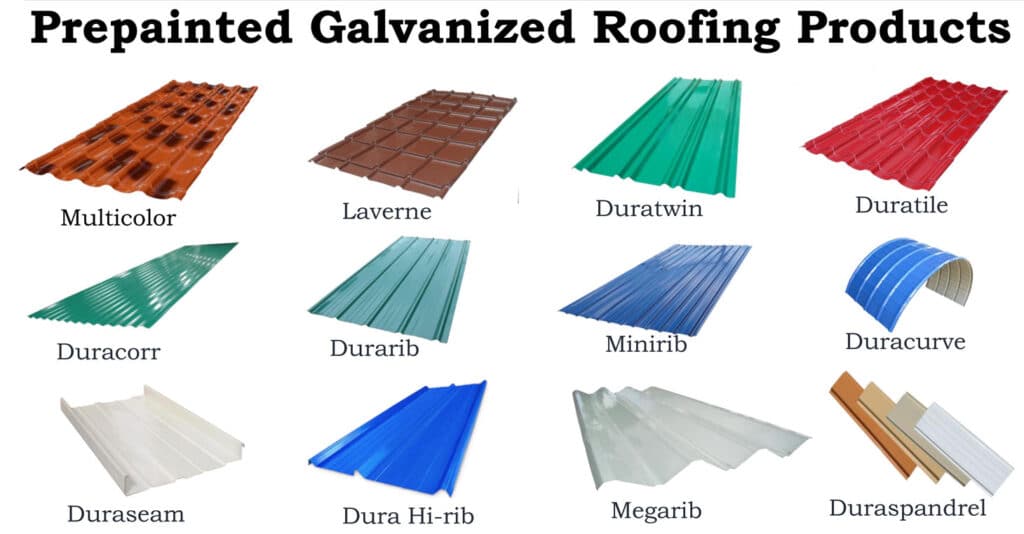 Finding the Right Metal Roofing for your Home
Metal roofing is common in the Philippines. However, not all metal roofs are the same. When choosing metal roofs for your home, be sure to choose only the best. Union Galvasteel Corporation has a wide array of metal roofing products that are guaranteed to withstand various weather types. Our Duratwin line, for example, is designed for wind uplift and has excellent leak protection, making them great for rainy days. Also, its unique 2-rib design provides for a solid base and durability. Duratwin roofs are pre-painted, and you can choose light-colored ones to reflect the heat during summer.
Want to know more about pre-painted roofing? Read: A Colorful Finish: The Advantages of Pre-Painted Roofing
When looking for your next room, look no further than Union Galvasteel Corporation. We are a roofing company in Philippines that manufactures and distributes pre-painted and other galvanized roofing. You won't have trouble finding us, as we have the largest and most diversified distribution network in the industry. We have warehouses and sales offices in strategic locations throughout the country. Get in touch with us via our website or call these numbers for assistance: (02) 8520-8822-23; 8520-8831; (049) 545-0084 to 86 or 09175033965 (Globe) and 09190032303 (Smart).