Having spaces in your home dedicated to specific tasks or functions is ideal, as it allows you to focus or become more productive. For example, because of the pandemic, a work-from-home (WFH) setup has become the norm for some employees. This has offered a lot of benefits, like no more traffic going to and from work, and, of course, it lessens the risk of spreading the virus. However, this has affected the productivity of some. It's hard to resist the temptation of just lying in bed or watching a few TV shows, which usually happens when you use your bedroom as your workstation.
In this situation, having your own office is the ideal setup. Some people would want to have their own space for their hobbies. For example, video gamers might want to have their own gaming room where they can play games undisturbed and without disturbing others (when they get a bit loud because of excitement).
A growing family may also need additional space for privacy. Children may share rooms while they are still young, but as they grow older, they may want to have separate rooms. You may also have relatives staying over—either temporarily or long-term—who may want their privacy.
Whether for work, passion, or privacy, having dedicated spaces is truly great. However, unless your house was designed with your new work setup, hobbies, or family members in mind, your home may not have rooms dedicated to them. If moving to a bigger home is not an option, then you can create more space by using the existing rooms and using dividers.
Different Ways to Divide a Room
Creating an entirely new, permanent room is not the only option for creating additional space in your home. There are three common ways to divide a room: through full walls, partial walls, and pseudo walls.
Full Walls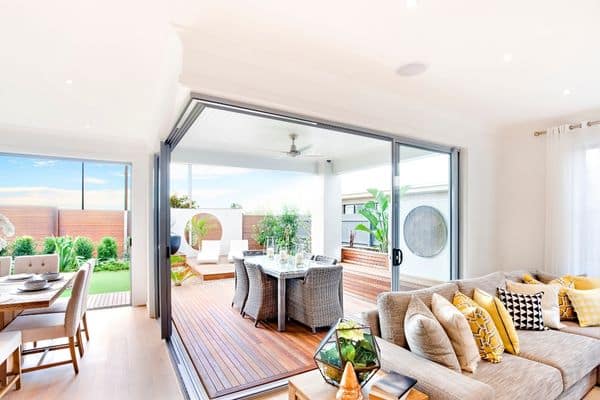 Full walls divide a room by creating a partition that extends from the floor to the ceiling, from one wall to the other wall. They can be permanent, like drywall made of wood, or movable, like sliding walls, made of wood, glass, or acrylic.
Full walls create an entirely new room separate from the original room. When installing drywall partitions, we recommend using light steel frames that are lightweight yet highly durable, like those produced by Union Galvasteel Corporation or UGC. Light metal frames are a great substitute for wooden frames because they are termite- and fire-resistant. The frames are available in different specifications: studs, tracks, single furring, double furring, and carrying channel.
Partial walls
Partial walls create extra space without completely closing off the new area and the old area. While full walls extend from floor to ceiling, a partial wall may be lower, like a waist-high concrete wall to separate the kitchen from the dining area, for example.
Pseudo Walls
Pseudo walls, as the name would imply, are not actual walls, but they separate spaces because of their design or appearance. Artworks placed in the middle of a room, for example, can visually separate two spaces.
Creative Room Dividers
If you're going with full walls as room dividers, then you don't really have many options aside from using wood and concrete. However, if you want to be more creative, you can have partial or pseudo walls and choose from various materials that you can use as dividers.
Here are some of our suggestions on how to partition a room without building walls.
Curtain or Cloth
Using curtains or cloth as a divider is quite common, but you can be creative by choosing cloth with a unique design or texture. You can also play with colors. For example, if you are a traveler dreaming of visiting France, you can have three panels of curtains in blue, white, and red. Tapestries and curtains also make a great floor-to-ceiling room divider. You can easily get good curtain designs from local hand weavers.
Shelves
Shelves are great not only for displaying or storing your valuable items but also as a divider. If you have your own gaming room, having a shelf as a divider that doubles as a shelf for your games are a great idea. You can also use bookshelves if you intend to have your own reading nook or workspace.
Ropes
You can have hanging thick jute ropes as dividers in any space. The material is easily available, and it is simple to do. However, it may not fit certain house themes, so you have to be sure that you're using these ropes in the right space. Because ropes don't take up too much space, it is great as a small room divider.
Plants
Yes, plants. If you are a plantito or plantita, I know this will excite you. Put greens in any space by having a rack full of succulents or any small potted plants as dividers. You can also do away with the rack and just have rows of big indoor plants as dividers.
Roofing Materials
Push your creativity to the next level by having roofing materials as a room divider. However, instead of the traditional corrugated metal roofs, go for something more elegant, like UGC's Durasprandel.
Duraspandrel is UGC's pre-painted cladding and ceiling construction materials for residential and commercial buildings. Because it is made of durable but light steel, you don't have to worry about it being infested by termites. It is low maintenance, economical, and easy to install. You also don't have to worry about painting it as it is already pre-painted. It is available in Red, Green, Beige, Blue, Orange, White, and Brown variants. Special colors are also available upon request.
As you change your living space, always remember to use only quality materials, not only for the rooms in your home but also for other parts, like roofs. Go for top brands like UGC if you are looking for a manufacturer of roof insulation in the Philippines and other roofing needs. We have the largest and most diversified distribution network in the industry, and with warehouses and sales offices in strategic locations throughout the country, we are easy to find. Get in touch with us via our website or call these numbers for assistance: (02) 8520-8822-23; 8520-8831; (049) 545-0084 to 86 or 09175033965 (Globe) and 09190032303 (Smart).